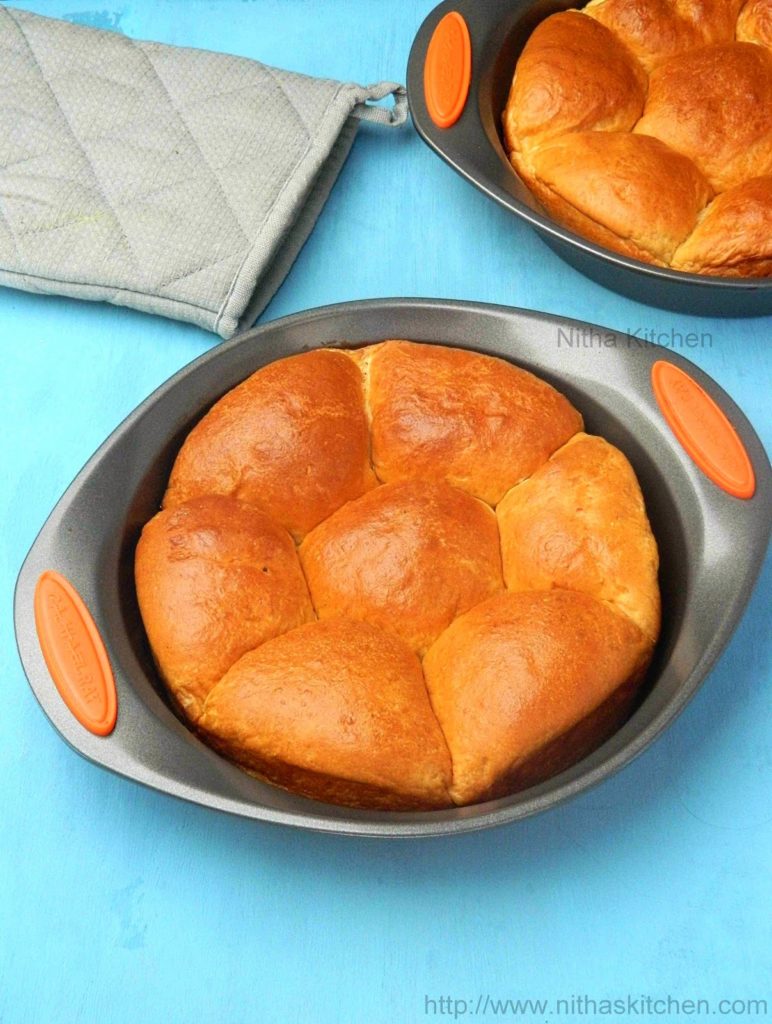 Bavarian Dumplings made with yeast are one of those great traditional German recipes named Bavaria Dampfnudel Milk Buns. It is a steam fried dumpling in a small amount of water or milk, and butter or oil, perhaps with seasoning, then after the dumpling is set, the moisture is gone leaving the butter and you then let it fry in the butter until you have a nice crispy crust on the bottom. They are super delicious and too soft Dumplings/Buns with
crusted base. Also stick to the measurement to get this super soft Dumplings/Buns and you can mark it as fool proof recipe.
You can either make a savory Dampfnudel – You would use water, oil or butter and salt.
OR
You can make a sweet Dampfnudel – You would use sweetened milk with butter and vanilla
Baking/Cooking Method
The authentic version makes the whole bun/bread in stove top without baking. This recipe is suggested by Saras for International Food Challenge and she baked in oven for first 30 minutes and then cooked in stove top for 20 minutes in low heat to get crispy base. I don't have thick pan and am not dare to use my non sitick cake pan over steamed water on stove (nxt time if i do so i will update here). What I did is first baked in oven at 350° F for 30minutes after 20 minutes rest time i baked again at 225 ° F for another 30 minutes. whichever mode is convenient for you go for it.
Update
The continuous bake at 350 F for 35-40 minutes also works and I am using this temperature and time for several years 🙂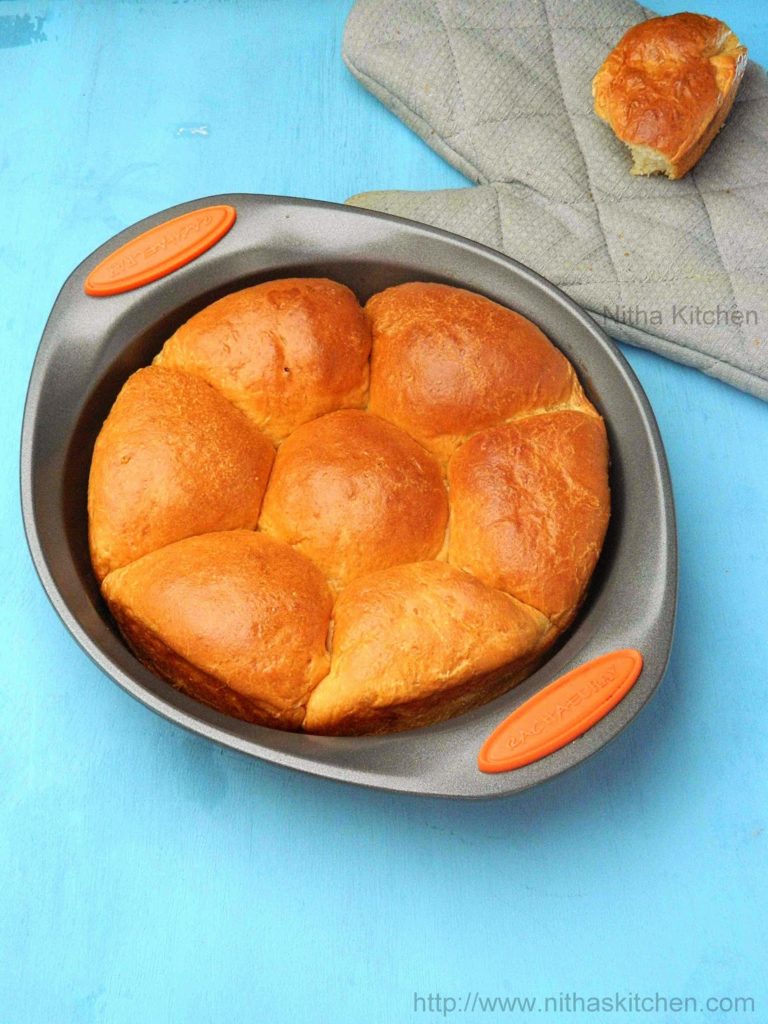 Ingredients: 
AP Flour/Maida – 500 grams
Sugar – 40 grams
Salt – 6 grams
Dry Active Yeast – 1 packet or 2 and 1/4tsp
Butter – 100 grams
Milk – 300 ml
For Milk Mixture:
Milk – 300 ml (you can replace a portion with condensed milk too, in that case skip sugar)
Sugar – 2 Tbsp
Butter – 50 grams
A pinch of salt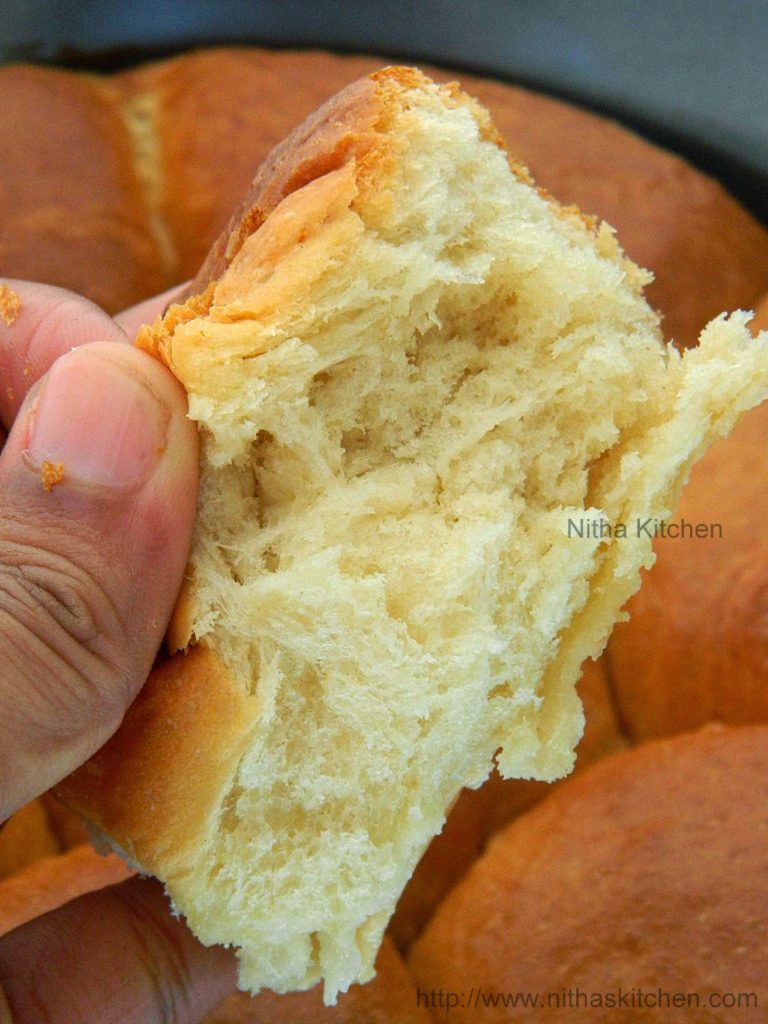 Bavaria Dampfnudel Milk Buns Preparation
In a mixing bowl, mix flour, sugar and salt.
In a sauce a pan or microwave bowl heat milk and add butter to it.
Once butter melts, turn off the heat and allow it to cool to warm temperature.
Now add yeast and give a nice stir.
Pour milk mixture to prepared flour mixture.
Knead it to soft dough or in stand mixture, in 2 setting allow the mixture to knead for 8 ~ 10 minutes.
I divided in to 3 portions and kneaded with my hands to soft dough.
The dough should not stick and should be very soft.
Cover with cling wrap and allow it to rise in warm place.
After forty minutes or the dough volume has doubled(Pic 1) short knead and divide into equal portions.
I divided the dough in to 14 small and equal approx 60-65 grams each and arranged in 2 round cake pans.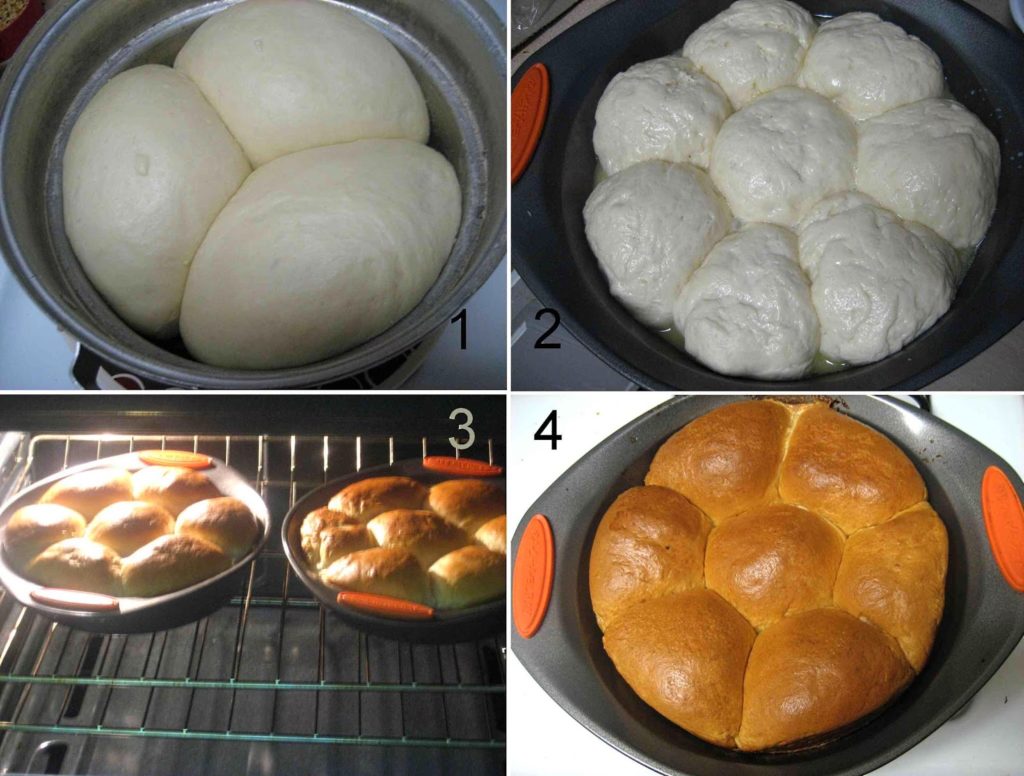 Cover the divided dough with kitchen towel and rest it for ten minutes.
Meantime, heat the milk mixture until butter melts and allow it to cool completely.
In a cast iron pan, or heavy bottom pan/cake pan, pour half of the milk mixture and arrange the balls and pour remaining milk all over the buns.
Cover and prove it again for 20~30 minutes to double its volume (Pic 2).
Authentic Cooking Method
Cover the pan and place it on stove top and cook it in low flame for 30 ~ 40 minutes or until you hear the cracking sound.
Baking Method
At the end of dough rest time, pre heat oven to 350° F.
Transfer the pan to the oven and bake it for 30 minutes (Pic 3).
Turn off the oven and rest the dumpling for 20 minutes inside the oven.
Do not open the oven in between or after it baking time because it will shrink the dumplings.
Then place the pan on the stove top in low (simmer) heat for 20 minutes to get crispy bottom. OR
Again bake it at 225° F for another 30 minutes (Pic 4).
Serve warm with vanilla sauce or any jam.
Enjoy this authentic crusted sweet Bavarian dumplings.