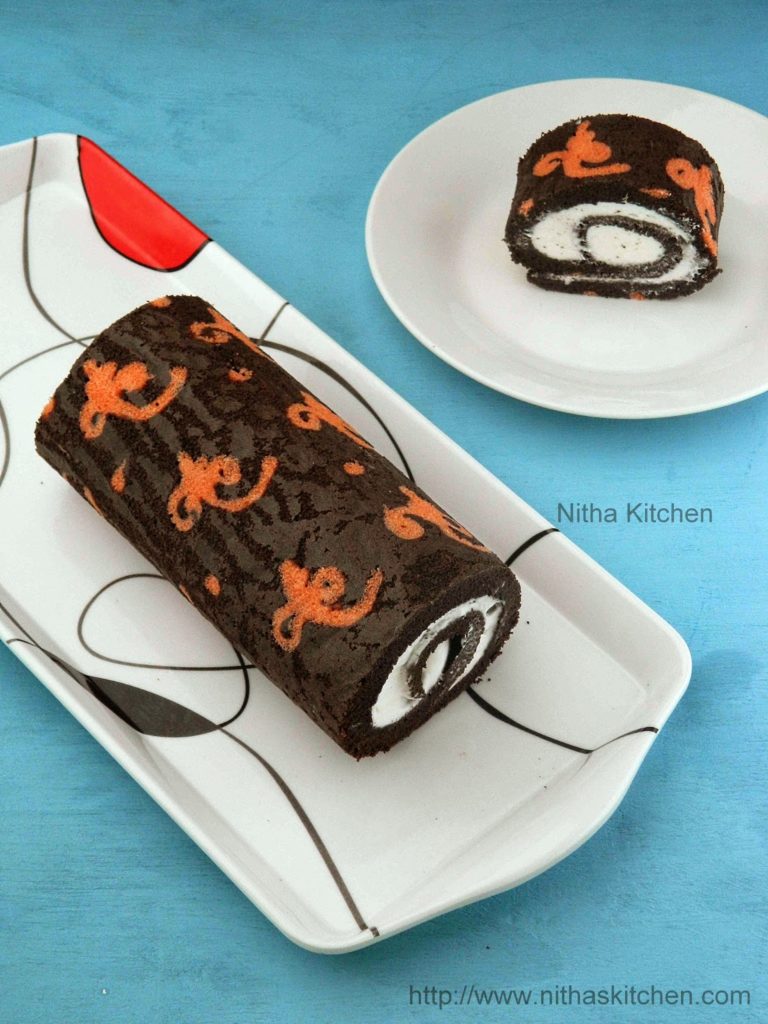 Mother's Day in the United States is annually held on the second Sunday of May(11th,2014). Many people give gifts, cards, flowers, candy or other treats to their mother on this occasion. I am wishing you all mom's a very happy mother's day. As my mom/amma and I live far away only virtual treat does help to thank her. She loves chocolates, cake and of course ornaments. So here is a mix of all in today's recipe Ornamental Cake Roll
aka Pattern Chocolate Roll Cake with Whipped cream filling, perfectly suits right :-). In the days before Mother's Day, my daughter brought from school her hand printed photo frame (below picture) with handmade flower basket personally signed by her (helped by her teachers), this is such a precious and very first gift from her, I am so proud of you honey 🙂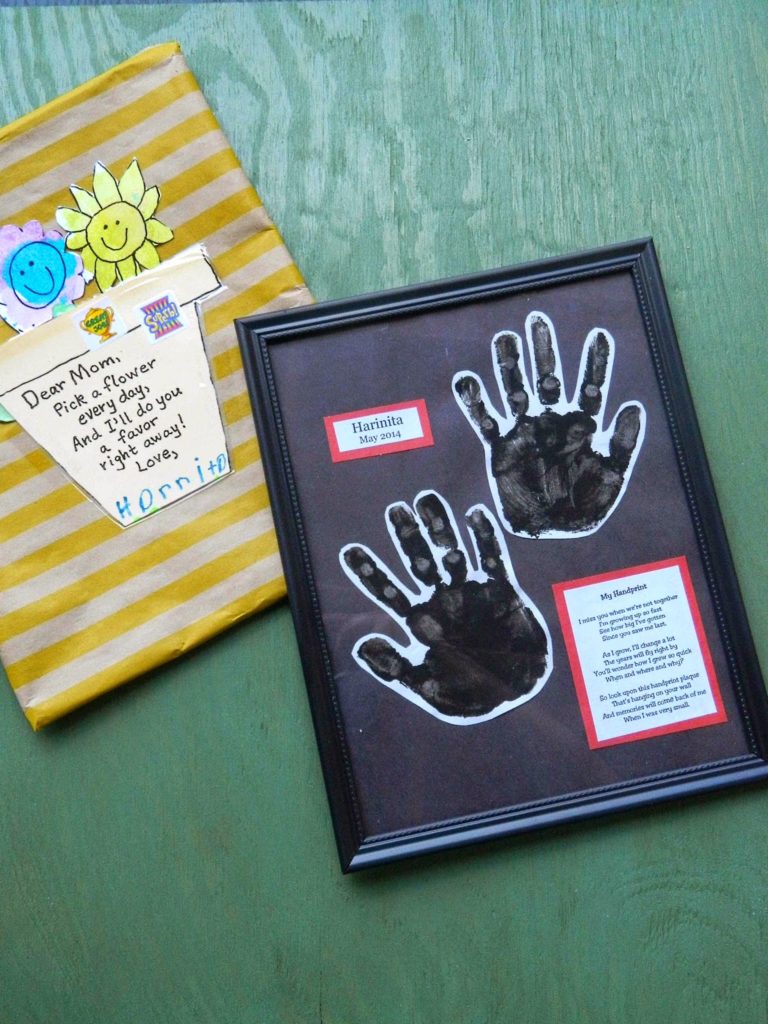 Special thanks to Priya sis (Home Bakers Challenge) and Pallavi for the wonderful recipe suggestion.
Recipe Source :- Delightdulce
For this Ornamental Pattern Template, check here :- Sabrinasue
Yields one 11×17 cake roll
Ornamental Cake Roll Ingredients
For Pattern
1 egg white
30g granulated sugar
40g flour – if making chocolate pattern substitute 20g for cocoa powder
20g butter- room temperature
Natural food coloring, fruit syrup or any food coloring of your preference.

For Cake

AP Flour/Maida – 1/2 Cup
Cocoa Powder – 1/4 Cup (I use Dark Cocoa, if making plain rolled cake substitute this for flour)
4 Large Eggs – Whites separated
Sugar – 1/2 Cup + 1 Tbsp
Butter – 60g, melted (approximately 1/2 stick + 1 tbsp)
Cream of tartar – 1 tsp

For Filling

(I Use Plain Regular Whipped  Cream , If  you want fantasy use below recipe)
1 1/2 cup white chocolate -or any other chocolate
1 cup heavy cream – or whipping cream
1 cup strawberries – quartered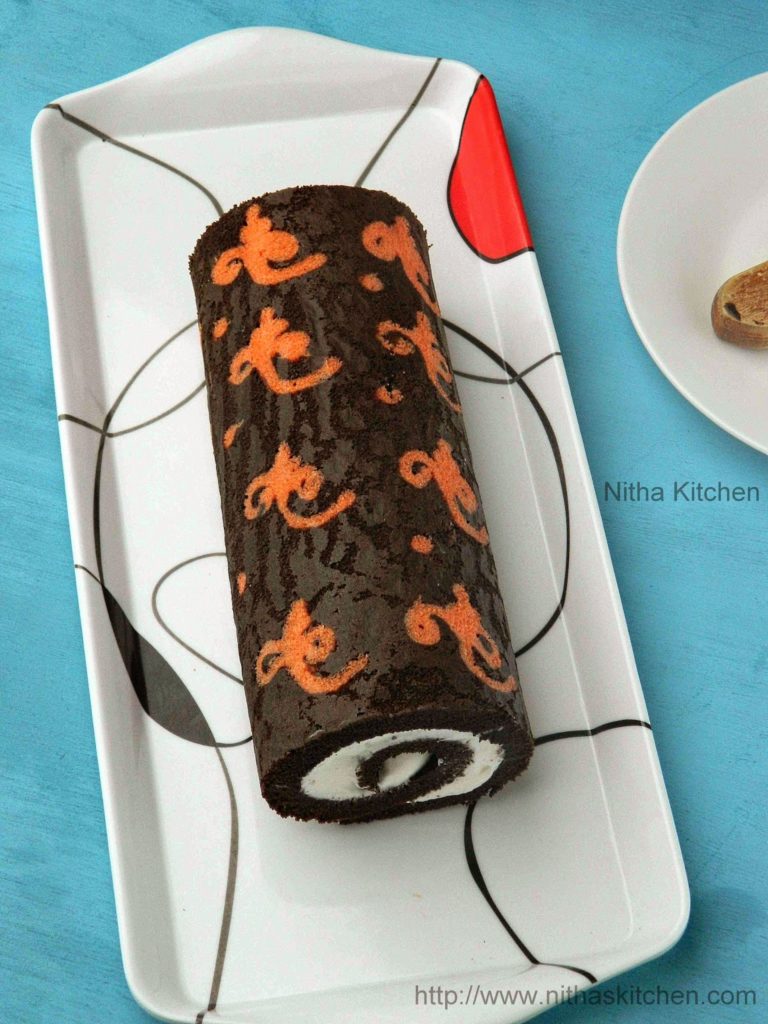 Utensils: baking pan 11×17 in, parchment paper (it won't work if you use wax paper), pastry bag or ziploc bag.
* Make the filling in advance and refrigerate till use.
How to Make Pattern Using Template
Make the pattern and freeze it till you use.
For the pattern, download any template and keep it ready.
Mix egg white, flour and sugar, finally add butter at room temperature with favorite color (I used mix of gel Red and Yellow food colors to get this orange)
Consistency should be like shown in pic 1 below.
Add the batter in to piping bag with plain small round tip.
In the cookie sheet, place the template and top it with a parchment paper.
Now make the same pattern (Pic 2) and once done remove the downloaded template from the cookie sheet.
Freeze the designed pattern till you get ready with cake batter.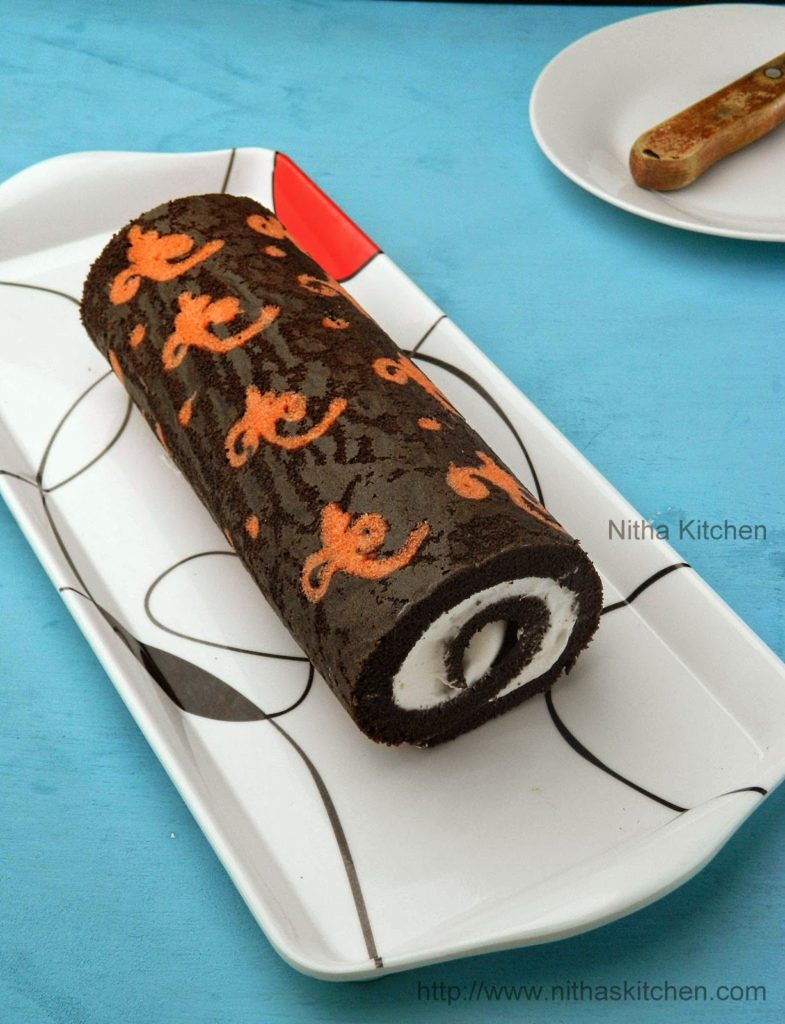 Ornamental Cake Roll Batter Preparation
Make sure to keep the eggs at room temperature.
Mix the flour and cocoa powder in a bowl.
Split the egg whites and yolks and store it in 2 separate containers.
Melt the butter and cool completely before use.
Beat the egg whites with cream of tartar till stiff peaks form, keep aside (Stepwise Pic 4 above).
Cream the egg yolks and sugar well.
Now add half of the flour mixture to egg yolks(Pic 3), beat well.
Add the melted and cooled butter right now (Pic 4).
Now add half of whipped egg whites with already prepared cake batter.
Finally add the remaining flour mixture and remaining whipped egg whites, stir gently with spatula till all mixes well (Pic 5).
Pour the cake batter over chilled pattern (Pic 6).
Level it with spatula(Pic 7) and bake at 390 F in preheated oven for 10-12 minutes or till sides turn light brown.
Immediately flip it over damp cloth or parchment paper (Pic 8).
Flip it again so the pattern comes at bottom; now roll it immediately/gently with the same cloth or parchment paper (Pic 9).
Allow it to cool before start filling.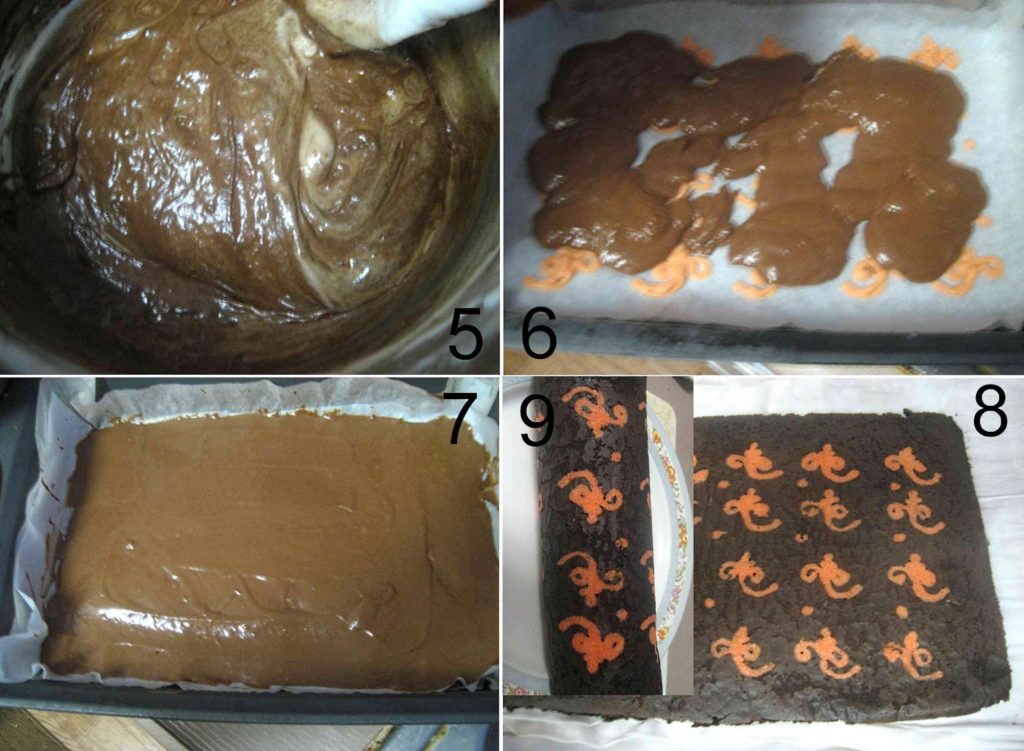 Carefully unroll the cake, add the filling, if desired add some fresh fruits at center and finally roll it back gently.
Refrigerate for a while before slice the cake to get better result.
Slice and enjoy when it is chill 🙂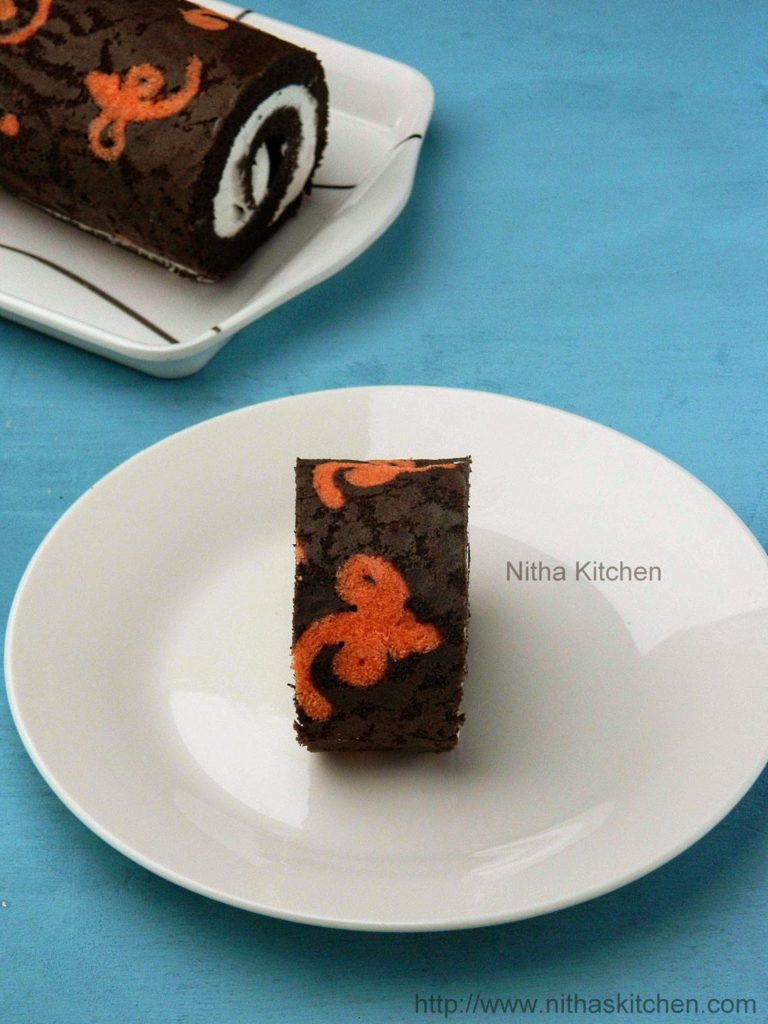 Few Possible reasons for the Crack in Roll Cake are
Not whipping the egg whites to stiff peaks or over beaten.
The roll cake is more thick.
Not rolling the cake immediately after taking out from oven.