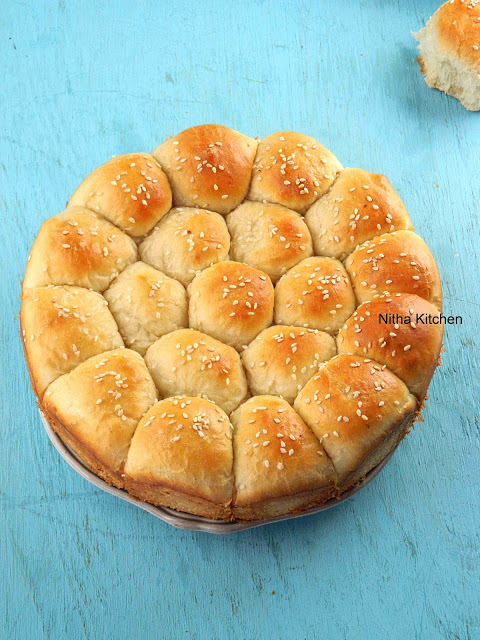 Eggless Honeycomb Buns Recipe : Khaliat al Nahal (known by many as Khaliat Nahal) simply means Bee's Hive. The name is due to the bread's resemblance to a honeycomb and for the sweet honey-flavored glaze it use after the bread is out from oven. Also the traditional Honeycomb buns/Beehive Bread usually filled with cheese and a sugar syrup. But here i simply used the tutti fruti and sweet coconut filling. So filling is your choice and you can make savory stuffing for this bread too.
I have divided the dough into equal grams each and i have used 8 inch cake pan. I got 5 more buns which I baked in a separate pan. Also make sure to divide the dough in to 19 equal parts to arrange the buns in the pan as shown in pictures.
Ingredients
Bread Flour or Unbleached AP Flour/Maida – 2.5 Cups
Active Dry Yeast – 2 tsp
Butter – 40 grams (3 Tbsp approx)
Sugar – 1 Tbsp
Salt – 3/4 tsp
Warm Whole Milk – 1 Cup
Sesame Seeds – To top over buns
Water – You may need 2 Tbsp or more for kneading the dough to soft pliable
Milk – For brushing on the top
Melted Butter or Melted Butter + Honey (optional) for brushing on top over baked buns
Filling
Sweetened Coconut Flakes – 1/2 Cup (I use store bought, you can use homemade make sure you dry fry till the moisture goes out)
Tutti Frutti/Raisins – 3/4 Cup
Sugar – 2-3 Tbsp
Cardamom Powder – 1 Tbsp
I skipped the glaze part mentioned below because my kids won't take if the buns are sticky. So i just brushed the baked buns with melted butter.
Honey Glaze (Optional)
Honey – 3 Tbsp
Warm Water – 3 Tbsp
Melted Butter – 1 Tbsp
Vanilla Extract – 1tsp
Just mix all together and pour over baked breads, if using so then skip brushing it with butter or butter+honey combo.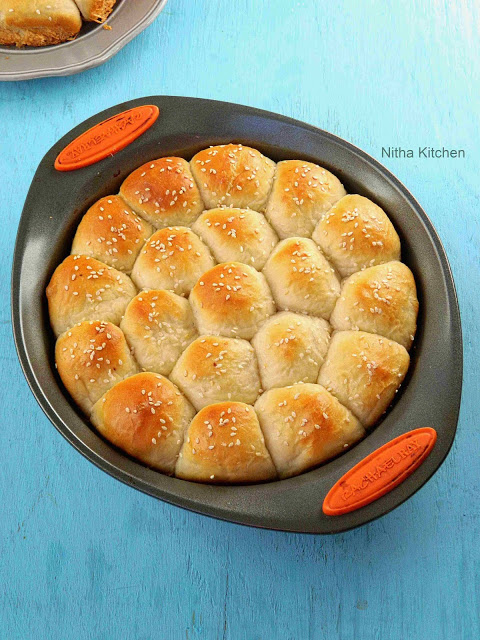 Eggless Honeycomb Buns Recipe
Add 1/4 cup water and 1/4 cup whole milk in a mug, warm it and add the sugar, salt and yeast.
Let it sit in warm temp for 5-8 minutes at least.
Meanwhile melt the butter and keep the other ingredients ready.
Add the frothy yeast mixture in to the flour by this time it looks crumbly.
For step wise dough kneading process you can refer here.
Add the remaining 3/4th cup milk and if needed sprinkle water and make soft and smooth dough.
Kneading by hand may take 8-10 minutes.
The secret behind soft buns lies in adding more moisture/water to the dough at the same time it should not be sticky anytime.
Grease the bowl with oil and allow to raise the dough may take 60 minutes or more for the first raise.
Meanwhile prepare the filling and keep aside.
Just mix the tutti frutti/raisins, sugar, cardamom powder and coconut flakes in a bowl.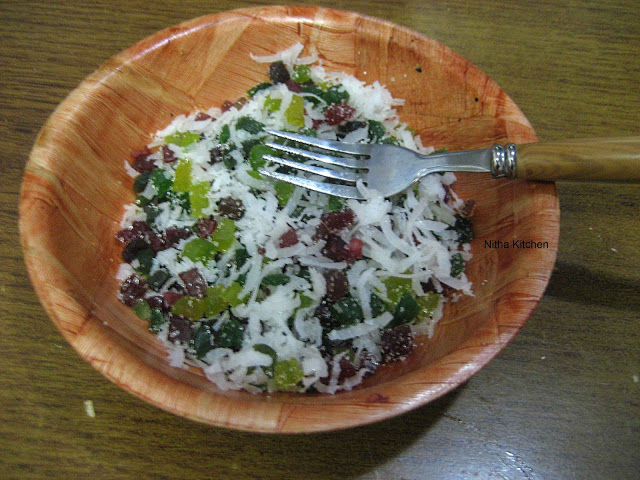 After first raise (Pic 1) punch down the dough, weigh it and divide in to equal parts (you need 19 pieces at least).
Now flat each piece and stuff the sweet filling, then make it round, refer here for step wise picture.
Arrange the stuffed buns in the round 8″ cake pan (Pic 2).
Allow them to raise for another 40 minutes (after 20 minutes start brushing it with milk, 2 times at least before baking) and sprinkle some sesame seeds over each bun(Pic 3).
One more secret for soft buns is brushing the buns with milk, so never skip it.
Preheat the oven to 350 F and bake the buns for 18 – 20 minutes or till they turns golden brown on top (pic 4).
When they are out from oven immediately brush it with melted butter or melted butter + honey or pour the prepared honey glaze.
Let them cool for a while before removing it from pan.