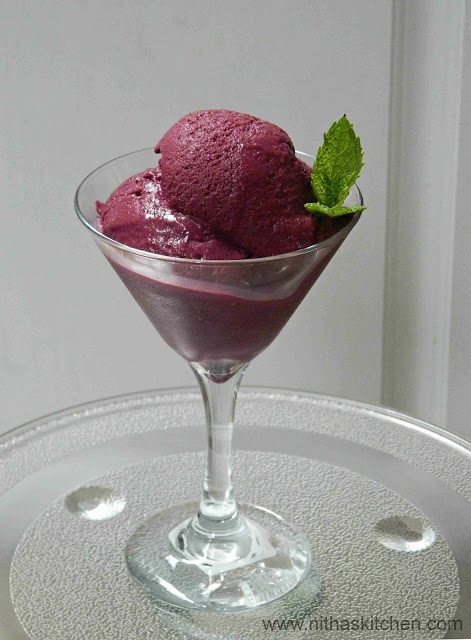 Ingredients
Fresh/Frozen Blueberries – 1 and 1/2 Cups
Homemade/Store bought Thick Yogurt/Curd – 3/4th Cup
Whole/Full Fat/Thick Milk – 1/4 Cup

Heavy/Fresh Cream – 1/4 Cup (Replace with Regular Milk or Condensed milk (-) less Sugar)
Lemon Juice – 1 and 1/2 Tbsp
Sugar – 1/2 – 3/4th Cup
Salt – 1/4tsp
Method
Add cleaned berries, lemon juice, sugar and salt in sauce pan (Pic 1).
Boil in medium heat and crush the berries in between using potato/dhal masher (Pic 2).
When the sauce attains rolling consistency (5-8 minutes), remove from heat (Pic 2).
Using strainer or extractor, pulse to extract the syrup and strain/remove the tiny blueberry seeds.
It's optional you can add as it is too…
Whip the heavy cream to soft peak (Pic 3) and add yogurt, milk, cooled blue berry sauce, whisk for few more minutes till all incorporate well (Pic 4).
Store it in air tight container or glass bowl covered with wrap.
Freeze it for 3-4 hours to set completely.
For first 2 hours, in 1/2 hour gap stir the frozen yogurt for few seconds (Pic 5).
It may crystalize in the corners soon, so this process is to mix it evenly.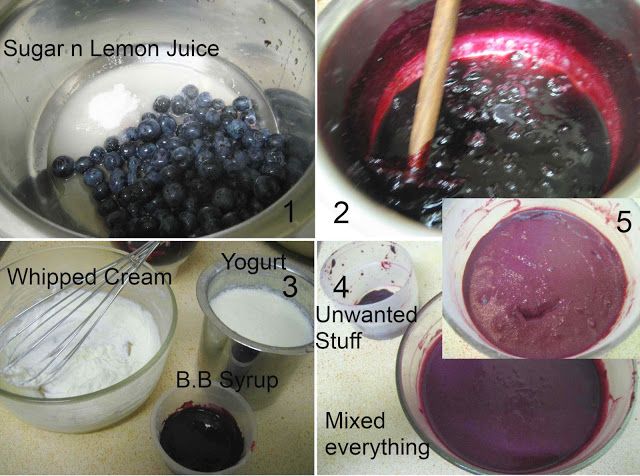 Note:
If replacing heavy cream with regular or condensed milk then don't whip, add it as it is…