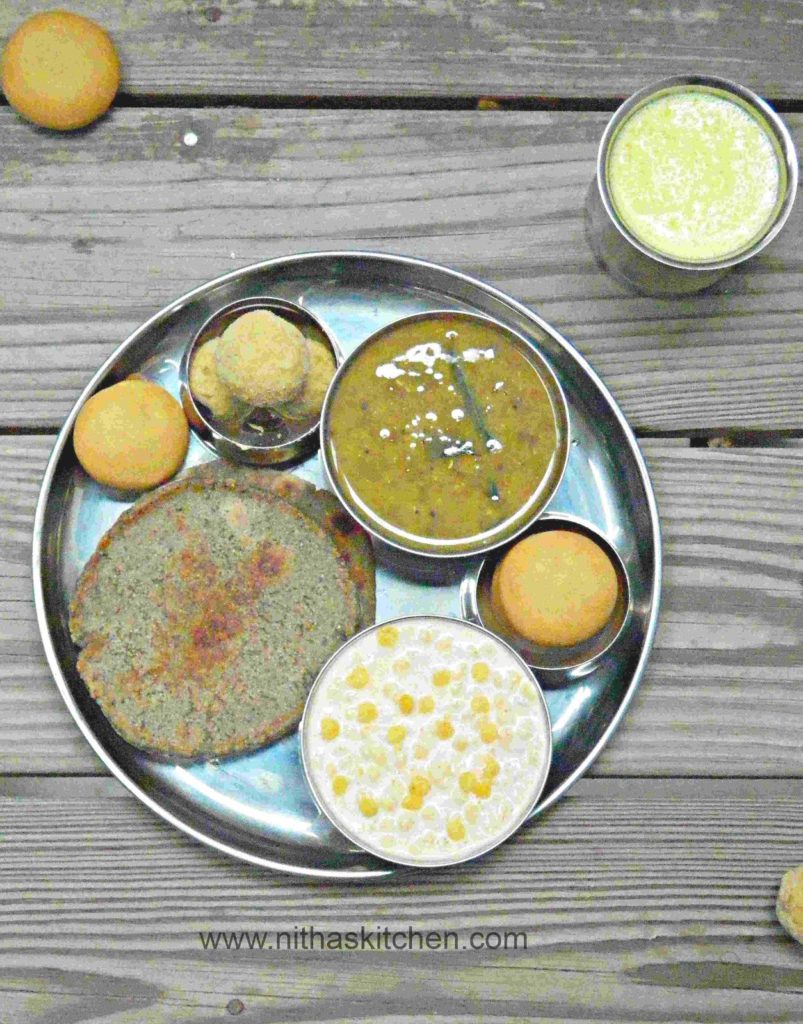 This is the first thali recipe in my space. Manju from Desi fiesta has challenged this delicious Rajasthani thali for this month SNC. I decided to make few dishes from her long thali list 🙂 and made it today. Though the weather is not good (rainy) pictures are not good too…
A short note about SNC
A member from north team and a member south team respectively will challenge the opposite team members with a recipe from their respective zone and opposite teams have to post the same recipe on their blog, this takes place every month. The idea of this event is that we learn so many different recipes from different zones. Hats off to Divya for this great idea.
Menu for Mini Thali I Prepared
1.Gond ki ladoo – Sweet (I tried Wheat ladoo without gond)
2.Baati – Wheat flour based baked round bread
3.Moong dal – Split green moong dhal gravy
4.Bajiri ki roti – Indian Millet Flat Bread
5.Matta/ Boondi Chaas – Yogurt and Boondi Raita
6.Kesar Malai Lassi – Milk and Yogurt based Drink
Gond ki ladoo (Wheat Ladoo)
Gond is an "edible gum" that is extracted from the bark of a tree. It is available in crystal form as pearly yellowish translucent pieces of varying sizes. Gond It is deep fried in ghee and then added to the dish it is being used in. These delicious goond ladoos are a traditional winter delicacy that are had with a glass of warm milk for breakfast. It can be had as dessert after a nice meal.
Ingredients
Whole Wheat flour – 1 n 1/4 Cup
Powdered sugar – 1/2 cup
Cardamom powder – 1tsp
Ghee – 3 Tbsp + 1 Tbsp Oil (Replace with ghee) *
Edible gum/gond – 3 Tbsp (Optional if using fry this with more ghee)
* (I have given the exact amount what i used in the recipe but you can increase ghee as you wish)
Method
Heat the ghee in a pan, add the whole wheat flour and roast it over a slow flame while stirring continuously till the flour turns golden brown Pic 1.
Allow it to cool.
Deep fry the goond/edible gums in hot ghee, one tablespoon at a time till the pieces puff up. Drain on absorbent paper and keep aside.
Add the powdered sugar, fried goond and cardamom powder to the roasted wheat flour and mix well.
Divide the mixture into equal 12-15 portions if you want to make small ladoo's but traditionally they are made in large size and shape each portion into round ladoos using your hands Pic 2.
Since i have not used much ghee i sprinkled little milk and hold the shapes.

For long time use skip milk and add more ghee.
Dal Baati
Dal Baati is the most popular item in Rajasthani cuisine. Lentil soup with baked whole wheat flaky round bread very tasty. Although traditional Baati is a baked dumpling of wheat flour , this recipe offers a variation by stuffing the Baati with mashed potatoes seasoned with spices and herbs..Any rajasthani is incomplete with dal baati.
Ingredients for Baati
Wheat flour – 1 n 1/2 cups
Ghee/Butter – 3 Tbsp
Salt to taste
Method
Mix all the ingredients n make a stiff dough .
Take a small ball of dough , divide in to equal portions and roll it without any cracks .
Preheat the oven at 375 degrees and place the baati's on a baking sheet for about 15 minutes or till they turn brown on the bottom.
To give the baati's even color all over after baking you can fry them in ghee till golden brown.
The baati's are dipped in pure ghee so that they absorb most of the ghee .
However with the daily health regimes , if you are not comfortable dipping the bati in ghee, you may drizzle little bit over the hot baked and fried baati and serve with Dal on side.
Moong Dhal
Ingredients
Split green gram dal – 3/4 cup
Sambar/Garam Masala Powder – 1-2tsp
Cumin Seeds – 1/2tsp
Hing/ Asafoetida – 1/4tsp
Turmeric Powder – 1/4tsp
Salt to taste
Curry Leaves – Few
Ginger + garlic + green chillies paste – 1 Tbsp (Optional) *
* You can add whole (1-2) chilis and garlic (4 numbers) while cooking dhal
Method
Pressure cook the Moong Dal with turmeric powder, garlic n green chilis.
Mash the cooked dhal.
Heat oil in a pan, add cumin, curry leaves, sambar powder, asafoetida.
Saute for 10 seconds and add the cooked Dal and about 1/2 cup water .
Let it cook in low flame for about 10 minutes.
Note:
If adding garam masala instead of sambar powder add at last.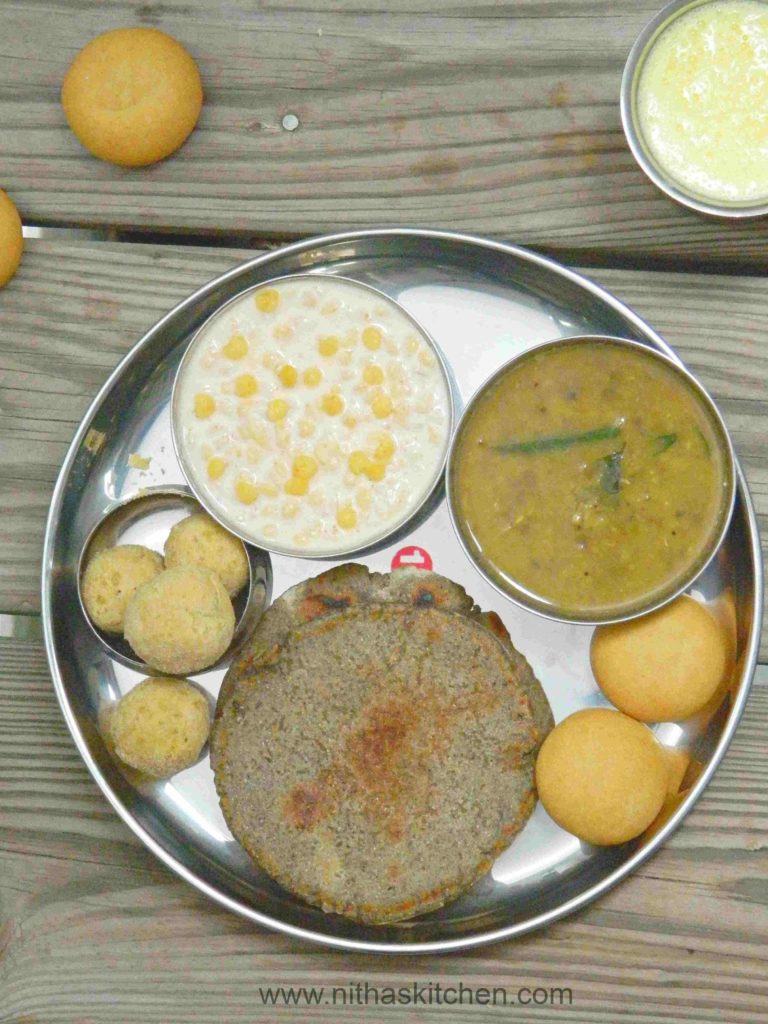 Bajiri Roti
Millets are so nutritious as it is gluten free. This tasty bread is Rajasthani in origin and goes well with almost any vegetarian or non-vegetarian dish. It is especially good with curries. These rotis are also popular in South India with ragi or kambu/bajri 🙂
Ingredients
Bajra atta/Millet flour – 2 cups (I used homemade Bajri flour using whole grain kambu/bajra)
Warm water / Whey (Paneer processed water/whey water) – As Needed (I used Whey water)
Salt – As Required
Ghee/Oil – To drizzle over rotis (I used oil)
Method
Put the bajra atta/ millet flour and salt in a large deep mixing bowl.
Make a well in the center.
Pour a very small amount of water into this well and start to blend the bajra atta/ millet flour with it. Keep mixing till the flour and water start to come together.
Don't add too much water to the dough. Add very little at a time as required to make the dough come together. We are aiming to make a medium firm dough so add water only as required.
Once the flour and water is mixed well, start to knead and continue till you have a smooth, medium-firm dough. When the dough is done, cover with cling film and keep aside for 15 minutes (Pic 1).
Now heat a griddle on a medium flame.
While the griddle is heating, divide the dough into equal-sized portions – you should get about 7-8 for this recipe – and roll them between your palms, into smooth balls (Pic 1).
Flat it with ur palms to some extend (Pic 2) and drop in over hot tawa/griddle, reduce the flame and try to thin the roti as much with your fingers (Pic 3).
Alternatively you can roll using rolling pin n dust the surface with flour before rolling.
You can make it thick or thin, usually the rotis will be thicker than usual chapathi,
Soon you will see tiny bubbles rise on the surface of the Roti. This is the time to do the first flip,turn the roti over with a spatula.
As soon as the first flip is done, drizzle a bit of oil/ghee on the upper surface and spread well all over the Roti.
Flip again in 30 seconds and drizzle oil on this surface too.
The Bajra Roti is done when both sides are slightly crispy and golden brown (Pic 4). Repeat the process with each ball of dough till all are used up.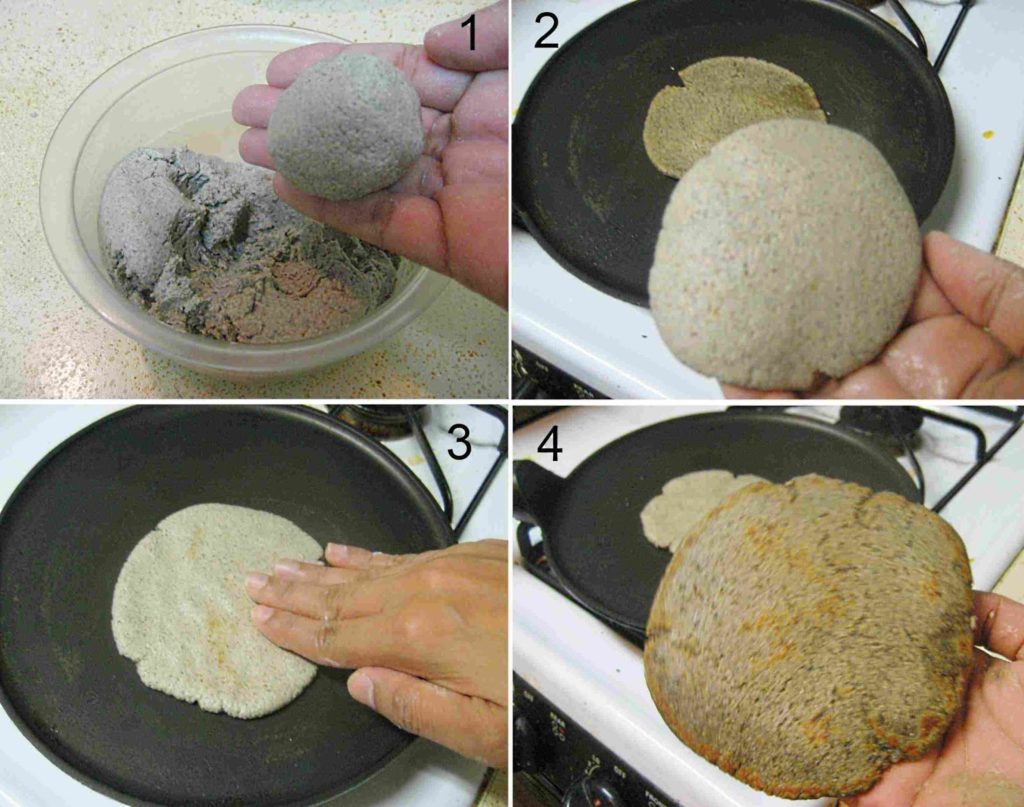 Matta / Boondi Chaas
This is an traditional rajasthani drink which is a part of menu in any function they make it at home. Even though this is a drink they serve this with the other accompaniments in the thali. This yummy chaas goes very well with chappathi even.
Ingredients
Yogurt/Curd – 1 Cup
Khara/Plain Boondi – 1/4 cup
Water – 1 n 1/2 Cups
Red chili powder – 1/2tsp
Cumin powder – 1/2 tsp
Salt to taste
Method
In a blender add all the ingredients excluding boondi blend till smooth and frothy.
Then add boondi to the chaas .
Serve Boondi chaas/ matta chilled.
Tastes great after the boondi soaked well.
Note:
You can make this chaas ahead and chill them as boondi needs to soak the chaas and should be soft.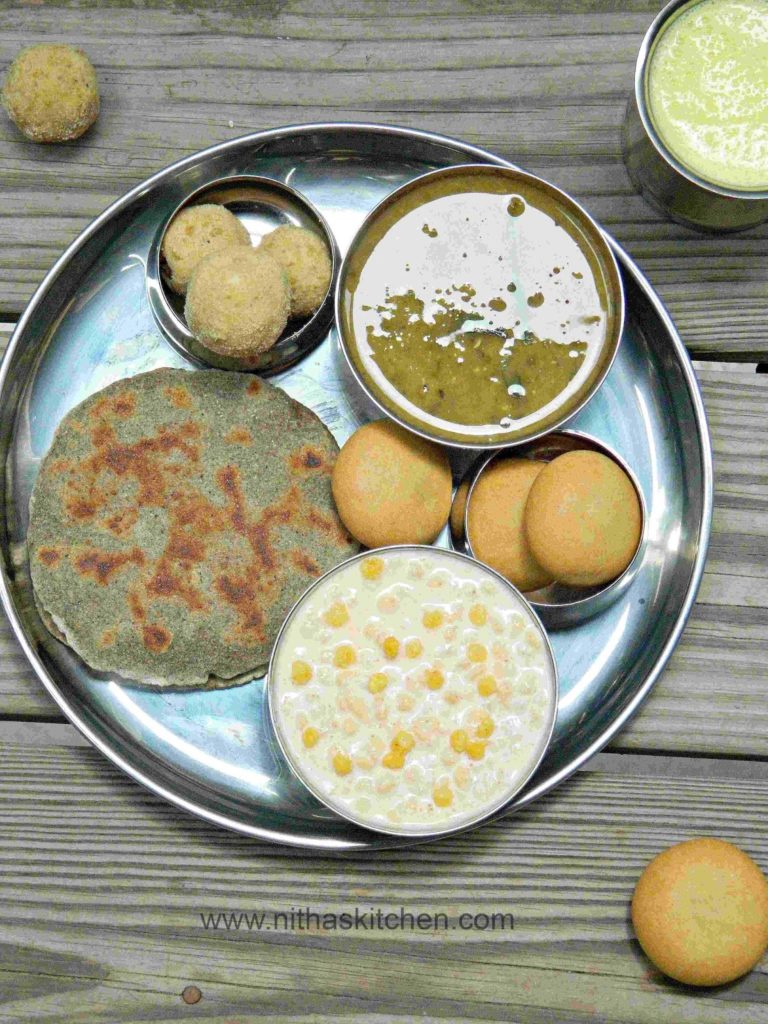 Kesar Malai Lassi
Lassi are an delicious and rich drink served at the end of meal 🙂 A specialty of Jodhpur and Rajasthan in India. Healthy, easy, rich and delicious drink to end with.
Ingredients
Milk – 1 cup
Saffron (Kesar) Extract – 1 tsp (or safforn soaked in warm milk for 5 mins)
Curd/Whipping cream – 1/2 Cup
Sugar – 3 Tbsp (adjust to your taste)
Salt – A Pinch
Water – 50ml (If curd is bit watery then skip this)
Method
Boil the milk and allow to cool completely
Put all ingredients in a blender and blend till smooth and the sugar dissolves.
Pour in a tall glass n serve chilled.
Note:
Can add ice cubes while blending.