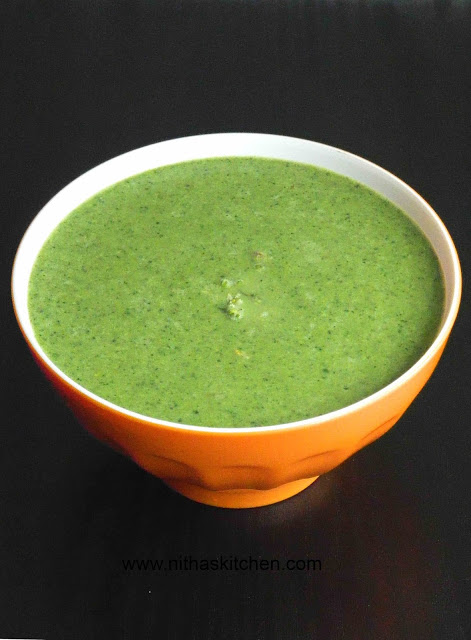 How many of you are lucky as me?  I got this manathakkali keerai named as Hierba Mora (Spanish) in ASSI Plaza, Duluth. Very much excited and stumbled for a minute. I confirmed it by tasting the green fruit. Two years back I had this when I was in hometown. During the last days of that vacation, I asked my mom to prepare daily and we packed freshly picked leaves from our garden to our 3 days stay in Chennai. Even I tried to bring here, how mad am I 🙂 I proudly showed the leaves to my Mom in Skype. My MIL often says that she makes this chutney for my niece, but I have not tasted. I grasped this recipe from her who is the right person to help me out today 🙂
Ingredients
Manathakkali Keerai – 1/2 Bunch (2 Cups tightly pressed)
Chana Dhal – 2 Tbsp
Urad Dhal – 2 Tbsp
Shallot – 5 Numbers OR Onion – 1/2 Number
Green Chili – 1-2 Numbers
Tamarind – Small Gooseberry Size
Oil – 1 Tbsp
Shredded Coconut – 1/4 Cup
Salt & Water  – As Required
Method
Clean and chop the keerai roughly.
Heat Oil add dhals fry till golden brown.
Add Chili, Onion, Tamarind and Salt, saute till raw smell goes off.
Add the chopped green leaves saute till it shrinks and all water gets evaporated.
Finally add Coconut and remove from heat.

Allow to cool and grind to fine paste.
Note:
Today lack of shallot tends me to add big onion,  but this chutney tastes great with shallot.