This Maravalli Kilangu Varuval Kappa Masala aka Yuca Stir Fry , we say this as kuchi kilangu is an easy and heathy snack to have during tea time or have it as poriyal/stir fry along with sambar and rice for meal. It's my childhood favorite, my mom pressure cooks and keeps some plain version for us and with the remaining she make this varuval. Both tastes good, with the plain cooked kilangu (without salt) we add ghee and sugar, mix it well and take it as it is. I don't have stepwise pictures today, hope to add yuca pictures in future. But i have referred few another posts for the stepwise pictures, do check them if you want. So the same ghee and sugar method I have mentioned it in Sarkarai Valli Kilangu post (you can check it HERE).
Here we won'tget this kilangu/yuca in all stores, though it is well available in most of the Asian supermarkets. We stay 20 miles away from those stores, so whenever i get chance to go I buy the yuca in bulk and store it in refrigerator. If you want to know how to clean and peel this kilangu do check one of my another post HERE.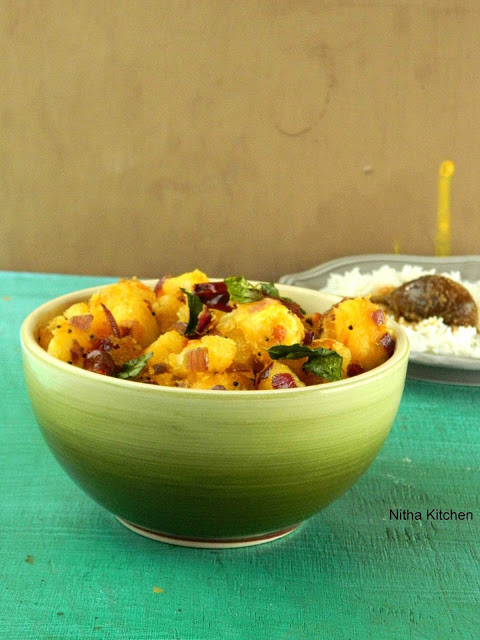 Ingredients for Maravalli Kilangu Varuval
Boiled cubed Kilangu/Yuca – 2 Cups
Onion – 1 Number (Medium Size)
Red Chili Powder/Flakes or Sambar Powder – 1-2tsp as needed
Dry Red Chili – 2 Numbers
Crushed Garlic – 2 Numbers (Optional)
Curry Leaves – Few
Mustard seeds – 1/4tsp
Chana Dhal – 1 Tbsp
Shredded Coconut – Optional
Turmeric Powder – 1/4tsp
Salt and Oil as needed
I have served this varuval with ennai kathirikkai kuzhambu, do check the reciep HERE.
How to make Maravalli Kilangu Varuval
Wash, peel the skin using veg peeler (remove two layers the brown and pink as shown in picture side by) and cut it in to halves to fit in your pressure cooker.
Add necessary water, salt and cook with the lid covered for 1 hiss.
Boil the yuca to 1 whistle don't overcook and make mushy, if it happened so then this recipe won't work with it.
Usually when they cooked they increase double to its original size.
Also you can cook in the pan until it doubles in size, make sure it cooked well at the same time it looks hard when you touch it.
If they are little mushy leave it in open air till it cools completely so that they turn good to cube after few minutes.
Once done with cutting (remove the center big root from the yuca while cubing), heat oil in a pan.
When oil is hot enough add mustard and let them splutter.
Add Chana dal followed by chopped onion, garlic, curry leaves and red chilis.
Once onion changes color and nice aroma attains add red chili powder or sambar powder and turmeric powder.
Finally add cooked yuca/kilangu and salt, gently mix them so that all the masala coats very well with the kilangu.
Let them cook for another couple of minutes in low to medium flame.
Finally you can add some shredded coconut (optional) and have it warm as it is or with sambar and rice.