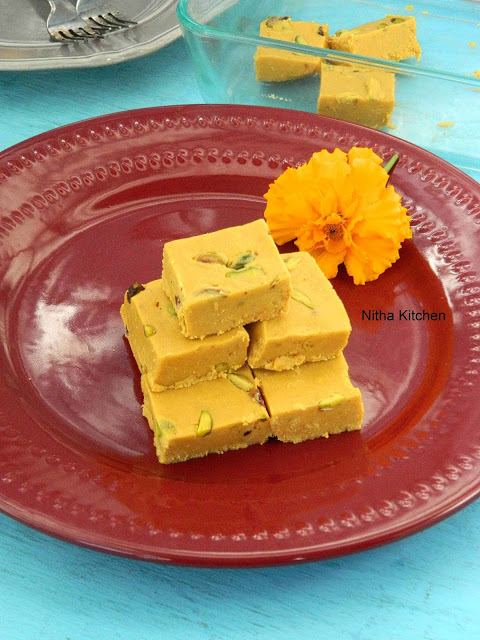 For the first time, I have made besan burfi 3 weeks back and stored in an air tight container for Diwali. Since the mysore pak recipe I have in the blog is reduced ghee version I tried similar to it and the outcome is simply awesome. This burfi is very easy to make and a must to have sweet for this Diwali 🙂
Yields – 10-11 Burfis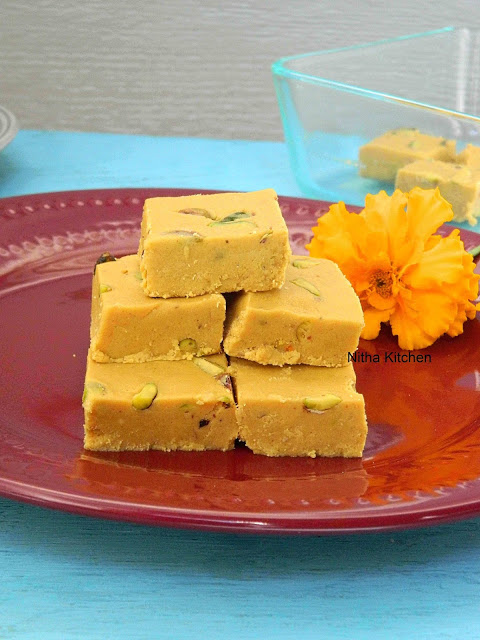 Ingredients
Fine Besan Flour/Gram Flour – 1.5 Cups
Ghee – 7 Tbsp
Regular Sugar – 1.5 Cups
Cardamom Powder – 2tsp
Kewra Water – 1tsp or Vanilla Extract – 1/2tsp
Chopped Pista/Almond Nuts – 1/4 Cup
*Milk Powder – 1/4 Cup (Optional)
*If milk powder is grainy then powder it fine in food processor and continue.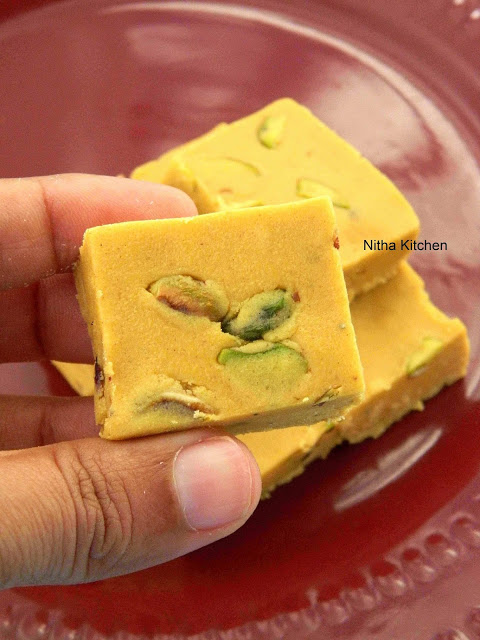 Method
In a wide pan add flour with 4 Tbsp ghee like shown in Picture 1.
In low flame fry the mixture, after 5 minutes it should be like shown in picture 2 with big lumps.
Break the lumps in laddle and keep frying for another 10 minutes, by this time it looks like shown in picture 3.
So 15 minutes later add the remaining 3 Tbsp ghee (Pic 4) and keep mixing in low flame for another 5 minutes, keep aside.
In the same pan melt sugar in 1/2 cup water and when it attains 1 string consistency add cardamom powder, Kewra or Vanilla essence and simmer the flame.
Now add fried besan, milk powder (optional) to it and mix well without lumps, here use balloon whisk for easy stirring.
Add half of chopped nuts (Pic 6) and mix all together.
Stir all together in low flame, when everything gathers together and leaves the pan (Pic 5), remove from flame.
In a ghee greased plate, drop the hot burfi mixture (Pic 7) and level the top.
Add the remaining nuts (Pic 8), press lightly and let them cool in room temperature for 1 hour at least.
For quick version you can refrigerate that sets soon.
Later cut in to desired shapes (Pic 9) and serve.