For to this month Divya's South vs North Indian bloggers challenge, South Indian teams are challenged with Chana Dhal Burfi by Kirti and North Indian teams are challenged with Hyderabadi Veg dum Biryani by our South Indian team member Swasti Blank. Me and my daughter enjoyed this burfi/halwa thoroughly, Thanks Kirti for this wonderful challenge. Ingredients
Chana Dhal/Bengal Gram – 1 Cup
Whole Milk – 1 and 3/4th Cup
Sugar – 1/2 Cup
Ghee – 1/2 – 3/4 Cup (I used 1/2 Cup)
Whole Cardamom – 4-5 Numbers
Pista/Almonds – To garnish
Salt – A Pinch
Directions
Wash and soak dhal with necessary water for 2 hours Pic 1 (Refer Note 1).
Boil the soaked dhal with enough water for 2 hisses, don't make it mushy Pic 2.
Remove extra water if any and spread it in tray to cool completely Pic 2.
Mash the boiled dhal with spatula/spoon to coarse like shown in Pic 3.
Dry fry the cardamom and powder it with 1/4 cup sugar (Refer Note 2).
Heat ghee (Reserve 1 Tbsp for later use) in heavy bottom pan (Can use non stick pan too).
Add mashed dhal and fry on low-medium heat approx for 15 mins (Pic 4).
Meanwhile boil the milk in another pan to ease the process for 5-8mins in medium flame.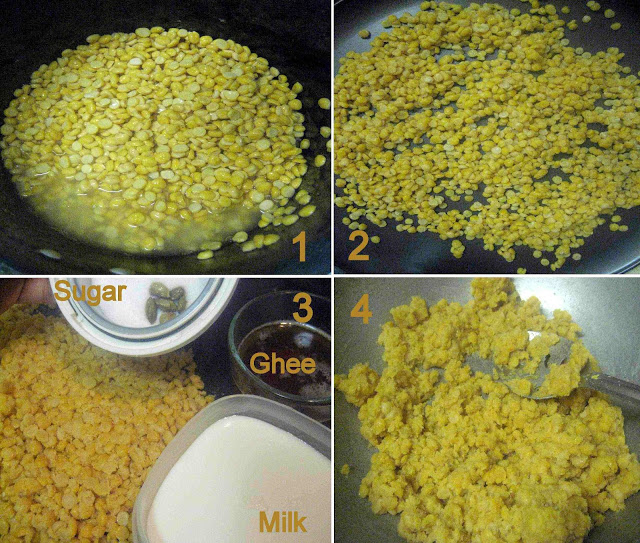 By this time raw smell from chana dhal goes off  and nice aroma attains.
Now add 1/2 Cup milk and stir on high temperature till it get dry Pic 5.
Again add 1/2 cup milk and keep stirring, once dried repeat last batch of milk (1/2 Cup) Pic 6.
Finally mix in cardamom powder+sugar, remaining sugar and keep mixing in medium – high flame for another 5 mins Pic 7.
At this time add the reserved ghee and keep stirring till it leaves the sides of pan and rolls together Pic 8.
Serve hot as halwa right now or spread it over ghee greased plate Pic 9.
Level the top with back of ghee greased spoon Pic 9.
If like to sprinkle chopped nuts add it right now.
When its luke warm temperature cut to desired shapes Pic 10.
Alow to cool completely and for immediate cool you can freeze it for 5-8mins.
Now you can easily pull the shaped pieces/Burfis.
I just sprinkled powdered pistachios over few burfis.
For longer use you can refrigerate in fridge.
Notes:
The soaking time varies by the variety of dhal you use so after 2hrs check when its completely soggy then start cooking.
I grinded the whole cardamom coarsely with sugar if not you can use the seeds alone.
For Halwa you can increase 2-3 Tbsp of ghee too…