Though the weather is not hot to taste ice cream my daughter keep on insisting me for strawberry ice cream after seeing strawberries at home. So I asked my H to buy whipping cream on the way from office and made Eggless Strawberry Mint Ice cream on the same day. You can make simple yet tasty ice cream without ice cream maker or electric blender to whip the cream :-). Today I added few Mints
to get good flavor, if you don't like mint flavor then skip it. If you wish do add chopped berries but I prefer blending it well for kids sake.
Ingredients
Strawberry – 10-12 Numbers (Large)
Mint Leaves – 10-12 Numbers
Heavy Whipping Cream – 1 and 1/2 Cup
Whole Milk – 1/2 Cup
Sugar – 1/4 (to 1/2 Cup as per your need)
Salt – 1/8th tsp (Pinch)
Mint or Vanilla Extract – 1/2 tsp
Optional Red Food Color – A drop
Eggless Strawberry Mint Ice cream Preparation
Chill a glass bowl and whisk for at least 5 minutes in freezer or 30 minutes in refrigerator.
Boil milk when it foams do reduce the flame and simmer for 5-10 mins or till it thickens to 1/3 cup.
When it is warm, add raw sugar/regular sugar if using with mint leaves if using (Pic 3, refer notes section) and keep aside.
Meanwhile wash and hull the strawberries (Pic 1) , i do have complete video tutorial for cleaning and storing it.
Blend it without adding any water (use any blender/extractor Pic 2).
Now filter the milk mint mixture and add it to the strawberry puree.
You can blend mint as well for strong flavor.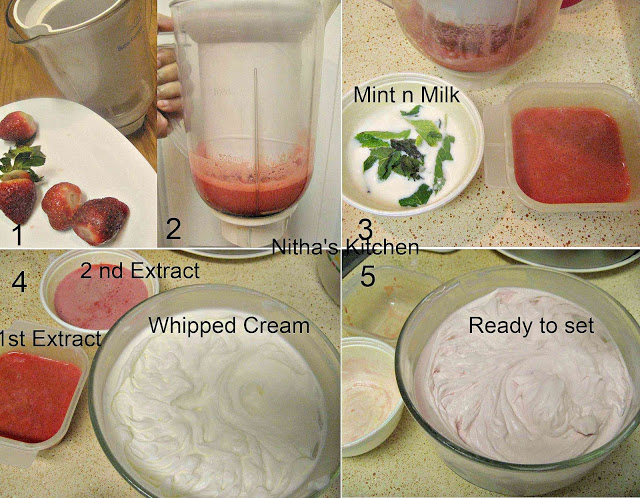 Keep the Strawberry puree mixture aside and start whipping the cream.
In the stepwise pictures above i added milk plus mint to the mixie jar and made two extracts.
Add cold heavy whipping cream to the chilled bowl and whip till soft peaks (Pic 4).
You no need to whip cream to medium or stiff peaks, just when cream gets thicken that's it.
Watch the video at minutes, that stage is fine.
If using powdered sugar add right now to the cream along with Strawberry Puree mixture and vanilla extract.
Whisk it again for few more mins, till all blends well (Pic 5).
Now cover the bowl with cling wrap and freeze it for 4-6 hours to set or overnight.
After its well set (Pic 5 below), serve with Chopped berries/Chocolate Syrup/Chocolate bits/Rolled Ice cream wafers.
But I attempted chocolate accents/strands using melting chocolates(Pic 6) and served along with it.
Here is heart in heart cake pops i used the same melting chocolates in the recipe…
Notes
If using reduced fat milk do add 1 tbsp custard powder or corn starch to the milk and thicken it before whipping it with cream.
If you are looking for egg based Strawberry Custard Ice Cream then HERE is the video recipe 🙂
For whipping heavy cream using hand whisk please watch my video here (May take 15-18 minutes approx).
If using Mint Extract or Essence increase to 1 tsp and skip mint in that case.
Video Tutorial