Tindora/Kovakkaai is a good source of vitamins and minerals. My Mom had knee pain and when doctors suggested taking tindora frequently then only I realized its health benefits, such a natural pain reducing vegetable it is. Last month the whole family caught up with cold and flu, that time I prepared these very comforting pepper rasam and tindora fry. To minimize oil usage I steamed tindora for couple of minutes and it reduced the cooking process too but it's similar to restaurant taste. I served those with brown rice, a very healthy platter indeed…
For Rasam
Gooseberry size Tamarind
Tomato – 1/4 from small size
Pepper – 1/2 Tbsp
Jeera/Cumin – 1/2 Tbsp
Red/Green Chili – 1 Number
Garlic – 5 Numbers
Turmeric Powder – 1/4tsp
Curry n Coriander Leaves – Few
Hing – A Pinch
Water n Salt – As Needed
Method
Soak tamarind in hot water and extract the pulp (Pic 3).
Dry roast the Cumin, Pepper(Pic 1) and powder it with salt (Pic 2).
Crush the garlic in Mortar/Pestle, blender/food processor or like i did (Pic 4)
Heat oil in a wide pan, splutter mustard seeds.
Add hing, crushed garlic and curry leaves, turmeric, powdered cumin/pepper and chili (Pic 5).
Saute well and finally add the Tamarind/tomato extract.
Add necessary water, check salt.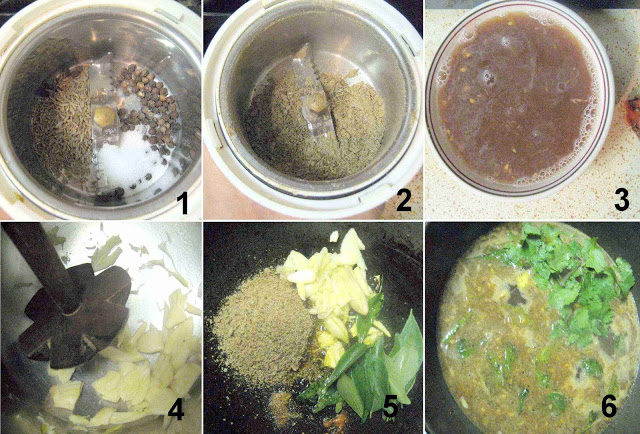 When starts frothing garnish with coriander and remove from heat (Pic 6).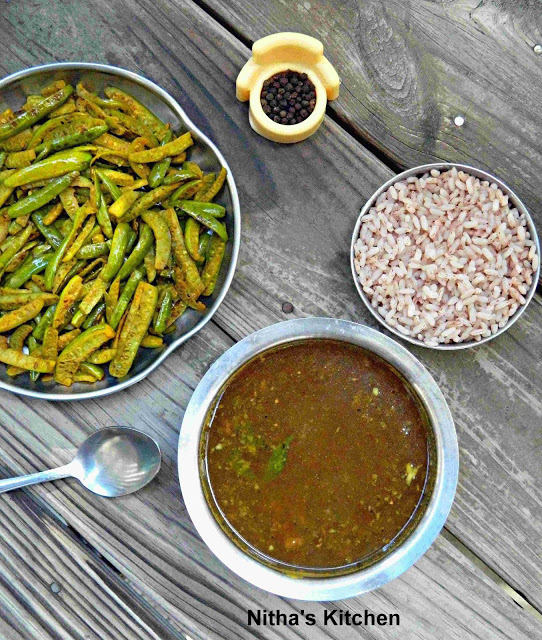 For Tindora/Kovakai Fry
Tindora – 1 lb
Mustard/Chana Dhal, Urad Dhal – To temper
Curry Leaves – Few
Turmeric Powder – Pinch
Sambar Powder – 2tsp (Replace with Red Chili + Garam Masala Powder)
Oil n Salt
Method
Wash and slice the tindora lengthwise (Pic 1).
Steam the sliced veg in idli pan/steamer for 5-7mins or till it turns tender (Pic 2).
Heat Oil, temper with mustard and dhals.
Add curry leaves, masala powder n salt
Finally add steamed tindora and saute well in low flame for couple of mins (Pic 3).

When masala incorporates well with veg then put off the stove.
Serve with Hot Rice, Sambar/Rasam and Papad.