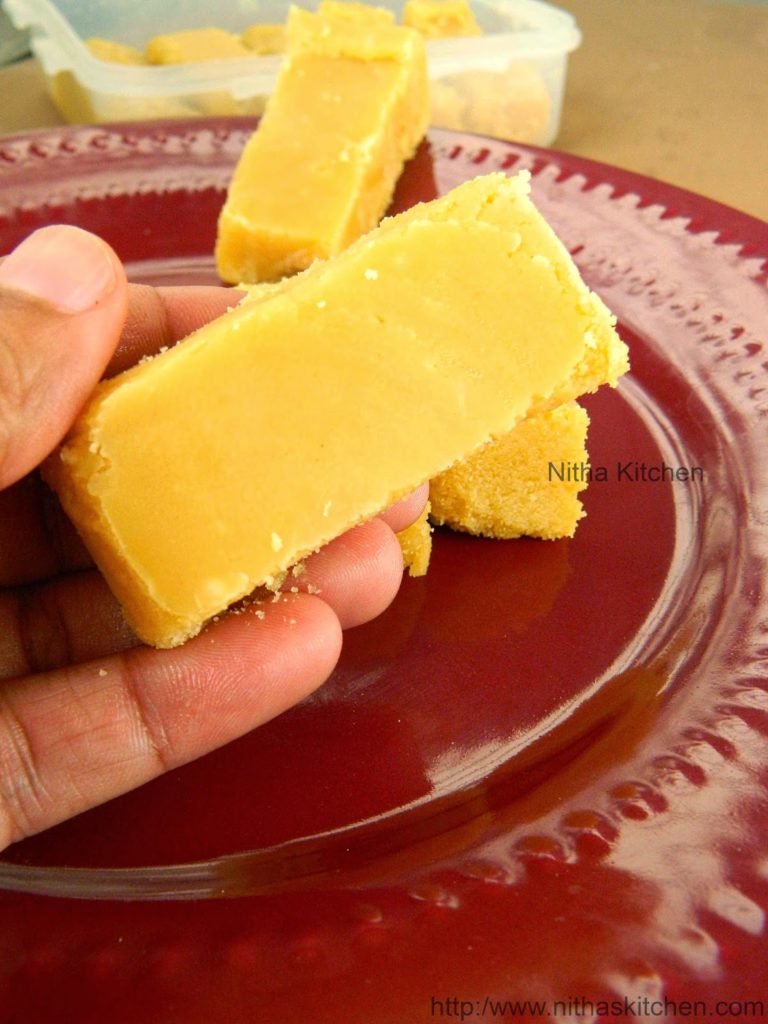 Diwali reminds many colorful memories; I am missing it badly for the past 7 years, since I came to US. Even now my kids are not aware of this festival except fireworks; I wish it will happen soon!!! Coming to today's recipe I keep on postpone making this Mysore Pak sweet becoz of its calories. But today when I got sudden craving for sweet immediately made it. Someway I reduced ghee and sugar though I got soft and perfect texture mysore paks. This recipe is easy to make unlike the traditional version. Such a superb easy recipe for the beginners and the final outcome is just melts in mouth mysore paks. This recipe gives 8-10 pieces of mysore pak as shown in picture above. Hope everyone is busy with Diwali/Deepavali preparation/plans. Try this yummy sweet in no time and before proceeding, I wish you all my dear friends, family members, readers and bloggers a very happy Diwali, enjoy the day with your family & friends :-).


Ingredients
Besan/Chick Pea Flour/Kadala Maavu/Gram Flour – 1 Cup
Sugar – 1 Cup
Ghee – 1/2 Cup (I used 1/2 Cup minus 2 Tbsp)
Oil – 1/4 Cup
Water – 1/2 Cup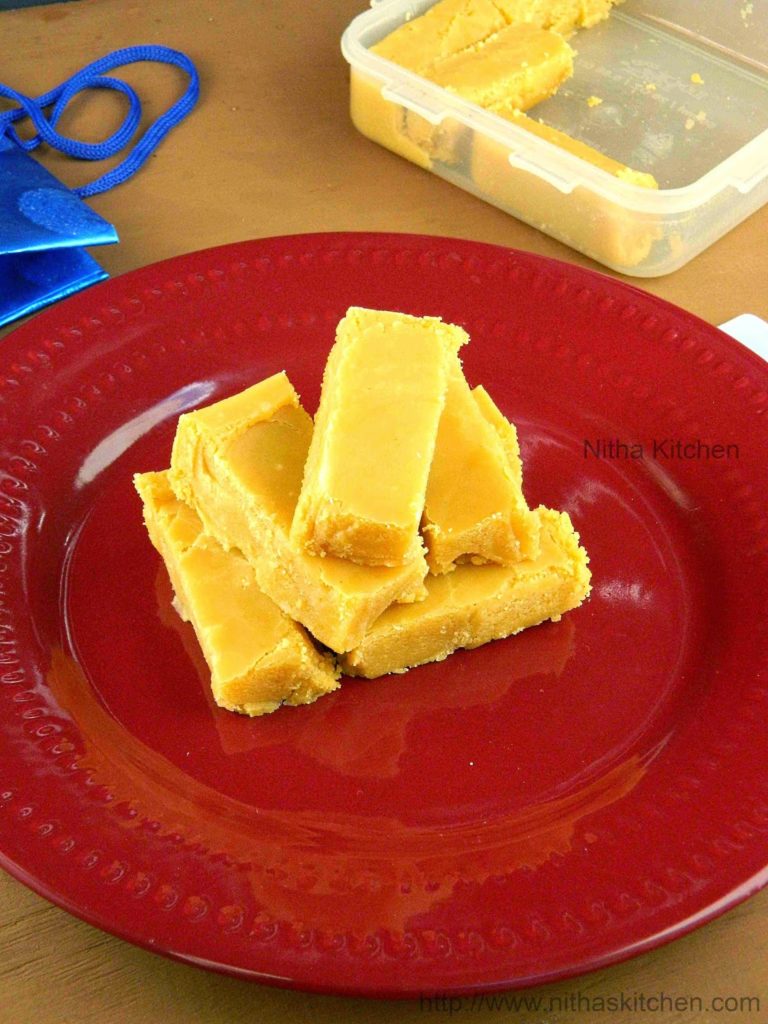 Method
Keep the ingredients ready (Pic 1) .
Sieve the flour (Pic 2), roast the flour with a tbsp or 2 Tbsp of ghee in low to medium flame till nice aroma attains.
The roasting step is very important if you skip you may get the raw flour smell in mysore pak.
Combine remaining ghee and oil together(Pic 2), and then just slightly warm it in microwave or stove top for 30 seconds.
If using homemade ghee you can filter the ghee residues if you wish.
Mix the roasted flour in to the warm ghee+oil mixture without any lumps (Pic 4).
Grease a rectangle tray with ghee and keep it aside.
In a wide pan take 1 cup sugar and 1/2 cup water bring to boil (in medium flame, Pic 3), stir in between and once sugar dissolved and frothy start checking the syrup string consistency.
I have used organic sugar, so the sugar itself light brown color by nature.
While checking the consistency reduce the flame and from the back of ladle wipe the syrup and stretch between your two fingers.
The syrup should extend well that is the perfect string consistency (Pic 5).
Then add the Flour+Ghee+Oil mixture to this sugar syrup (Pic 6).
Now increase the flame and keep stirring (Pic 7), for easy stirring you can use stainless steel baloon whisk/egg beater.
You may notice that the whole mixture becomes frothy and leave the sides of the pan.
When the quantity reduce and leaves the sides of the pan well (Pic 8), remove from flame.
Immediately drop it in to the already greased tray (Pic 9).
I used rectangle heat safe container here.
Let it cool in room temperature, when it is slightly warm just mark the pieces to desired shapes(Pic 10).
Once cooled down completely make sharp cuts and serve the melt in mysore paks.
The leftovers you just store in air tight container.
Mysore pak remains fresh for 5-7 days at least.