Aloo Bhujia is an easy snack to make for any festival like Diwali or a perfect savory snack to make for tea time munch. The flavors of potato, besan and spices make it exotic and when compared to other snacks this one uses very less oil when the dough is of perfect consistency. Here I have not added any water to the dough and do read each steps before making it so that you won't mess up anywhere.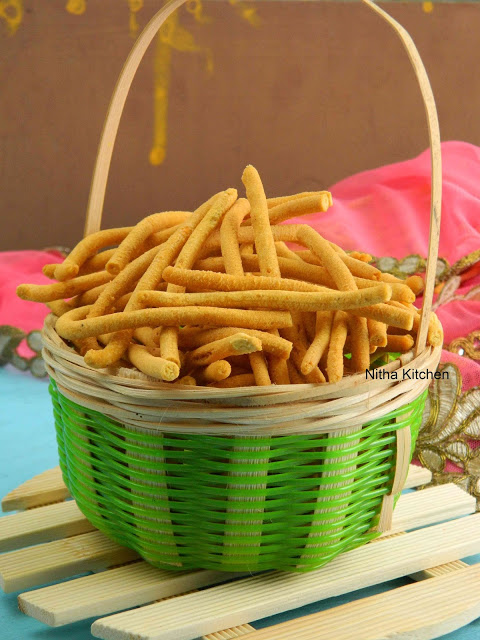 Ingredients
Besan Flour – 2 Cups
Boiled Potato – 1/2 Cup + 2 Tbsp
Butter – 1 Tbsp
Rice Flour – 2 Tbsp (Optional)
Turmeric Powder – 1/4tsp
Red Chili Powder – 2tsp
Cumin Powder – 1/2tsp
Pepper Powder – 1/4tsp
Salt – As Needed
Oil – To Deep Fry
* Water – I never added water but depending on the quality of flour and texture of mashed potato you may need 1-2 tsps of water.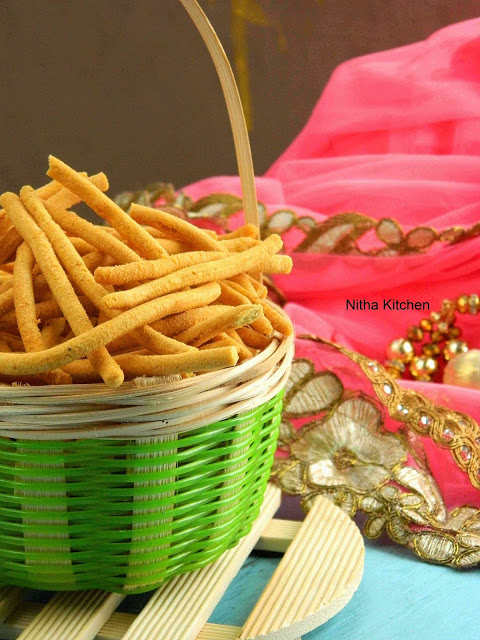 Method
Boil the potatoes for 2 hisses in a pressure cooker, I used one large potato, so you can check the potato size in step wise picture 1.
Allow to cool, peel the skin and then grind it to smooth paste like shown in picture 2
In a mixing bowl add the besan flour, rice flour, red chili powder, turmeric powder, cumin and pepper powder(Pic 3) , mix everything well.
At this time don't add water, mix it and it would appear as shown in picture 4.
Now add the softened butter, mix together and if needed you can sprinkle tsp of water at a time.
Dont add water at the beginning and also gram flour has the tendency to stick when it has too much moisture, so don't mess up by adding too much water.
If it happened so then adjust with more besan flour.
Once done with smooth dough as shown in picture 5 add it to the murukku press and choose the design.
I have shown sev designs in picture 5 and i usually go for the big hole, also i have planned to add this in another snack.
Heat oil in a wok/pan and when it is hot press (Pic 6) the dough in circular motion directly in to the hot oil by lifting the press up (leave ample gap between oil and press)
They usually increase in size (Pic 7) and once it turn golden brown/all the oil bubbles suppress take it out using a laddle and drain the excess oil using paper towel.
Repeat the above steps till done with dough, in picture 8 you can see the murukku press is clean and easy to handle for the bhujia dough.
Once they cooled completely you can break it randomly and store in air tight container for later use.