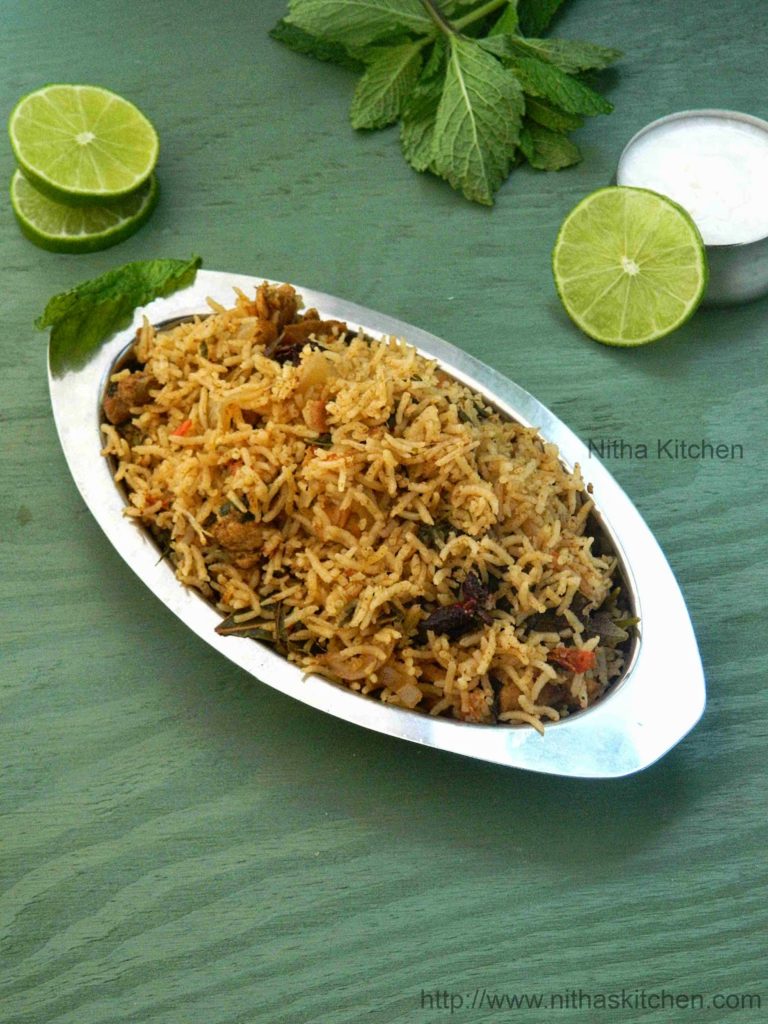 After almost a week break today I am posting a very tasty non veg biriyani which tastes similar to Ambur hotel Kozhi biryani. Ambur/Vellore is very special for Mutton (Goat) biryani and while travelling to Chennai few times I got chance to taste it. Nowadays weekly once I make similar with chicken and trust me this version of mine tastes too good.
Recipe Source :- Own
Star Ingredients
Grinding Part
Well Ripen Tomatoes
Ingredients
Basmati/Seeraga Samba Rice – 2 n1/2 Cups
Chicken – 400gms (Less than a Pound)
Tomato – Well Ripen 2 Numbers (medium size)
Onion – 2 Numbers Large size
Garam Masala Powder – 1/2 Tbsp
Biryani Masala Powder – 1 Tbsp
Ginger Garlic Paste – 2 Tbsp
Turmeric Pwder – 1/4tsp
Yogurt – 3/4 cup (if watery then take 1 cup)
Mint leaves – 1/3 cup
Coriander Leaves – 1/4 cup
Salt  – As Needed
Oil+Butter –  4 Tbsp
Water –  4n1/2 cups
Cinnamon – 4-5 inch
Cloves – 4 Numbers
Cardamom  – 3 Numbers
Brinji Leaves – 2 Numbers
Star Anise – 2 Numbers
Soak and Grind Ingredients I
Whole Red Chili – 4-6 Numbers (Very Hot Variety)
Fennel/Sombu – 1tsp
* If Using Fresh Ginger and Garlic then grind it with above chili and fennel seeds, I Do So).
Grind Ingredients II
Mint and Coriander leaves – 1/4 cup each
Method
Soak red chilis and fennel in warm water for couple of hours, 2-3 hours at least.
Soak Basmati/Seeraga Samba Rice for 30-40 minutes.
Slice the onion to very thin slices.
Chop the tomato and keep other ingredients ready.
Grind the soaked red chili+fennel to smooth paste, either grind 1/4 cup each of mint and coriander with red chili paste or separately in the same blender jar.
Heat Oil+Butter when oil is hot add all the whole garam masalas like cinnamon, cardamom, cloves, Star anise and Brinji leaves.
Then add chopped onion, 1/2tsp salt and saute till it changes golden brown and most of moist goes off.
Now add chopped tomato and after 3-4 minutes add ground chili paste (Pic 1), add ginger garlic paste right now (if using store bought version) saute for 2-3 minutes.
Now add mint coriander paste.
Saute till all cooks and changes to thick paste.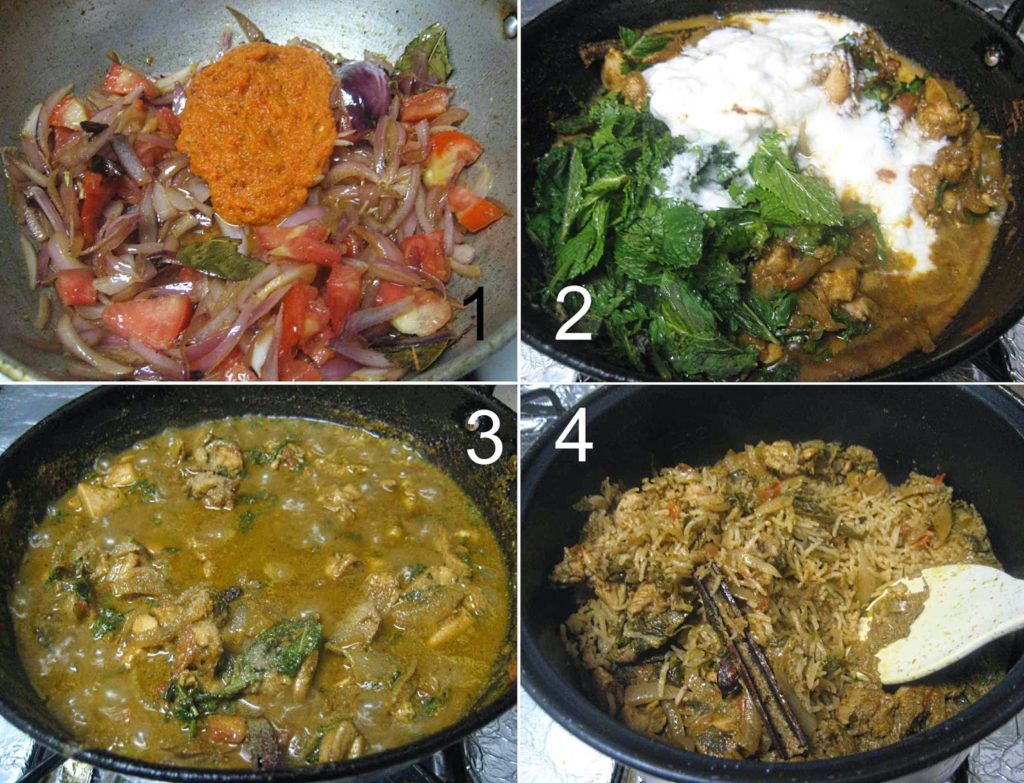 Then add chopped chicken pieces, remaining salt, garam masala powder, turmeric powder and biryani masala powder.
After 2-3 minutes finally add yogurt, chopped 1/4 Cup Coriander and 1/3 Cup Mint leaves(Pic 2).
Allow to cook couple of minutes till oil floats on top(Pic 3).
If the yogurt is watery then the biryani masala leaves water, nothing to worry, finally adjust water according to it.
Add water according to the biryani masala juice and pressure cook it with soaked rice.
Make sure the water doesn't exceed 4n1/2 cups, I usually use electric rice cooker.
Mix it gently once done(Pic 4) and serve with raita or gravy.