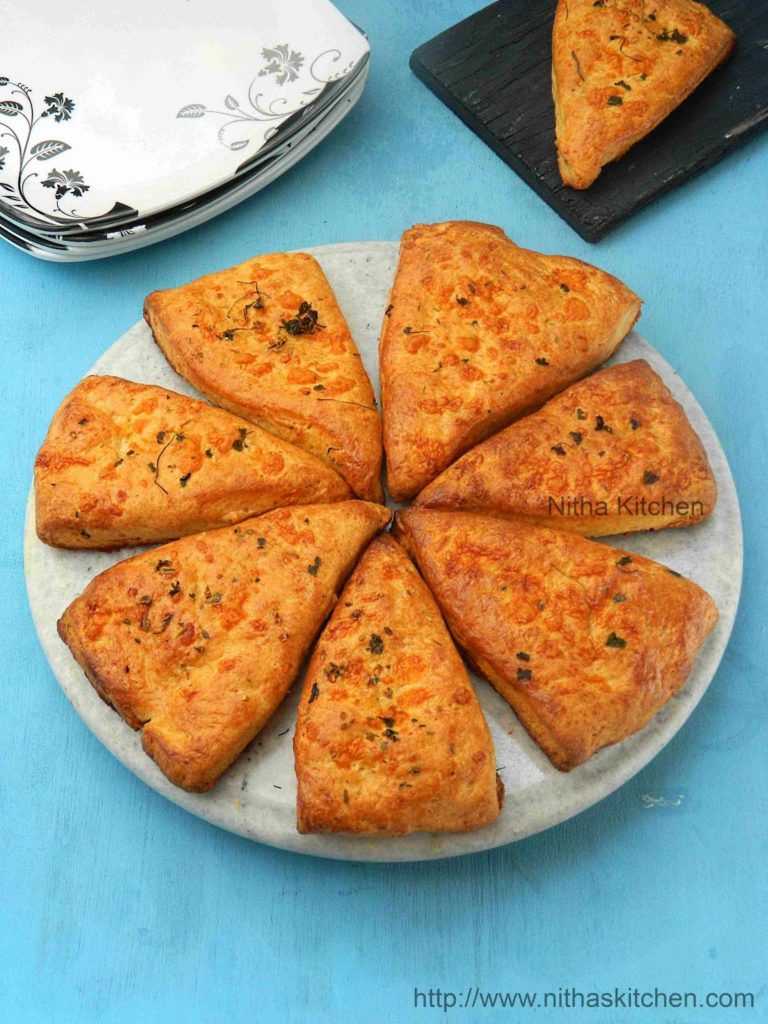 Scones were in my to do list for a while and when Archana suggested savory scones for this month Swathi's baking partners challenge I made it few days back. Thanks for the recipe suggestion, these cheddar sage savory scones are super perfect for savory lovers, egg free as well. We had it as evening snack with soup. You can go for any available cheese at your place, better to use some cheddar cheese variety. Let's move on to detailed post!!!
Yields :- 8 Numbers
Time needed: 45 minutes
Recipe Source: bbcgoodfood.com
* The original recipe calls for fresh sage 10 leaves, 2 chopped fine and rest whole, I used dried sage.
Ingredients
Self Rising Flour – 2 Cups/225 gms + extra for dusting (If using All Purpose Flour Add 1n1/2tsp Baking Powder and 1/2 tsp Salt for each cup of all purpose flour, so it needs 3tsp baking powder and 1tsp salt for 2 cups)
Butter – 50gms/3.6 Tbsp, chilled and cubed
Cheddar, grated – 100grms (I Use Sharp Cheddar Cheese)
Dried Sage – 1 tbsp  + ½ tbsp (Any dried herbs like Oregano/Basil or Methi)
Curd/Yogurt – 100ml (If Yogurt is not thick then take 150ml and skip water below, I did so)
Water – 50ml
English Mustard Powder – 1½ tsp or Use 1/2 Tbsp of Spicy Mustard Sauce
Salt – A pinch
Pepper – A pinch
1 tblspn oil, for greasing
Cheddar Sage Savory Scones Preparation 
Preheat oven to 220° C/428° F.
Grease and flour the baking tin or use parchment paper as well.
Whip the curds and measure.
Adjust the water and whip it to get a smooth mixture, This will give you 150ml of buttermilk.
Set aside 1 tsp of buttermilk. This is for brushing on the scones.
Mix flour, mustard powder(if using), salt and pepper in a bowl.
Rub butter till the mixture resembles fine crumbs.
Stir in the cheese (reserve 2 tbsp for topping)  and 1 tbsp sage (Pic 1).
Make a well in the centre of the flour and pour in the buttermilk.
Quickly stir and mix well till the mixture forms soft and spongy dough (Pic 2).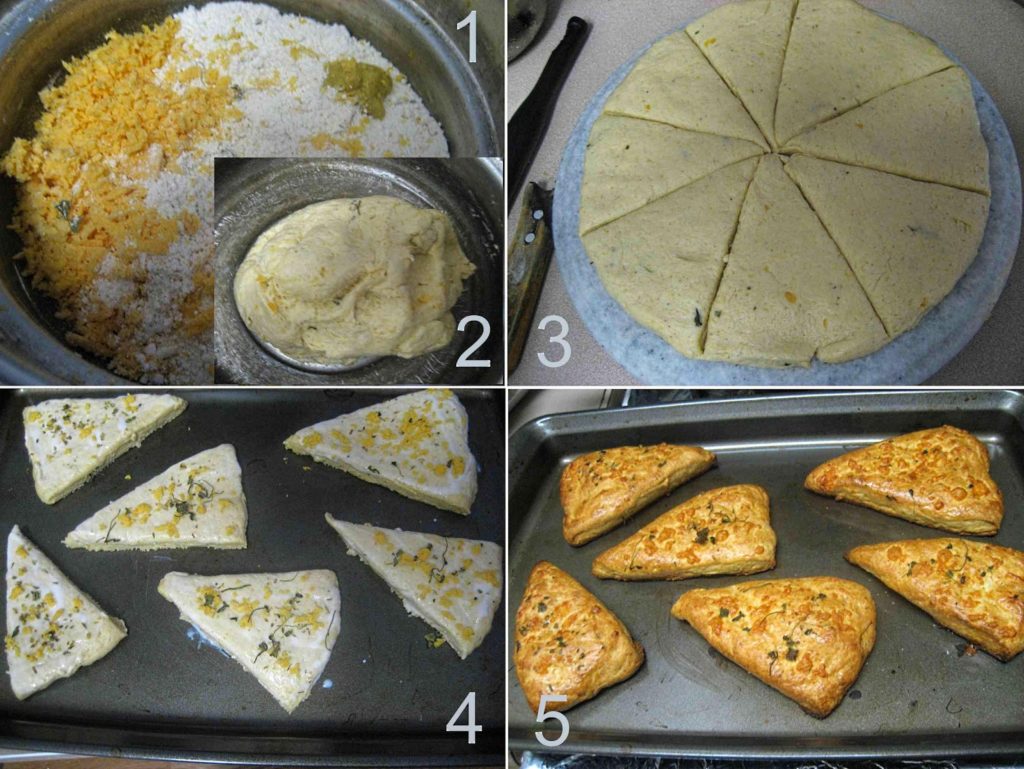 Transfer to a lightly floured surface and knead to get smooth dough.
Roll in to 3 cms thick circle, Cut in quarters then the quarters again to get 8 sectors (Pic 3).
Transfer to a baking tin (Pic 4).
Brush the remaining buttermilk.
Sprinkle the reserved cheese and top with sage (Pic 4).
Bake for 13-15 minutes until they are well risen, golden and sound hollow when tapped on the bottom (Pic 5).
Serve warm with butter.
Notes
You can roll the dough out in a square then cut it in quarters then the quarter in can be cut diagonally to get 8 triangles.
I suggest you shape out the dough in the tin or the tray you  want to bake the scones, it looks perfect.