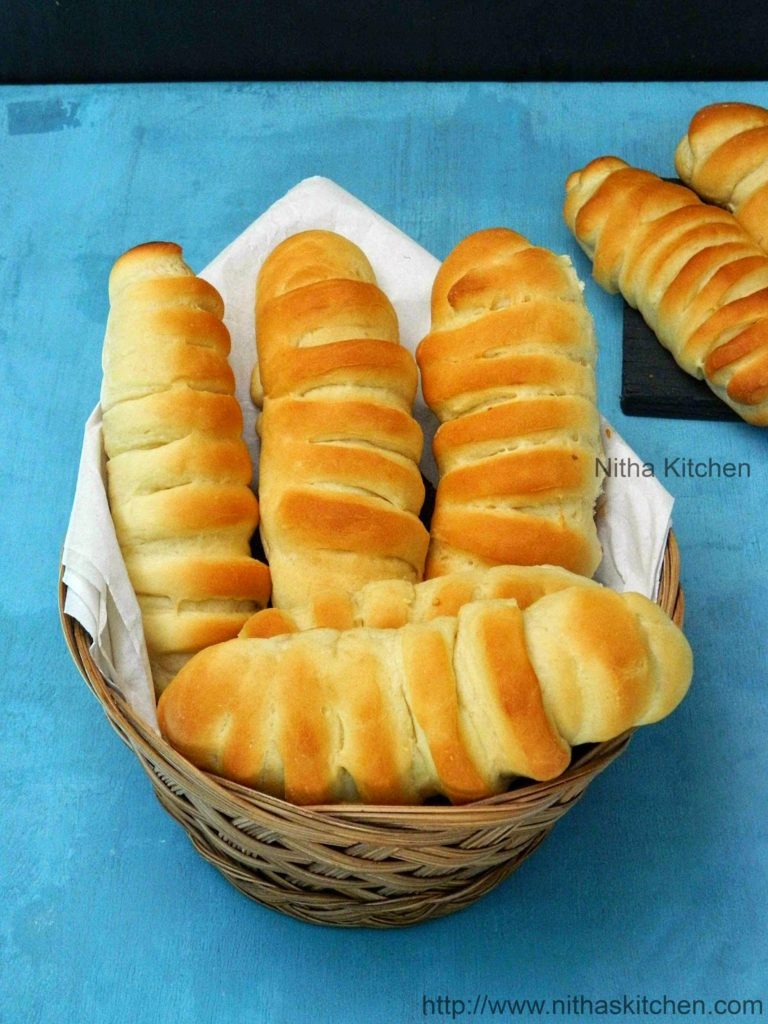 Wool Roll Bread : Though I already have coconut sweet stuffed egg free butter free dinner rolls recipe in my space, its my long time wish to bake chocolate stuffed bread rolls, but sometimes other recipes stand in priority and usually I postpone making the recipes which are in my mind or to do list. When it comes as a challenge then with no further delay I make and try to post in time :-). So today's recipe is chocolate chips/morsels filled super soft bread rolls which was challenged by Gayathri for Priya sis Home Bakers Challenge, an event happening every month. Its optional to add egg I tried both eggless and egg based versions before posting the recipe.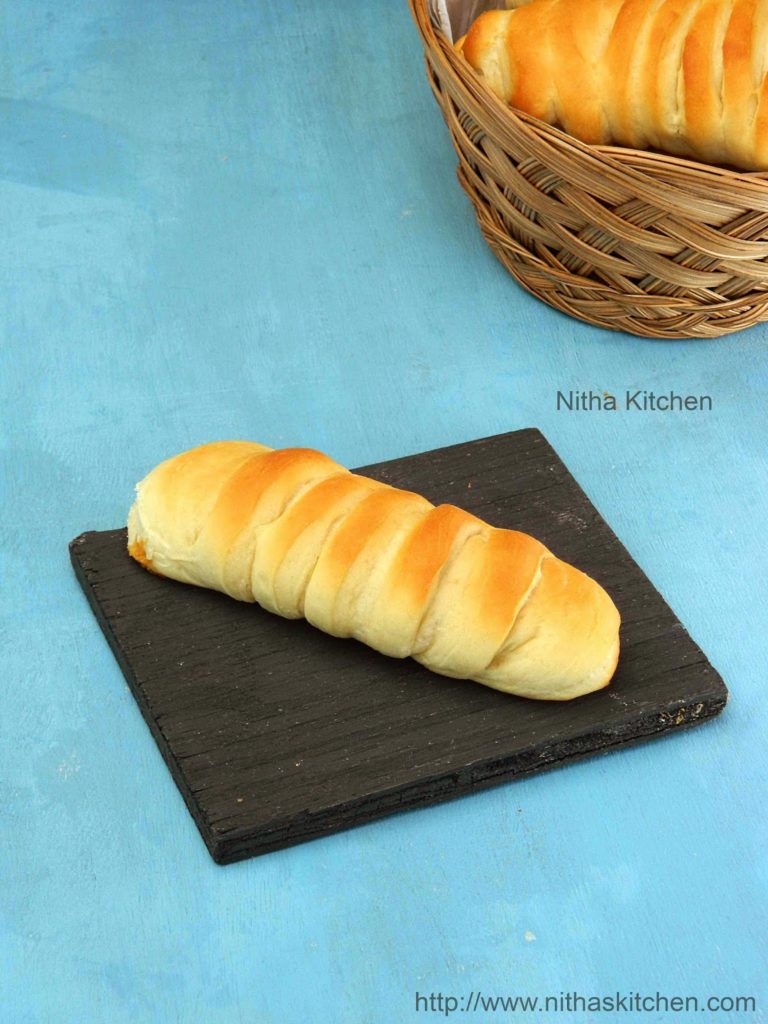 Bread dough
Bread Flour – 240gms/2 Cups (Replace with APF/Maida)
Cake Flour – 60gms (Or) 1/2 Cup (Replace with 1 Tbsp Corn Flour + Remaining APF/Maida)
Active dry Yeast – 6gms (1 and 1/2tsp)
Butter – 30gms (2 Tbsp)
Sugar – 30gms (2 Tbsp)
Salt – 5gms (1tsp)
* Egg – 1 (Optional)
Milk – 10gms (2tsp)
Water – 150ml (I used only 120ml of water, better reserve 30ml and if needed add it)
* I make eggless version sometimes in that case reduce half quantity of water and substitute milk.
Filling
Bar of chocolate (chopped into strips) or Chocolate Chips or Butterscotch or White Morsels.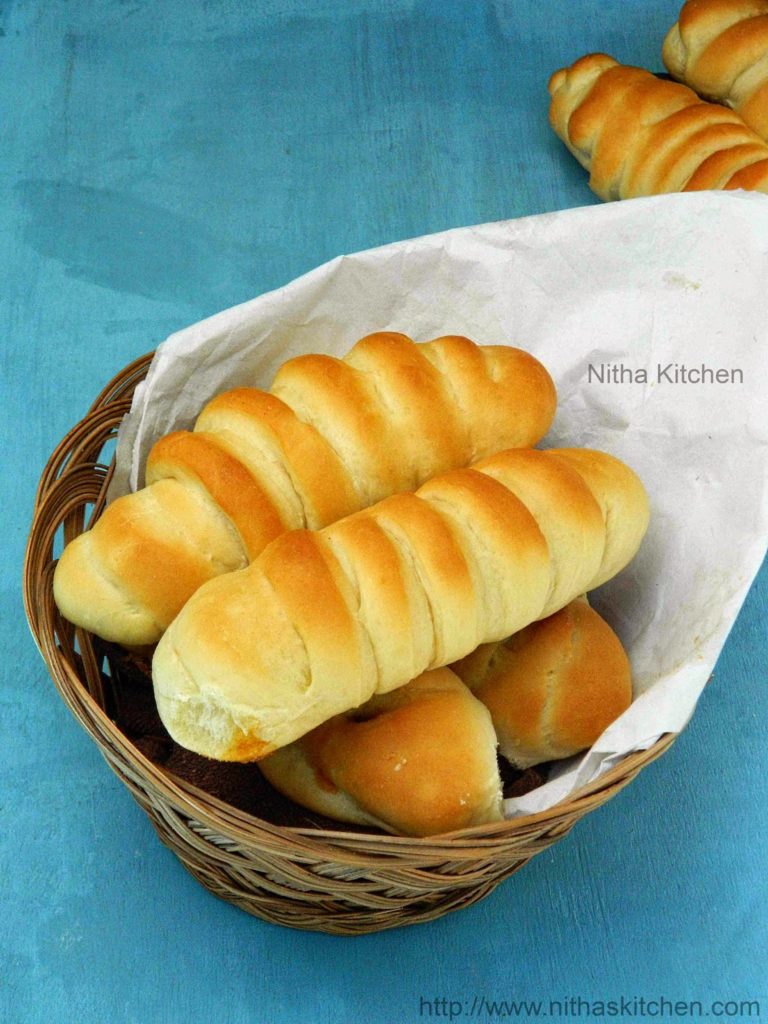 Method
Mix all the dry ingredients in a bowl then add egg (if using Pic 1) and wet ingredients except the butter and mix until a dough forms.
Add the butter to the bowl and knead the dough with your dough hook attachment or your hands until the dough is not so sticky anymore (I use my hands).
Cover the bowl with plastic wrap and let the dough rise in a warm spot for one hour (Pic 2).
You can also place the bowl on top of a pan filled with warm water.
After the dough has proofed, deflate the dough on a floured surface.
Cut the dough into 10 equal pieces.
Roll each piece into an oval shape, big enough for your chocolate.
Place the chocolate almost on the edge of one side (pic 3), cut the remaining dough in to strips (Pic 3), gently fold over (Pic 4) and tuck underneath.
Also gently place on a lined baking tray.
Cover your rolls loosely with plastic wrap and let rest in warm spot for the second fermentation round about 30-40 minutes (Pic 5).
Preheat your over to 175 °C or 350 °F.
Bake these rolls ± 14 minutes or until golden brown (Pic 6).
Its optional to apply butter over breads when it is out from oven.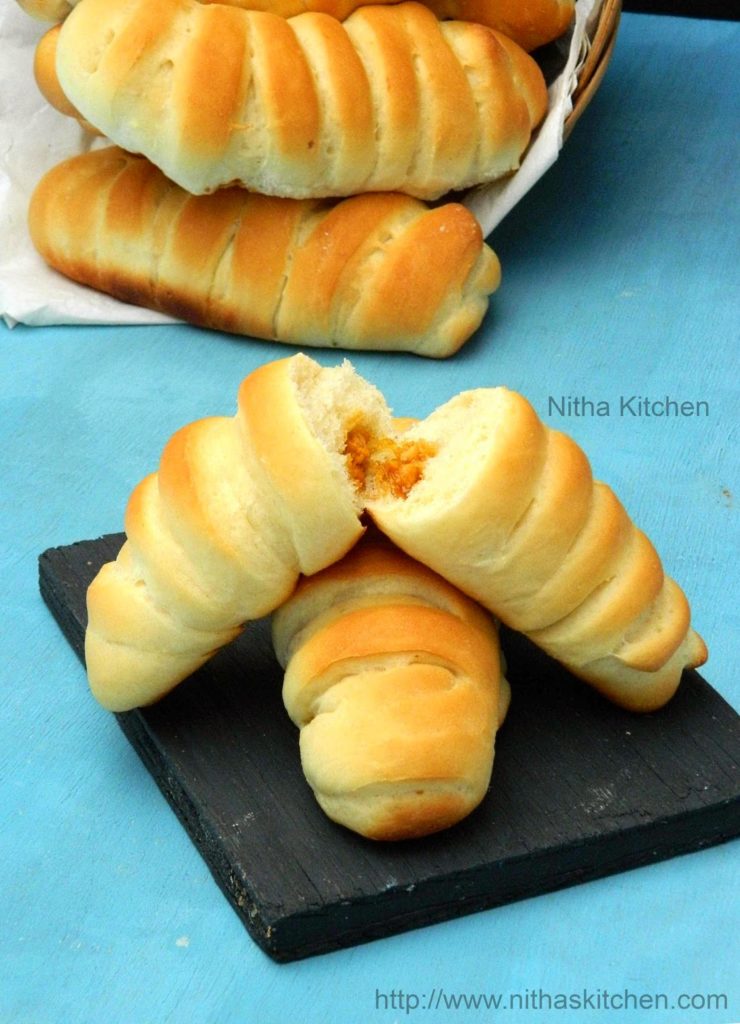 Notes
Before eating, heat up 10 seconds in the microwave for runny chocolate and softer bread.