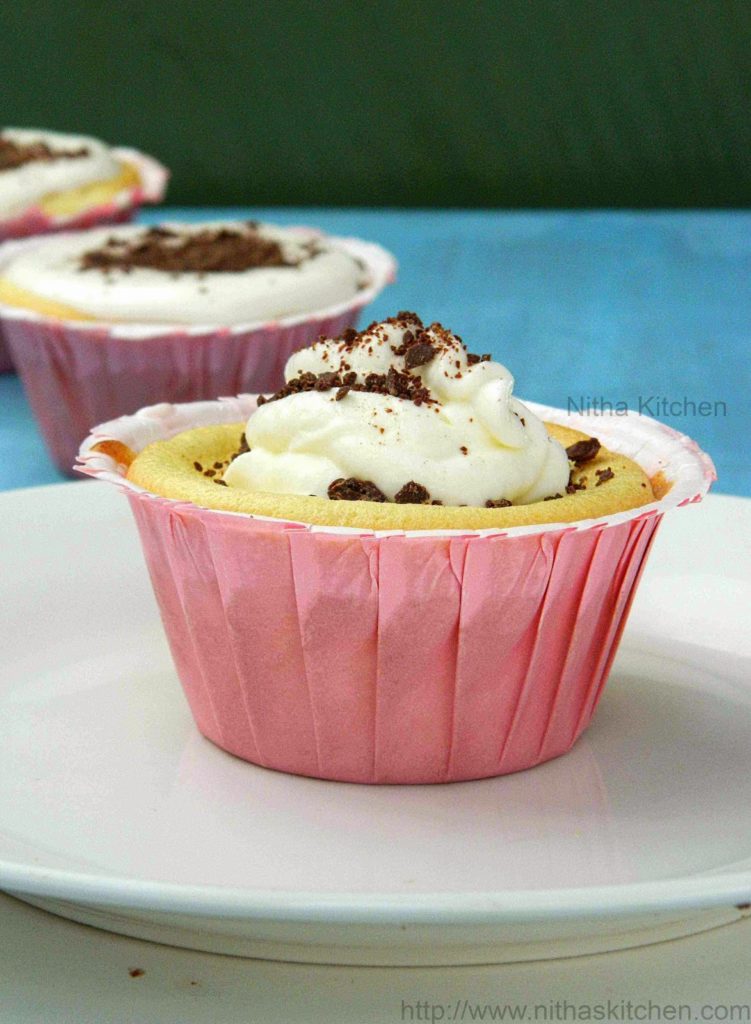 As a token of First Anniversary Celebration for International Food Challenge (IFC), Saraswathi has asked us to pick one recipe from the missed challenges which includes 12 different cuisines that were explored in last year. Since I have not touched Japan cuisine, I choose this Hokkaido cupcakes as listed by her under celebration recipes!!! Hokkaido is Japan's second largest island. Due to its expansive countryside, Hokkaido is able to support a massive dairy industry. The area produces about half of the country's milk, of which most of it is used for drinking while the rest is processed into other dairy products like butter, cheese, yoghurt and ice cream. Coming to our today's recipe Hokkaido Cup Cakes they are very different to the usual cakes and are very airy and soft in texture. The cakes are very low in sugar so can be filled with a fruit – flavored cream like mangoes, strawberries, passion fruit etc. The real chiffon cupcakes are available in square cupcake cases but you can make them in round ones like I made here. Thanks Shazia Wahid for this delicious recipe suggestion!!!
Preparation Time: 15 minutes
Cooking Time : 15 – 18 minutes
Yields :- 9 to 10 Large Size Cup Cakes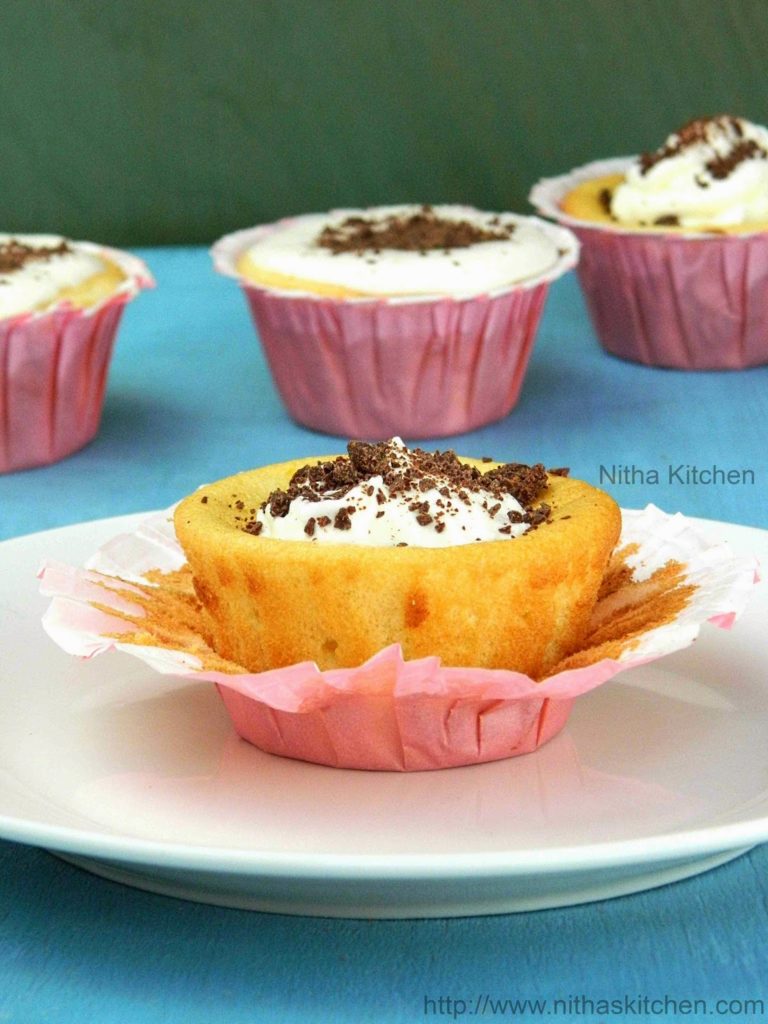 Recipe Source :- Here
Ingredients
Eggs – 3 Large Size (separate egg yolks and whites)
Caster Sugar – 30 gms + 45 gms
Oil – 3 tablespoon (45 gms)
Plain Flour – 65 g (1/2 cup)
Milk – 60 ml (1/4 cup)
Vanilla extract – 1/2 to 1 teaspoon
Cream of Tartar – 1/4 teaspoon
For the Filling
Whipping Cream – 125 ml (ALso Cream Cheese Works)
Vanilla extract – 1/2 teaspoon
Chocolate bark for decoration
Method
Sift the flour. In a large bowl add in 30 g caster sugar, egg yolks beat until incorporates well (Pic 1) then add oil , vanilla and whisk till a smooth batter is formed (Pic 2).
Add Flour in 2 batches alternating with milk (Pic 2).
In a separate glass bowl, whisk the egg whites and cream of tartar to a foam and then add 45 g caster sugar and whisk on high speed till stiff peaks are formed (Pic 3).
Add 1/3 of the egg whites into the yolk batter and fold gently (Pic 4).
Add the remaining egg whites and fold it gently into the yolk batter (Pic 5).
Fill the cupcake cases 3/4  full. Tap the case lightly to remove excessive air pockets. If using paper cases, tap the tray.
I used mix of baking cups and silicone cups here (Pic 6).
Bake in a pre-heated oven to 180° C/350° F for 12 – 16 minutes till a skewer comes out clean (Pic 7).
Cool the cupcakes completely (Pic 7).
Whisk the whipping cream till stiff and add vanilla extract. Fill the cream into a piping bag.
Make a cross in the centre of the cupcake and fill the centre with cream (But i skipped this filling step).
Pipe some more cream at the top and garnish with chocolate bark or curls or with some fresh fruits.
Tips and Tricks
Use a clean glass bowl (no grease/water) when whisking the egg whites or they will not become stiff.
Make sure there is no egg yolk in the bowl of egg whites or they will not whisk well.
The cupcakes will rise and even crack but they will shrink when they cool so don't worry about the cracks.
You can whip egg whites using hand whisk too, check here.