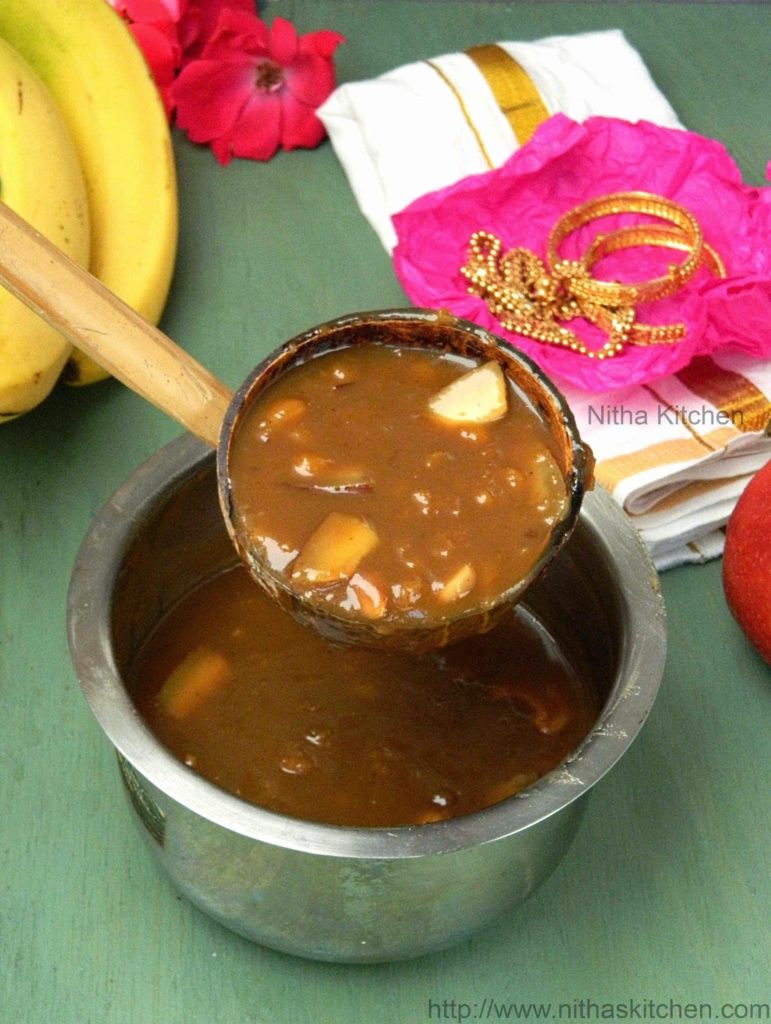 Kadala Paruppu Payasam : Onam is around the corner and my dear fellow bloggers keep on posting onam sadhya recipes so I was thinking yesterday to prepare pradhaman at least and post before the festival. Whenever we visit Bhagavathi Amman Temple in Kerala I never miss to taste those pradhamans, since from then it was my dream to make
Pradhaman at home, luckily I got that same perfect texture and taste in my first attempt!!!  I referred Swathi's space and tried Kadala Parippu Pradhaman today, also I am sharing the recipe with you immediately!!! Before going in to the recipe in detail I wish you all a Very Happy Onam 🙂
Serves – 4-5
Ingredients
Kadala Paruppu/Chana Dal – 1/2 cup
Jaggery – 1 Cup (I took mix of Jaggery and Dark Brown Sugar)
Thick Coconut Milk – 1 Cup ( I use home made coc.milk , if you wish use store bought one)
Full fat Milk or Heavy Cream – 1/2 Cup  (Optional you can use coconut milk itself)
Ground Ginger Powder – 1/2-3/4tsp (Refer below to make ginger powder at home)
Coconut chopped – 2 Tbsp ( if you want reduce or increase the quantity, use copra for authentic)
Ghee/Clarified butter – 1 Tbsp
Cardamom Powder – 3/4 Tbsp
Cashews: 10 Numbers
Water – As Needed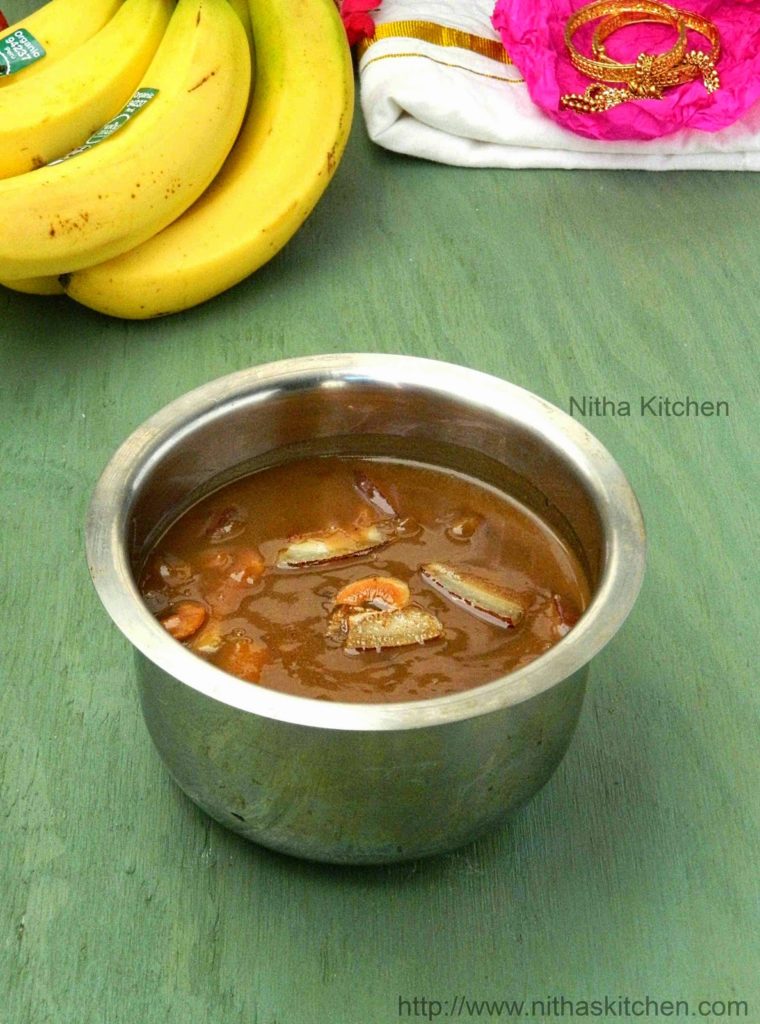 Method
Soak Chana dhal for at least 30 minutes.
Cook chana dal with 1 ½ cup water in pressure cooker for 2 hisses and switch off the flame.
When cooled completely take 1/4 cup of boiled chana dhal and grind to fine paste, if needed add coconut milk or cooked chana dal water to grind to smooth paste.
In a medium sauce pan add 1 cup of water and jaggery let jaggery melt itself (Pic 1) and drain using a strainer to remove the impurities.
In the same pan add cooked chana dal with water(around 3/4th cup), filtered jaggery syrup cook in medium flame for 5 minutes and then add coconut milk (Pic 2).
After 5 minutes add thick milk or heavy cream, ground chana dal paste, cardamom powder, ground ginger/ginger powder (Pic 3) and let it boil for another 5 minutes (Pic 4) in low to medium flame or till it gets thick (Pic 6).
Switch off the flame and keep aside.
The consistency is up to you, i made very thick(Pic 6) as we get pradhaman in temples.
Heat ghee in a small pan add cashew and chopped coconut and fry until they become slightly brown. It takes about 3-5 minutes (Pic 5).
Garnish the kadala parippu payasam with ghee roasted cashews and chopped coconuts (Pic 6).
You can either serve it hot ot cold.
Homemade Ginger/Powder
Grated Ginger – 1/4 Cup
Dark Brown Sugar – 1 Tbsp
Granulated/Regular Sugar – 1 Tbsp
Salt – A Pinch
Method
Grate the ginger and toss it in dosa pan/wok for few minutes, just to get rid of moisture.
You can use oven also to dry the grated gingers.
Leave it in room temperature by spreading it over a paper towel overnight or till well dried.
Next day powder it with sugars (Pic 1) and salt to very fine texture (Pic 2).
Sieve it (Pic 3) before using in cakes/breads or other recipes (Pic 4).
Notes
You can make it watery but this slowly simmered pradhaman tastes great when it is thick in consistency.
In 2 hisses the dal cooks well but still it maintains the whole dhal texture in final stage too, so if you want bit mushy allow 3 hisses to cook.