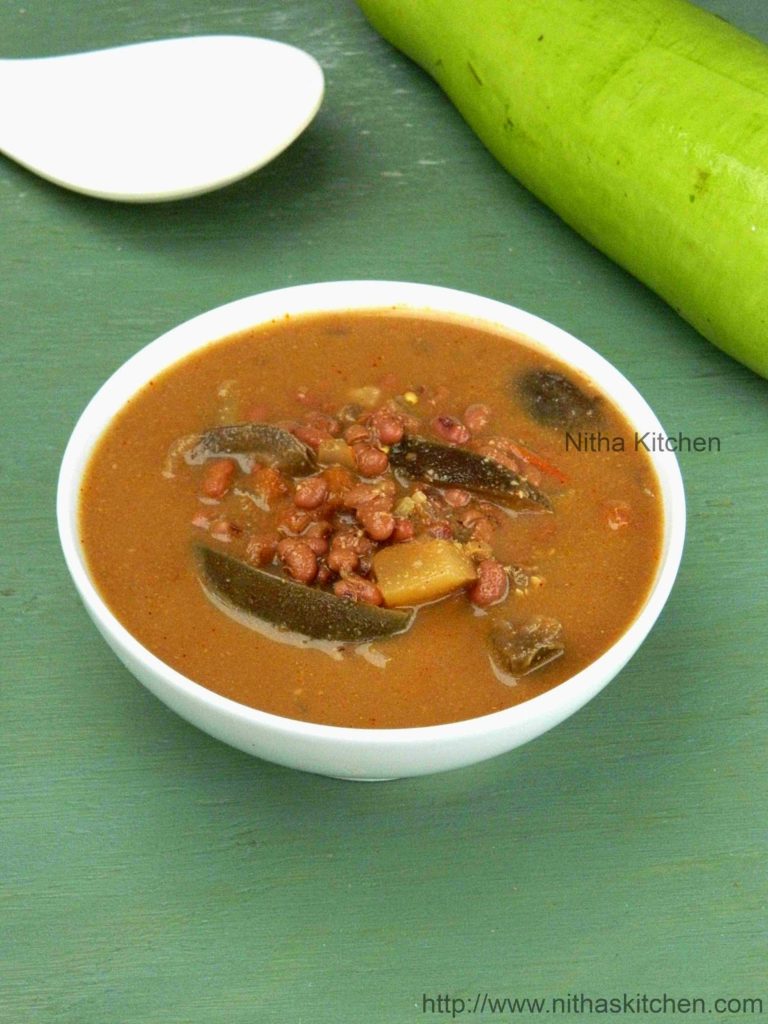 Today's recipe Karamani Kuzhambu/Thattai Kottai Surakkai Kulambu is my mom's signature recipe which is very tasty and healthy ie protein rich red beans and veggies mixed curry. This gravy goes very well with White rice and tiffin varieties too. This vegetarian stew can have as it is or also accompanies well with brown rice or Quinoa.
Ingredients
Thattai Kottai/Karamani/Red Chori Beans  – 1/2 Cup (Soak whole night or atleast 7 hours)
Onion – 1 Medium
Tomato – 1 Large
Bottle Gourd (Surakkai) or Brinjal – 1- 1n 1/2 Cups (I use mix of both)
Tamarind Extract – From 1 Medium Lemon Size balls
Mustard Seeds – 1/2tsp
Hing – A Pinch
Curry and Coriander Leaves – Few
Red Chili Powder – 2tsp or More
Turmeric Powder – 1/2tsp
Sambar Powder – 1 Tbsp (You can replace with red chili powder)
Oil and Salt – As Needed
Coriander Leaves – To Garnish
To Saute and Grind
Onion – 1 Number (Small size) or Shallot/Small Onion –5 Numbers
Garlic – 4-5 Numbers
Shredded Coconut – 1/4 Cup
Dalia/Pottukadalai – 1 Tbsp
Coriander Powder – 1-1and1/2 Tbsp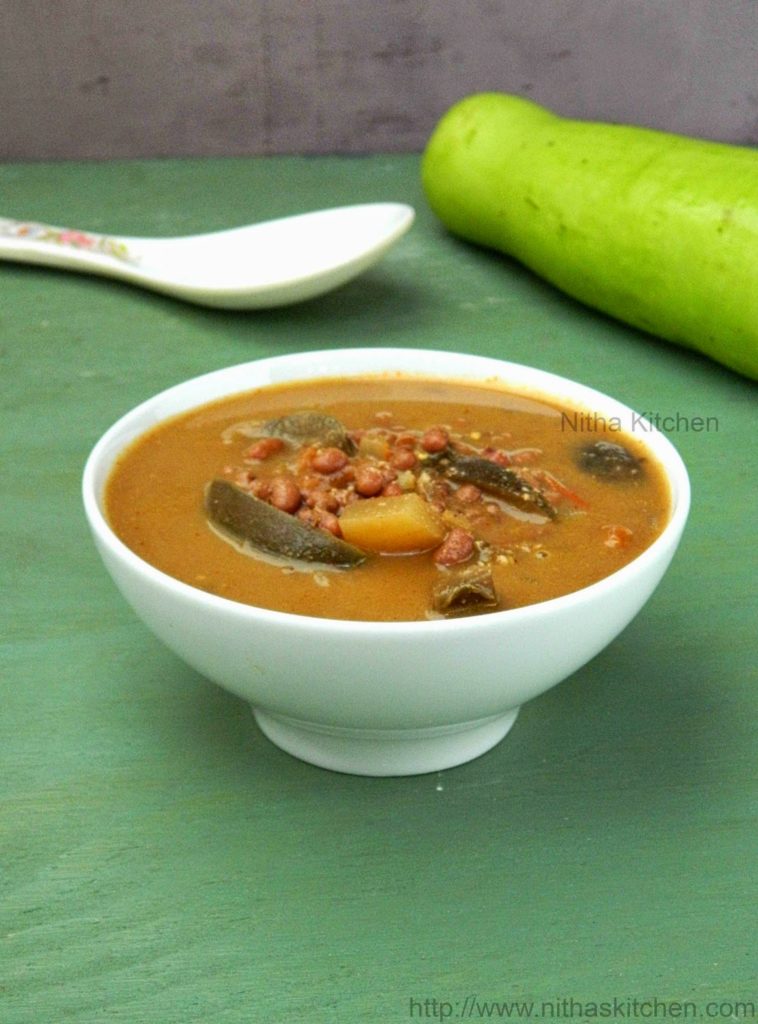 Method
Pressure cook soaked red beans with necessary water and salt for 3-4 hisses.
Saute onion and garlic with 1 tbsp oil in a pan and grind it along with coconut, dalia and coriander powder to fine paste (add necessary water while grinding).
In the same kadai/pan add oil temper with mustard seeds, then add chopped onion and curry leaves.
Wait till onion changes translucent then add chopped tomato and salt.
Saute in medium till tomato mashes well, now add sambar, red chili and turmeric powders.
After a minute or two add chopped vegetables, tamarind juice (reserve 1-2 tbsp) and necessary water.
Cover the lid and cook in medium flame till veggies cooks well.
Finally add ground paste and boiled beans with the cooked water.
Check salt and adjust spice level and if needed add more tamarind juice(reserved) right now.
Once the gravy boils well simmer it till the gravy gets thicken, once done remove from flame and garnish with coriander leaves if desired.
Serve hot with rice and tiffin varieties.
Notes:
Since this gravy is our signature recipe, mom usually adds 1-2 raw garlic along with coconut and other stuff while grinding.
It tastes divine when curry mixed with rice and a tsp of ghee.