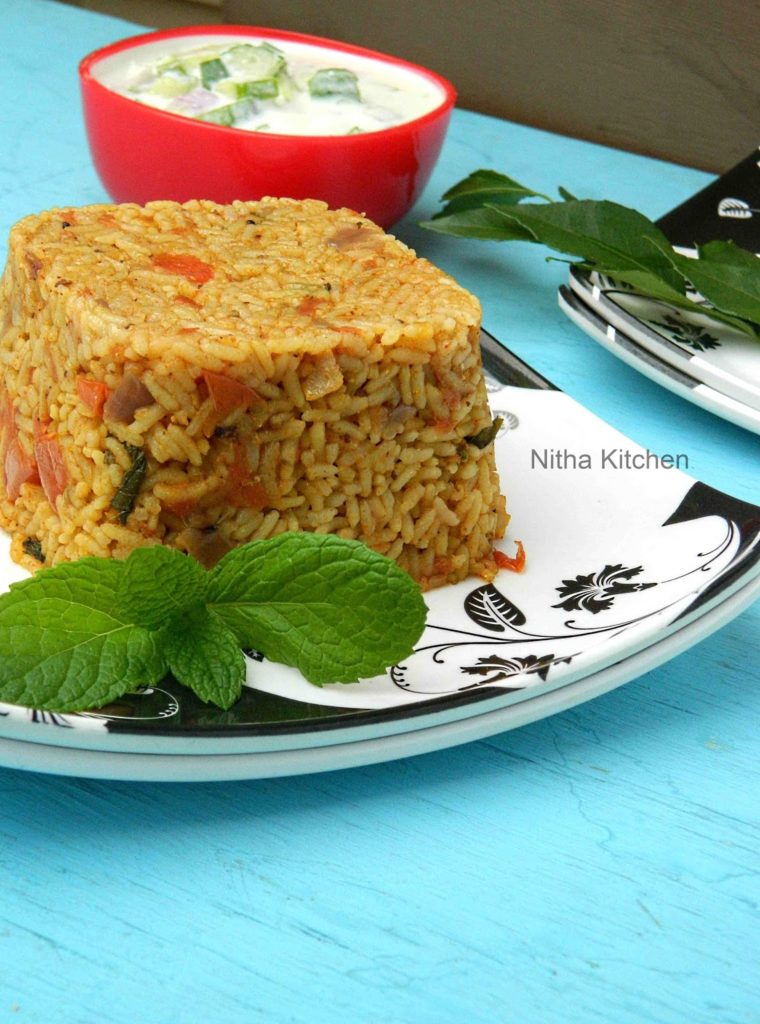 Tomato Rice Thakkali Sadam is a very easy and quick one pot meal , lunch box special using pressure cooker. Even when you don't have veggies at home this OPOS )you can use insta pot as well) can be done using tomato and other minimal ingredients. The mint shown in the above picture is something special for me since it was grown in my home 🙂
Ingredients for Tomato Rice Thakkali Sadam
Rice – 1 and 1/2 Cups
Tomato – 4 Numbers (Medium) or 3 Large
Onion – 1 Number (Jumbo US Onion) or Shallots – 12-14 Numbers
Green Chili – 1-2 Numbers
Turmeric Powder – 1/4tsp
Optional Garam Masala Powder -1/2tsp
Red Chili Powder – 2tsp or More
Curry Leaves, Mint Leaves and Coriander Leaves – Few
Mustard seeds – 1/2tsp
Chana dhal – 2tsp
Oil or Butter or Ghee,Water and Salt – As Required
To Grind
Ginger – 1 Small Piece (2 Inch)
Garlic – 6-8 Cloves Small size or large 4
Cinnamon – 1 small piece (1 inch)
Cloves – 4-5 Numbers
Fennel Seeds – 2tsp
Kaskas – 1tsp
Shallot – 1 (Optional)
How to make Tomato Rice Thakkali Sadam
Soak the rice for 30 minutes at least.
Meanwhile make the masala/gravy for the rice.
Grind the ingredients in "To Grind" list with little water to a fine paste.
Heat oil/ghee when its hot add mustard let it splutter completely.
Add chana dal, when it turns light brown add chopped onion, green chili, curry leaves and few salt when cooked well add the ground masala paste, saute till reaches nice aroma 3 minutes approx.
Then add chopped tomato, red chili powder, garam masala powder(if using) and turmeric powder.
Add 1/2tsp salt cover the lid in medium flame cook for 5-8 minutes, when tomato mashes well add the chopped coriander and mint leaves suate for a minute or two.
Now add the tomato masala/gravy in the pressure cooker with rice + 31/2 cups of water (including water in the gravy), check the salt, you can add more red chili powder if needed and allow 3 hisses.
When pressure goes off serve it with onion cucumber raita or pickle or with potato chips or potato poriyal or roasted potato.
Also tastes divine with ghee or yogurt.
Note:
I use ponni boiled rice but any rice work for this.
The gravy when you taste while mixing with rice it should be bit tangy otherwise this rice won't taste good, so add well ripen tomatoes as mentioned.
Old post updated with new pictures…