The Italian Dinner Rolls aka Soft Buns are very soft with garlic and cheese flavor with a beautiful golden top crust. I made this recipe twice before posting here. First time I experimented with half of the same recipe and turned out well then immediately I drafted it. The second time I doubled this same recipe for
a party and it was too good. If you love garlic flavor then go for this recipe and you can increase another 1/4tsp of garlic powder for strong flavor. While serving you can apply some butter or have it with soup or just plain buns works too…The process is something similar to Paav Buns I posted earlier so you can refer that recipe for step wise tutorial….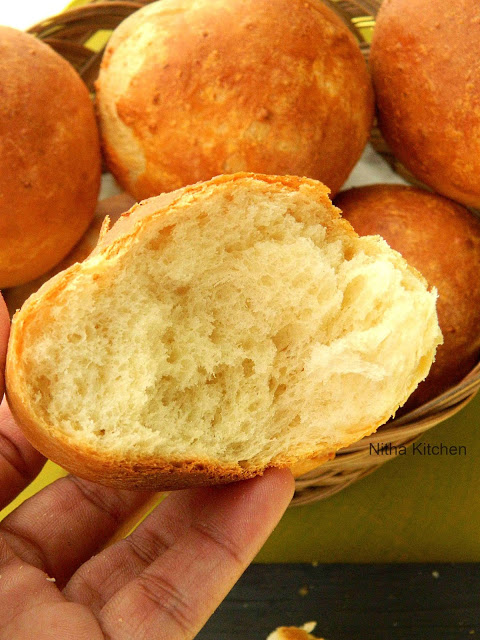 Yield – 8-10 Medium Rolls
I use 13*9 inch rectangle pan
Italian Dinner Rolls Ingredients
*Bread Flour – 2 and 1/4- 2 and 1/2 Cups
Dry Parmesan Cheese Powder – 2 Tbsp (If cheese powder is not available you can go for 2 Tbsp soft butter)
Milk – 1/2 Cup
Instant Yeast – 1and1/8tsp
Garlic Powder – 1/2tsp
Kosher Salt – 1tsp (or regular salt)
Sugar – 1 Tbsp
Egg – 1 Number (Optional)
Olive Oil – 1 Tbsp
Lukewarm Water – 2 Tbsp
*To substitute for Bread flour add 1 tbsp of vital wheat gluten to 2 to 3 cups of all-purpose flour.
For Greasing the Buns
For greasing on top mix 1tsp cheese powder, 1 Tbsp melted butter and 1 egg white.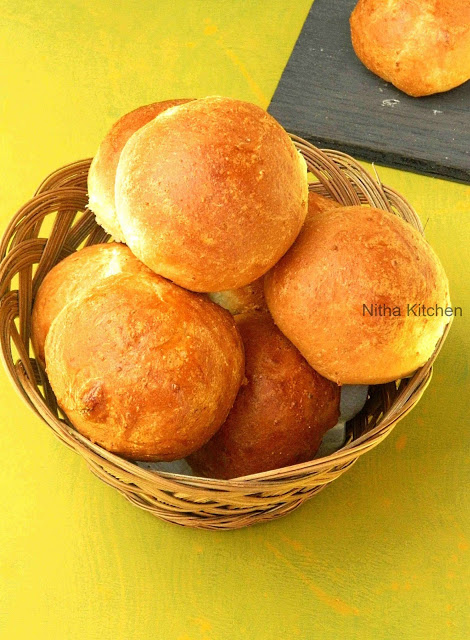 Italian Dinner Rolls Preparation
In lukewarm water add dry yeast, salt and sugar, let it rest for 5 minutes.
In a wide mixing bowl add flour, Garlic Powder, Cheese powder give a mix then add 1 egg.
It looks crumbly, Now add yeast mixture half of the milk and mix well.
Sprinkle the remaining milk in batches and keep kneading.
If not using cheese powder then add soft butter right now.
At one stage the dough will be sticky stop adding milk, add the olive oil and keep kneading with hands or use stand mixer to knead for another 5-8 minutes.
If you feel the dough is hard add tsp of milk at a time and knead well.
The final dough should be soft and little sticky.
Rest the dough for 1 hour or till it doubles in size by covering the top loosely with kitchen towel.
After first proofing punch down gently and make even size balls out of it.
Place them over greased and parchment paper layered baking sheet.
I got 8-10 rolls medium rolls from the punched dough.
Rest them for another 30 minutes on the baking sheet for second proofing.
For greasing mix melted butter with cheese powder, optional dry herbs like basil or parsley and 1 egg white.
Mix all together and after 30 minutes apply egg wash all over the buns.
Bake in preheated oven at 375°F for 10-12 minutes are till top of the buns turn golden brown.
Notes
Instead of Bread Flour you can use unbleached all purpose flour.