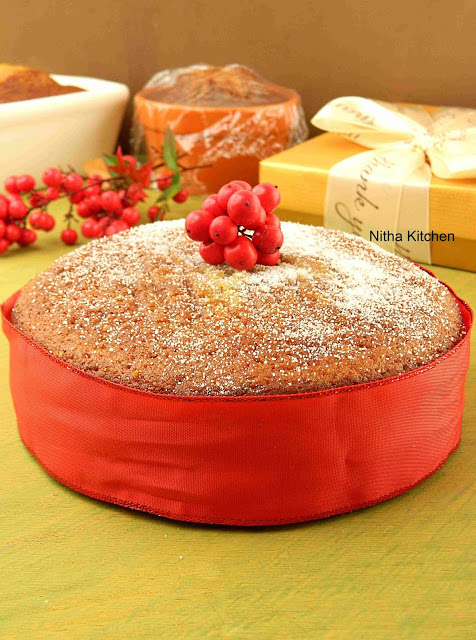 If you didn't soak fruits for the plum/fruit cake, doesn't worry here is an easy no soak and alcohol free Christmas plum cake recipe to bake and enjoy this Christmas. This is the picture I clicked last year also this is the only recipe I am following since long time. I did pack few times to my mom's and MIL's place so here is one picture below to show it. The cakes went as it is as shown in the wrap :-). Chop the fruits and make the stuffs ready, all you can finish in 2 hours of time(including baking time). But let the cake sit to mature for 1-2 days after they baked. It tastes divine with the fresh aroma of homemade spice mix. Before letting in make sure to prepare more caramel, since it is needed for both soaking the fruits and in the cake batter.
For Caramel Syrup
Sugar – 2 and 1/4 Cups (also 1/2 string consistency jaggery syrup works for this cake)
Hot Water – 1 and 1/4 Cup
How to Caramelize the sugar
Start heating 2.25 cups of sugar with 3 tbsp water on medium heat in a deep bottomed saucepan.
Stir the sugar once in a while and wait patiently until it slowly melts without any lumps.
Keep stirring now and then, allow it to continue heating until the caramel syrup looks almost dark brown. Take it off the stove and add the hot water and stir well.
Be careful while adding water to the caramelized sugar, it will splash out better stand away and pour.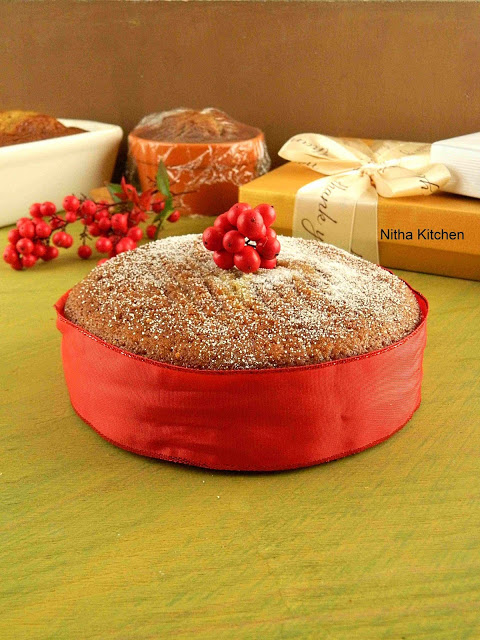 For Spice mix
Cardamom Powder – 1tsp
Cinnamon Powder – 1tsp
Clove Powder – 1/2tsp (crush about 8-10 cloves)
Nutmeg Powder – 1/2 tsp
Dried Ginger Powder – 1tsp
How to Soak Fruits
Ingredients For Soaking the Fruits
*Dry fruits  – 2 Cups (I use Golden Raisins – 1/2 Cup, Dates – 1/2 Cup, Cashews – 1/2 Cup, Almonds – 1/2 Cup, in well boiled water add the whole almonds, let it sit for 3 minutes then take it off and immediately remove the skin)
Orange Juice – 1/4 Cup
Caramel Syrup – 3/4 Cup
* You can use dried cranberries, cherries too.
Method
Chop all the dry fruits and place them in an airtight container.
Instead of Orange Juice you can use rum to soak fruits and you can soak 2-3 weeks in advance , for the detailed post refer HERE.
Either you can soak the fruits overnight/8 hours or just boil with caramel syrup for 8-10 minutes in medium flame, both works well. I usually boil the syrup with fruits and spice mix in low flame.
The raisin kind of fruits puff and adsorbs the syrup very well.
If you are not boiling the fruits with syrup then use the spice mix while preparing the cake batter.
Anyway soak the fruits in required amount of caramel syrup.
If boiling let them cool before adding them in to the cake batter.
Yields :- 2 – 8 " Cake
Cake Ingredients
All purpose flour – 2 Cups
Butter – 1 n 1/2 Sticks (12 Tbsp, at room temperature)
Powder the Regular Sugar or Confectioners sugar – 1 ½  cups
Eggs Yolks – 3 Numbers (Large)
Orange Juice or Marmalade – 4 Tbsp
Almonds or Walnuts – Coarsely ground 1/2 Cup
Tutti Frutti – 1/2 Cup
Orange Zest – 1-2 tsp
Vanilla Extract – 1/2 tsp
Egg Whites – 3 Numbers (Large)
Powdered sugar – 2 tbsp
Baking powder – 1n 3/4tsp
Baking soda – 1/2tsp
Salt – 1/4tsp
Caramel Syrup (as mentioned above, 1 Cup + 3 Tbsp)
Soaked dry Fruits – as mentioned above
For the Fruit Cake
Grease your cake pans and cover the bottom and sides with greased parchment paper.
Once the caramel and fruit mixture cool down add the orange zest and keep aside (Pic 2).
If using non stick cake pan then no need to use any parchment paper.
Sift together all the dry ingredients like Flour, baking powder, baking soda, salt and spice powder (optional).
Beat the butter with powdered sugar until smooth and creamy (Pic 1).
Add the coarsely powdered almond/walnut mixture (Stepwise Pic 7 below)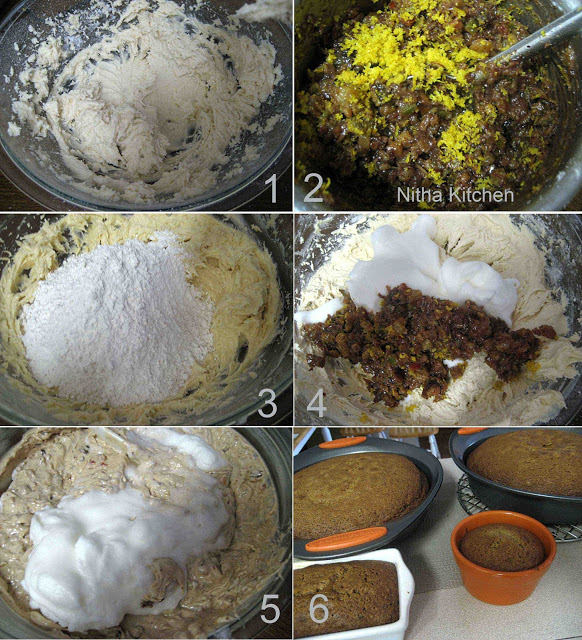 Add the egg yolks one at a time until well incorporated.
Add in the dry ingredients slowly and mix until combined (Pic 3).
Add the Vanilla essence, Orange Marmalade and Caramel syrup (In Pic 8, reserve 3 tbsp and if needed add later for right batter consistency) and smoothly combine everything together (Pic 9).
You can add few tbsp of AP flour to coat them (optional) to avoid the fruits from sinking to bottom of cake and add the fruits into the cake batter (Pic 4).
Beat the Egg Whites (in a clean bowl) until soft peaks form , then add 2 tbsp powdered sugar and continue to beat until the peaks look stiff (Pic 10) and glossy and gently fold half of it into the cake batter (Pic 5).
Use a large wooden spoon to fold/mix the fruits into the cake evenly.
Also fold the remaining whipped egg whites in to the cake batter.
Pour the cake batter into your prepared cake pans (Pic 11) and bake in preheated oven at 350 F for 30-40 minutes or till its done.
I have used several mini pans to pack easily so choose the pan as you wish (Pic 11)
You may use different size pan so the baking temperature varies, it should leave the sides and the cake tester inserted at center should comes out clean (Pic 6 above).
The below picture is the cakes which I packed to India.
For another version of my Fruit Cake do refer HERE.
Notes
1. Though its best to soak the fruits several months in advance, soaking them for just 2-3 days is also quite sufficient. They will still absorb and the fruits will be juicy and moist.
2. if there is any left over of fruit soaked syrup, you can brush over the baked cake.
3. The Spice mix really adds a lot of flavor to the cake, so don't skip it. You may reduce the quantity if you prefer.
4. If the cake takes longer to bake then cover the cake top with aluminum foil.
5. The Cake flavor and color matures more and more each day. So wait for at least 1 or 2 days after the cake is baked.