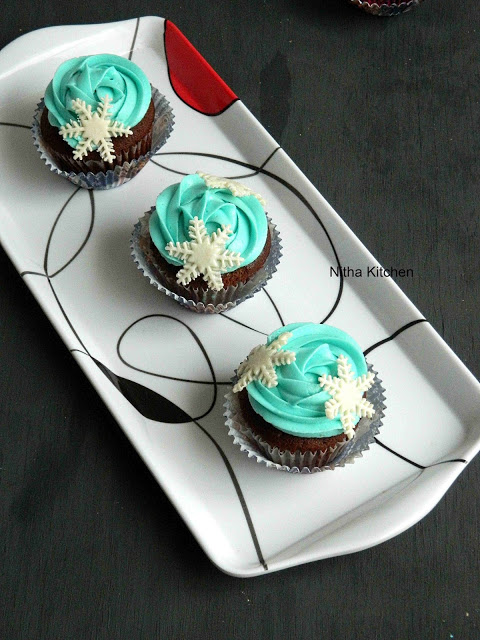 Here is the recipe for the chocolate cupcakes i made for my daughter's birthday in last October. It was frozen theme party and i planned a week before the party to make halve of the cupcakes so chocolaty and remaining with vanilla flavor also decided to decorate those with blue buttercream frosting and snow flakes on top (will post the detail soon). The snowflakes are made of MM fondant. I will make another detailed post soon for the birthday cake and the party foods that i made for her birthday.
Ingredients for Chocolate Cupcakes
AP Flour/Maida – 1 and 1/4 Cups
Butter – 1/2 cup (1 Stick)
Cocoa Powder – 3 Tbsp
Strong Black Coffee – 1/4 Cup (Replace with warm water then)
Buttermilk – 1/2 Cup + 2 Tbsp or more
German chocolate (or any chocolate with about 46% cocoa) – 2 oz, melted
Regular Sugar – 1 Cup
Eggs – 2 Numbers
Baking Soda – 1/2tsp
Baking Powder – 1/4tsp
Vanilla Extract – 3/4tsp
Salt – 1/4tsp
Method
Sieve the flour, mix cocoa powder, baking powder, salt and baking soda with the APF and keep aside.
Prepare black coffee and keep aside.
Melt the chocolate and keep aside to cool.
In the mixing bowl add room temperature butter, beat for 2-3 minutes then add sugar and whisk well.
Add one egg at a time beat well and incorporate vanilla extract, melted chocolate(not hot) and black coffee (not hot) to the mixture, blend all together.
Now add flour mixture in batches alternate with butter milk.
In the baking paper lined muffin pan add 1/3 cup of batter in each muffin and bake in preheated oven at 350 F for 10-12 minutes or tooth pick inserted at center comes out clean.
Allow the cupcakes to cool on wore rack for 10 minutes, remove from the pan and allow to cool completely.
Then top/decorate the cupcakes as you wish, here are some pictures of decorated cupcakes.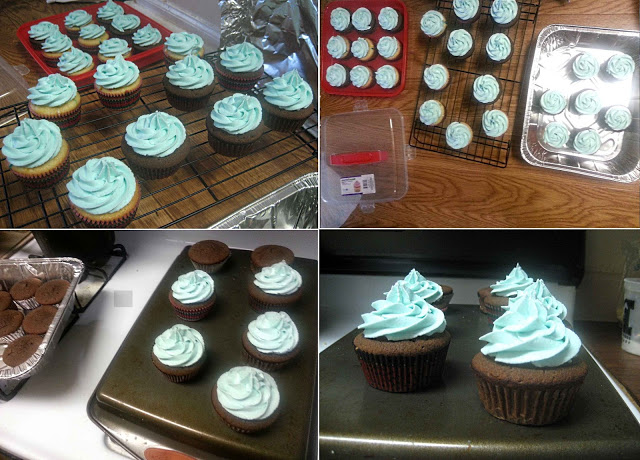 Recipe adapted from Here
Vanilla Buttercream Frosting
Ingredients
Butter – 1 Cup/2 sticks, at room temperature (Replace 1/4 cup with veg shortening)
Powdered/Icing sugar – 3-3.5 Cups
Heavy Cream – 2 Tbsp
Vanilla Extract (use clear if desired) – 1tsp
Blue or Royal blue Food Color – Few drops
Method
In the bowl of an electric stand mixer or in hand mixer, using the paddle or whisk attachment whip butter on medium high speed until nearly white and very fluffy, about 7 – 8 minutes.
Add the powdered sugar in batches, heavy cream and vanilla extract and mix on low speed until blended, then increase speed to medium and beat until very light and fluffy, about 5 – 6 minutes, frequently scraping down the sides of the bowl.
Immediately spread over cooled cupcakes.
Here i used Wilton 1M tool tip to decorate it.
Finally top it with dried MM fondant snow flakes, for that i made the snow flakes and left in room temp for 3 days to dry out (will post the detail soon).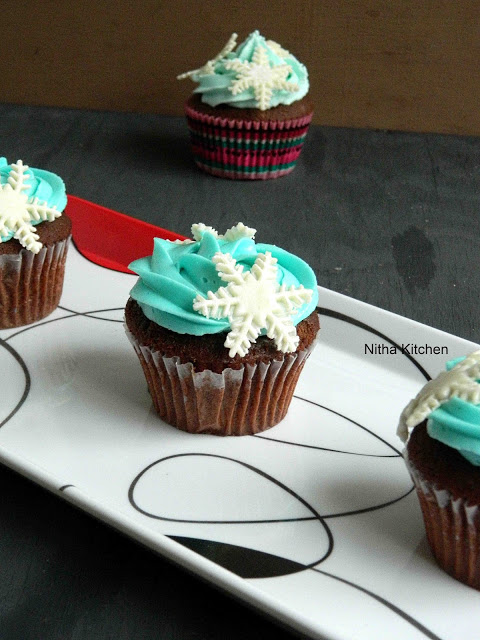 Note
For eggless/egg free version skip the eggs and add 1/4 cup thick yogurt for the above quantity.