I don't have grinder so I usually prepare Idli Dosa batter in Mixer/mixie which is so easy for me (Grinds in less time when compared to Wet Grinder) and no doubt Idli Dosa Batter Mixer Version will definitely get soft and non sticky idlis. I also make idli usually in the cloth over plate instead of greasing the plates with oil. Recently I got the grinder though I grind in mixer a less quantity of idli dosa batter often. I have updated the old post with new pictures and in the above picture the idli has paired with sundakkai vathal kulambu (will post recipe soon) and Podi.


Pictures Updated, in recent picture Idli paired with Chettinad Pakoda Kuzhambu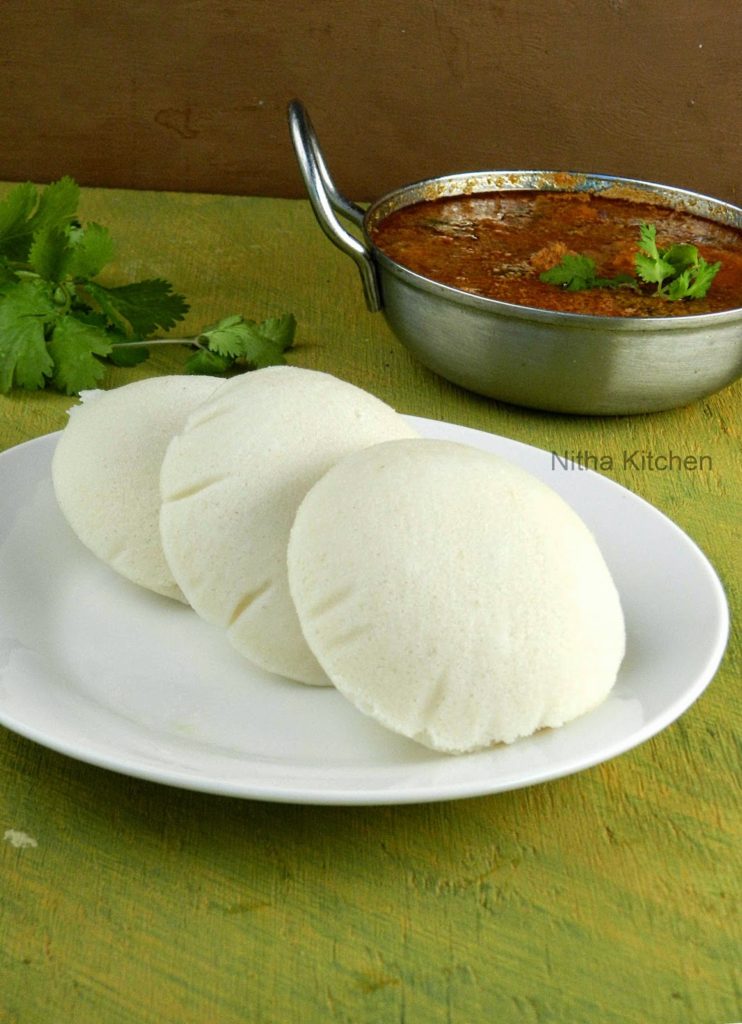 Ingredients
Idli Rice – 4 and 1/2 Cups (Good Quality)
Whole Urad Dhal(Gota) – 1 Cup (Good Quality)
Fenugreek – 2tsp
Salt & Water – As Required
Idli Dosa Batter Mixer Version
Soak Rice overnight/5hrs minimum and Urad dhal+Fenugreek for 3hrs prior to grinding.
Use medium/large jar to grind, add rice (half of the jar)+water(water should immerse the rice), grind it to a smooth batter, anyways the mixer version gives bit coarse texture that is fine.
Repeat the process for remaining soaked stuffs.

Once done add salt and mix with your hand from bottom to top (using hand helps to ferment well).
Keep in warm place (Oven/Microwave).
Check it after 6hrs, if not then allow one more or 2 hrs to ferment, when its done well and make Idli/Dosa/Paniyaram as you prefer.
Refrigerate the leftover batter to prepare later.
Notes
Add the rice in 3 batches and urad dhal in 1 batch.
Don't over run the mixer, rest it on/off meanwhile continue your kitchen work.
Fill 1/2 or 3/4th of batter to the utensil for fermentation, allow room for it to ferment (Can keep some plates underneath for easy cleaning when overflows).
Make it to ferment immediately after grinding becoz the batter is warm at that time so in this case no need to preheat the oven but fermenting after sometime needs the oven to preheat in 180° F for 2-3mins (only in winter time).
After fermentation, mix well and split the batter in two containers so the fresh batter, first 3-4 use makes very soft idlis and after that better for making dosa.
Anyways mix well from bottom to top for every use. I have served the soft idlis with peanut chutney and Ellu (Sesame) podi in below picture.
Can keep the batter fresh for 1 week to 10 days with proper refrigerating. I use cloth to steam idlis…
Make sure the Urad dhal is of good quality…
Once idlis are done steaming leave them open for a while and sprinkle some water or at the back side of idli plate wet it with running water, so it comes out clean and non sticky.