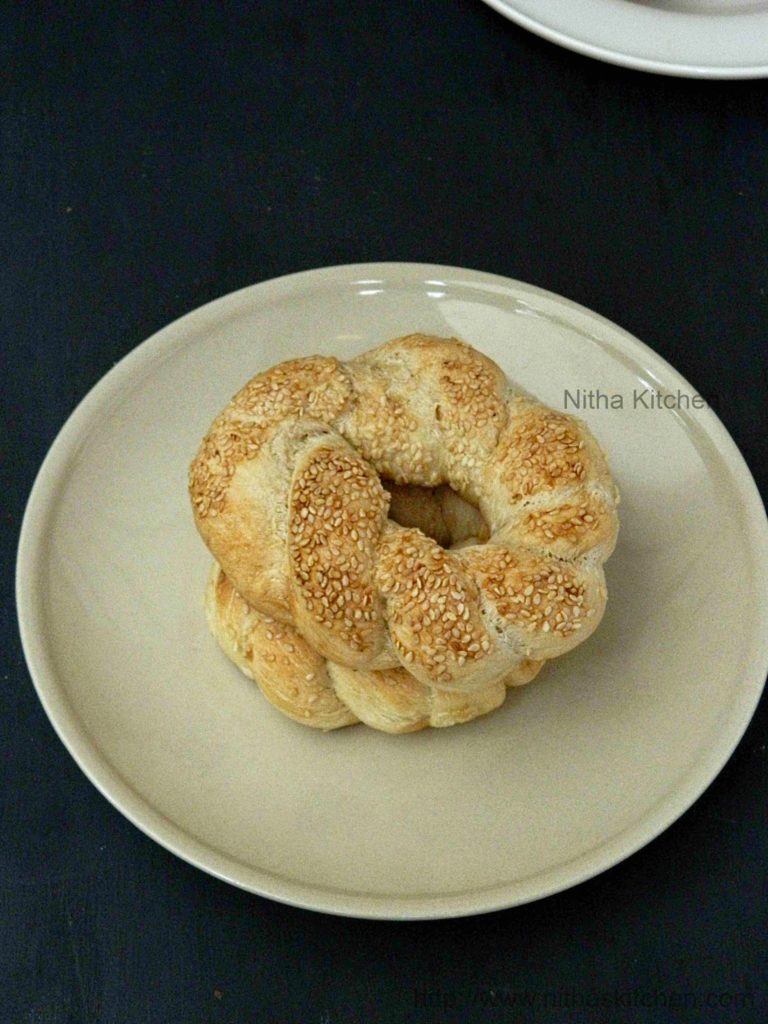 For this month baking partner's challenge Swathi has suggested this bread which is a famous Turkish street food Simit also called as Turkish Ring Bread. I made with bread flour, if you can use it otherwise use all purpose flour /maida or make bread flour of your own (For 1 Cup Maida/All purpose flour add 1 tablespoon of vital wheat gluten). Also original recipe asked for grape molasses (pekmez). I don't have it in hand, so I used Jaggery Water, also molasses works here.
Last week I just waited 3 days after baking this bread as i totally depend on natural light due to cloudy weather i couldn't click better pictures, will try to update pictures whenever possible!!!
This recipe is adapted from here
Ingredients
Bread Flour (or use unbleached all purpose flour) – 3.5 cups/325gms
Water –  1 Cup + 2 tablespoon
A pinch of Sugar
Yeast – 2 teaspoon/6g Instant  ( use active dry yeast if you don't have instant yeast in hand)
Salt – 1 ¼ teaspoon/6gram or 1.25 tsp
White Sesame Seeds – 1 Cup
* 2 Tablespoon of Molasses or Concentrated Dark Brown Sugar Water
*You can use 6-7 Tbsp jaggery or dark brown sugar and boil for a while in 1/3 cup water and cool before dipping the rings
Method
If using active dry yeast, then dissolve yeast in 100 ml warm water and let it stand for 3 min.
In a bowl add flour, yeast, salt and pinch of sugar and mix well.
Then gradually add water to form smooth dough, knead well about 10 minutes until the dough is no longer sticky.
Cover the dough and leave it in a warm place for 1.5 hours or until doubled in bulk (Pic 1).
Turn out the dough into a lightly floured surface and punch down.
Knead the dough for 2 minutes and divide it into 12 pieces (about 45g each) and shape them into long rolls (Pic 2).
Take two rolls and form a twisted rope like shown in step wise pic 3.
Then form this twisted rope into 15 cm ring by pressing and sealing the ends together (Pic 4).
Dissolve the molasses in 1/2 cup water.
Dip each ring in Jaggery or Molasses water first, then in the sesame seeds.
Set aside for 20 minutes for second rise. simit needs to plumb up little (Pic 5).
Bake them in 450° F pre-heated oven for 20-25 min or until brown.
Note:
The bread does not have much sugar also if you feel hard to dip it in molasses you can brush it all over and either dip or sprinkle sesame seeds.
Also You can add 2 tbsp of butter in the final dough knead.