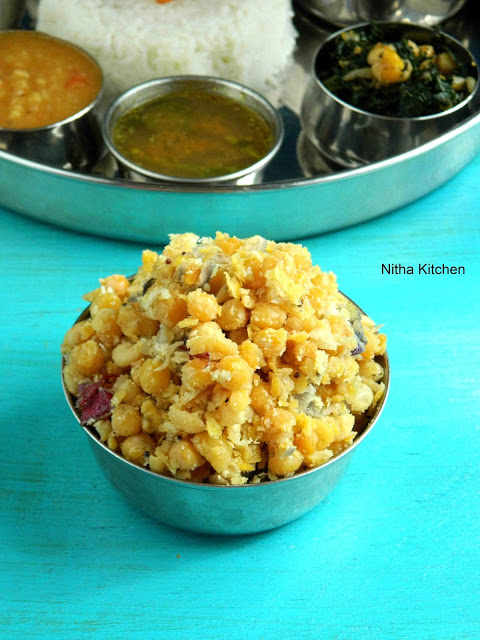 Happy Ganesh Chaturthi to all of you…Today Sep 09th is Lord Vinayak Birthday. Pillaiyar/Ganesh is widely worshiped as the god of wisdom, prosperity and good fortune and traditionally prayed at the beginning of any new venture like starting a business, building new house/House Warming Ceremony (Ganapathi Homam), Start of travel, so and so. So today's post is a Beach Pattani Sundal | Yellow Peas Sundal Recipe which is one of the favorite of Lord Vinayagar 🙂 Also apart from peanut sundal this is one famous sundal with more coconut in chennai beaches…
Ingredients
Dried Whole Yellow Peas – 1 Cup
Red/Green Chili – 2 Numbers
Onion – 1 Number (optional)
Cumin Seeds – 1tsp
Grated Coconut – 2 Tbsp
Mustard – 1/4tsp
Chana dhal – 1 n 1/2 Tbsp
Turmeric Powder – 1/4tsp
Curry Leaves – Few
Water and Salt – As Required
Oil – 1 Tbsp
Method
Soak the dried peas overnight or at least 6 hours.
Cook the soaked peas with enough water and salt for 3 hisses.
When pressure goes off, drain the excess water.
Heat oil in a pan,temper mustard followed by cumin and chana dhal.
When dal turns golden brown add chopped onion ,turmeric powder,chilis and curry leaves.
Saute with pinch of salt till onion turns golden brown.
Finally add cooked lentils, shredded coconut and give a nice stir.
Offer God before you taste it with cup of coffee or tea :-).
Adding onion is up to you on festival days.