Coming up with a fool proof Rasgulla recipe, Rasgulla is one among the heart dessert of India and the pronunciation may differ like rasagulla or rasagola…Its so spongy and soft, just melts in mouth texture made of Indian cottage cheese/paneer/chenna and then cooked in light sugar syrup. This is a scratch recipe also I am sharing some valuable tips that I am practicing for ages to make it. Please read completely before start so that you will achieve the perfection and don't skip any of the points mentioned…For rasmalai this entire process is same, make malai and add the rasgullas in it before serving, for detailed rasmalai recipe do check HERE.
Cook the rasgullas by covering the pan with lid for the entire process.
Ingredients
Whole Milk – 4.5 Cups
Sugar – 2 Cups
Water – 4.5 Cups
Cardamom Powder – Few tsps
Nuts Powder or Chopped nuts
Saffron or Kewra water or Rose Water
Lemon Juice or Vinegar accordingly
Yields :- 10- 12 Rasgullas of 30grams each after cooking
Cooking Time :- 20-25 Minutes (anyways it depends on the size of rasgulla you are making for mine it took the exact 23 minutes to cook completely).
Paneer Preparation
Boil the milk in medium heat and on and off stir it not to stick at the bottom.
Once it foams (Pic 1), simmer the flame for 2-3 minutes and then switch off the flame.
Let the milk cool for a while, allow 5 minutes to cool.
Now add lemon juice in batches (Pic 2), stir and once the milk curdled well (Pic 3) do add some ice cubes that keeps the paneer soft.
Now immediately separate the whey and chenna using muscin cloth, squeeze and either hang or keep it over weight for atleast 30 minutes.
After 30 minutes your paneer is ready to work on (Pic 4).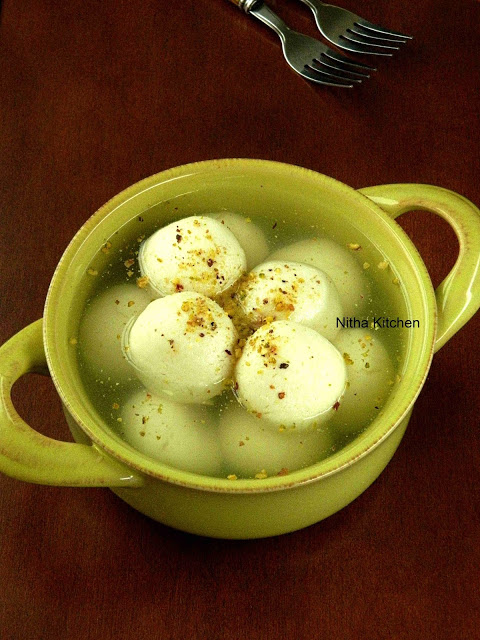 Rasgulla Preparation
Knead the paneer with your thigh part of hand (between palm and wrist Pic 5) dont use your palm the heat may cause the paneer to dry.
Knead for 10-12 minutes slowly and gently.
While kneading you can add few drops of whey water and little sticky consistency of paneer/chenna is what we expect to achieve perfect rasgulla.
Make equal size lemon size balls (i made 15 grams each, Pic 6), cover with wet cloth till use.
Heat water and sugar syrup in a pan that is not wide and also not small. It should give enough space while cooking rasgullas.
Once the syrup starts boiling, add cardamom powder, kewra water and reduce flame add one paneer ball at a time and cover it with lid then increase the flame to medium heat.
Check the starting time, keep the timer in your kitchen otherwise.
In 2 regular intervals say after 7-8 minutes (Pic 8) i have added 1/3 cup of plain water to the syrup and makesure the syrup is not getting thick at any point.
After 22 minutes, you can check the doneness by dropping syrup drained rasgulla in a plain water. If it floates it needs few more minutes of cooking time.
If it settles at the bottom then immediately turn off the heat add 1/2 cup of cold water to the pan, give a gentle stir, that will allow to down the temperature and once cooled completely do refrigerate for atleast 3 hours before serving.
You can also pressure cooker the rasgullas in medium heat for a single hiss sound, that works perfect too.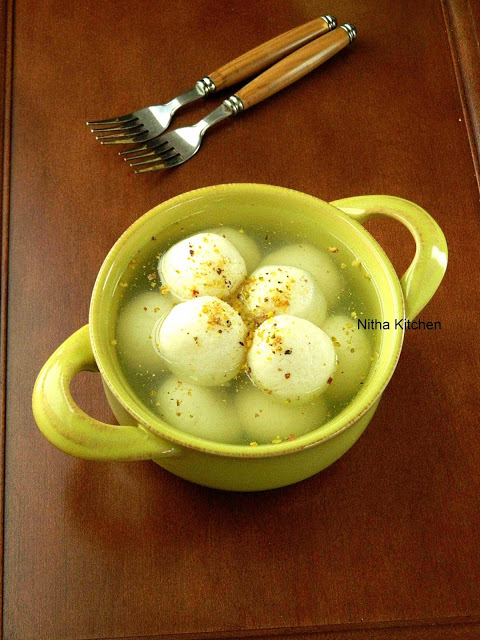 Tips
Kneading is one important step  to get soft and smooth rasgullas.
I personally never add cornstarch, when added in more it may give rubbery texture to your rasgullas.
Cook the rasgullas by covering the pan with lid for the entire process; otherwise the rasgullas may not puffy and good in texture.
Also don't cook overtime they will turn rubbery texture.
For crackless rasgullas you have to knead well and at any point the paneer should not look too dry, little stickiness has to be maintained for the entire kneading part.
Adding plain water to syrup is a must step to attain puffyand soft rasgullas.
Cooking either in very high or too low heat also makes the rasgullas imperfect, so maintain the medium heat for the whole cooking.