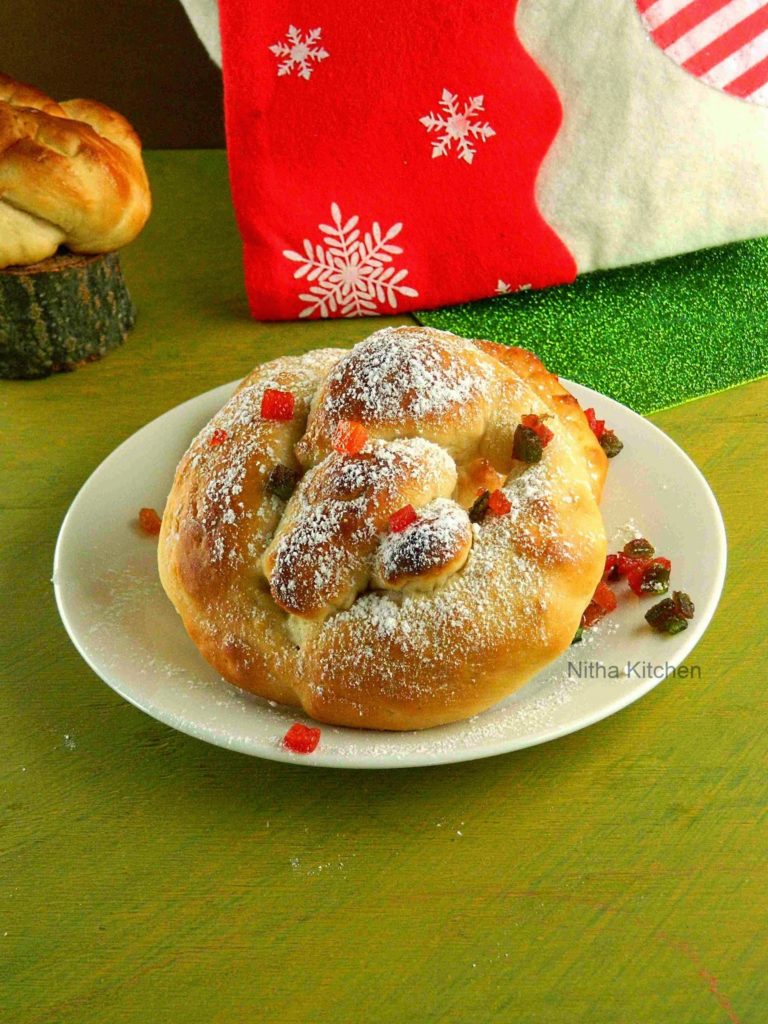 Neujahrs Pretzel are a specialty across Europe especially Germany. They are supposed to bring Good Luck and Prosperity if consumed at midnight or before breakfast on New Year's Day. It's neither sweet as cake nor plain as bread. What makes the New Years Pretzel separate from other breads is the icing and decoration with candied cherries and nuts..This ensures that is an eye catching center piece in New Years Menu. Thanks Sweatha for this wonderful bread suggestion to Swathi's Baking Partners Challenge. We all loved it to core!!!
Recipe adapted from here.
Yields – 4 Pretzels as shown in picture above
Ingredients
Bread Flour/APF – 1n1/2 Cup to 1n3/4th Cup ((You can make your own bread flour by adding 1 tsp of vital wheat gluten to 1 cup of all purpose flour)
Butter – 3 Tbsp
Warm Milk – 1/3 Cup (I use 2% reduced fat) plus 1-2 Tbsp if needed
Sugar – 2 Tbsp
Warm Water: 2 Tbsp
Active Dry Yeast – 3/4tsp yeast (along with 1/2tsp of sugar)
Salt –  3/4tsp
Icing (Optional)
Confectioners Sugar: 1/2 cups
Almond/Vanilla extract: 1/4 tsp
Water – As much as needed
Garnishing
Toasted Sliced Almonds
Candied cherries
Confectioners/Powdered Sugar
Method
In a mixing large bowl mix together warm milk, sugar and butter and stir until the butter and sugar are dissolved.
In another bowl/mug, dissolve yeast in warm water with 1/2tsp sugar grains and let it sit until foamy.
To the milk bowl, add in 1 cup of flour, salt and yeast mix.
Mix until you get a soft batter.
Add in more flour 2-3 Tbsp at a time until a soft dough forms.
Continue knead until the dough leaves the sides of the bowl.
Take the dough onto a floured counter and knead it to form a smooth ball (Approx 5-7minutes).
Put it into a greased bowl and let it rise until doubled in size.
Turn onto the counter, divide into Four equal parts.
Roll each half into a long rope and shape into a pretzel (refer note).
Lay the pretzel into a parchment lined baking sheet and let it rise for another hour,
Instead of four you can make 2 large pretzels.
Bake in a preheated oven at 375°F/175°C for about 20 minutes until golden brown.
Garnish with powdered sugar.
Otherwise mix together the confectioners sugar with vanilla/almond extract with as much water as needed to get a spreadable icing.
Pour the icing over the bread and decorate with toasted almonds and candied cherries.
The bread is soft and light right out of the oven.
It is similar to any soft sandwich bread that we make or buy.
Note
You can refer Youtube video for shaping the pretzel.