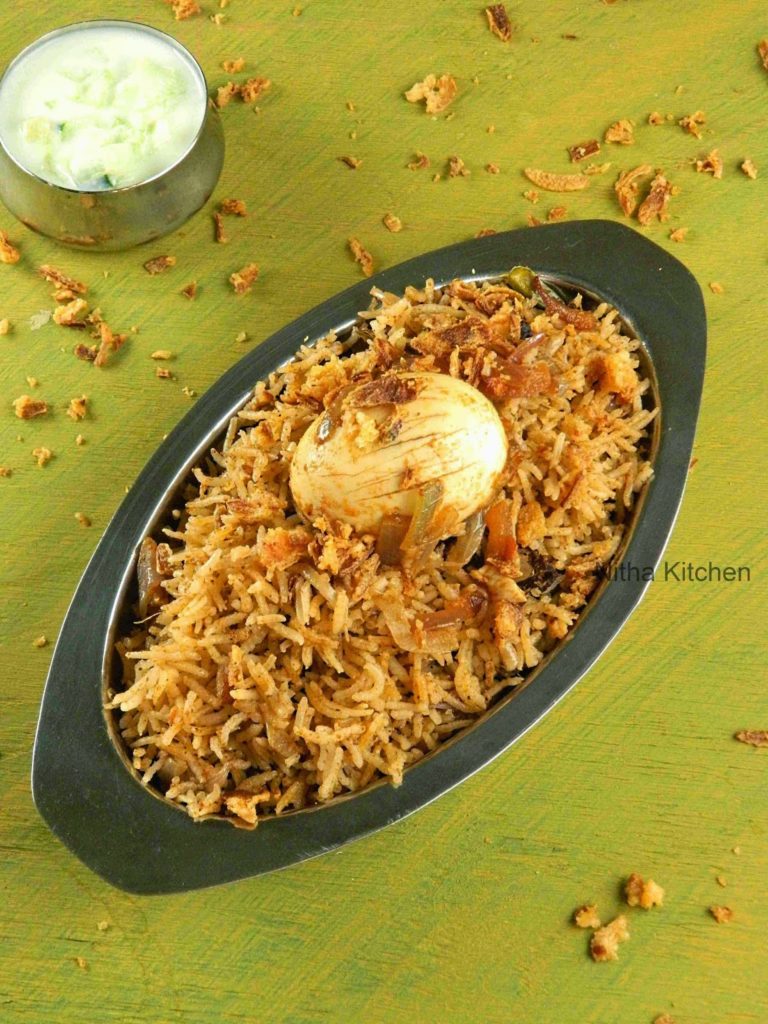 Every Sunday Non-Veg Biryani is a must at home. Nowadays my little also turned a great fan for biryani like his father. One day he got cold and coughs and he ignored usual food I prepared. Later he asked me to get Biryani. So once in a weekday I prepare egg biryani for him. This biryani is so tasty and flavorful with the fresh homemade ground masala powder and the egg masala we prepare.


Ingredients
Rice – 2 and 1/2 Cups
Egg – 5 Numbers
Onion – 2 Numbers (Large)
Tomato – 2 Numbers (Medium)
Mint – 1/2-3/4th Cup (Loosely Packed)
Coriander Leaves – 1/2-3/4rd Cup (Loosely Packed)
Green Chili – 2 Numbers (Slit)
Yogurt – 3/4 Cup (I use 2% reduced fat yogurt)
Ginger Garlic Paste – 2 Tbsp
Garam Masala Powder – 3/4 Tbsp
Biryani Masala Powder – 1and1/4 Tbsp
Turmeric Powder – 1/2tsp
Butter or Oil or Ghee – 4-5 Tbsp
Bay Leaves and Star Anise – 3 Each
To Roast and Grind (Homemade Masala Powder)
Cinnamon – 1 Large Stick (4-5″ Split)
Cloves – 4 Numbers
Cardamom – 4 Numbers
Poppy Seeds – 1/2tsp
Fennel Seeds- 1/2tsp
Pepper – 1tsp
Salt – 1tsp
Coriander Seeds – 1 Tbsp
Ingredients For Boiled Egg Masala
Onion – 2 Numbers (Large)
Tomato – 1 Small
Red Chili Powder or Homemade Sambar Powder – 1/2 Tbsp or More
Salt – 1/2tsp
Oil – 3 Tbsp
Boiled Eggs
How to make Biryani Gravy and Cook with Basmati Rice
Soak the basmati rice 30 minutes at least.
Meanwhile make the other stuffs ready.
Boil the eggs for 8 minutes in a pan or pressure cook for 1 whistle, both works.
Dry fry the ingredients given under "To Roast and Grind" with 1/2tsp salt.
Once cooled down powder it finely in food processor/mixie.
Cut the onion to very thin slices.
Clean and chop the tomatoes, coriander leaves and Mint Leaves.
In a wide pan/kadai add butter/oil/ghee, when it is hot add bay leaves/star anise after a minute add sliced onions.
Once onions are half way thru add ginger garlic paste, slit green chili's and saute till onion changes light brown in color.
Keep stirring and don't burn the onions.
Now add chopped tomatoes and 1tsp of salt.
Saute in medium flame till it mashes well and whole masala leaves oil.
Add all the powders like Garam Masala, Turmeric, Biryani and already prepared homemade masala Powder.
After a minute or 2 add yogurt and chopped coriander and mint leaves.
Mix all well together and continue cooking for another 2-4 minutes.
Now add this masala to soaked rice, with 4 cups of water (if your prepared biryani gravy has 1 cup of water then add 3 cups of water alone, likewise adjust water accordingly, too much water makes the rice mushy).
Finally adjust salt and pressure cook for 3 whistles or use electric cooker in white rice mode.
It will be ready in another 30-40 minutes of time, meanwhile prepare the boiled egg masala to mix it later with cooked rice.
When pressure goes off spread the rice in tray careful not to break the rice.
How to make Boiled Egg Masala
Peel the boiled egg shells and slit with knife all over the eggs.
In a pan/kadai (you can use the same kadai that used for biryani gravy) add oil.
When oil is hot add sliced onions and 1/2tsp salt.
Don't add too much salt or spices, this mixture is going to garnish the cooked biryani rice.
Saute till onion changes translucent and nice golden color.
Now add chopped tomato and saute for another 3-4 minutes in medium flame.
Add red chili powder give a gentle stir then add boiled eggs, reduce flame.
In low flame with on and off stirring cook the eggs by the way the masala coats well with eggs.
Assembling the Biryani
You need some fried onions its optional you can skip it too.
Now the Rice and Egg masalas are ready.
Top the egg masala over already spread rice and using two forks gently mix it up.
Here you can sprinkle some saffron diluted in water but its optional.
Serve the hot biryani with raita and crispy fried onions.
Note
This biryani is mildly spiced, You can increase red chilli powder.