We at home usually prefer Fish Biryani/Fish Fry or Fish Cutlets and when comes to gravy chicken kuzhambu dominates much… Last year when I was in my hometown for 3 months' vacation, I learned this fish curry recipe from our neighbor aunty and after that I recently only got a chance to make it at home. As usual for kids sake I reduced red chili powder and used red capsicum instead. So increase red chili powder according to your taste…This is the delicious gravy you have to try if you like fish in kuzhambu version :-), one more thing usually fish heads are used in making gravy as they tastes much, so here i too used head and tail of fishes and remaining i shallow fried….
Ingredients
To Saute and grind
Shallots –  8-10 Numbes (Large in Size)
Garlic – 4 Numbers
Red Chili or Red Capsicum – 2 Numbers or Few Slices
Pepper – 1/2tsp
Sombu/Fennel Seeds – 1tsp
Fenugreek Seeds- 1/4tsp
* Shredded Coconut – 1/4 Cup
* You can add coconut milk instead and in later stage, I did so.
Other Ingredients
Onion – 1/2 Number
Tomato – 1 Small Size
Curry Leaves – Few
Any Kulambu Meen/Fish – 1 lb or 450grams (I use Tilapia)
Tamarind Juice – 1/3 Cup or more as needed
Turmeric Powder – 1/2tsp
Red Chili Powder –  2tspor more
Coriander Powder – 1 Tbsp
Coriander Leaves – Few to garnish
* Coconut Milk – 1/3 Cup (If using instead of shredded coconut in grinding part)
Salt and Oil – As needed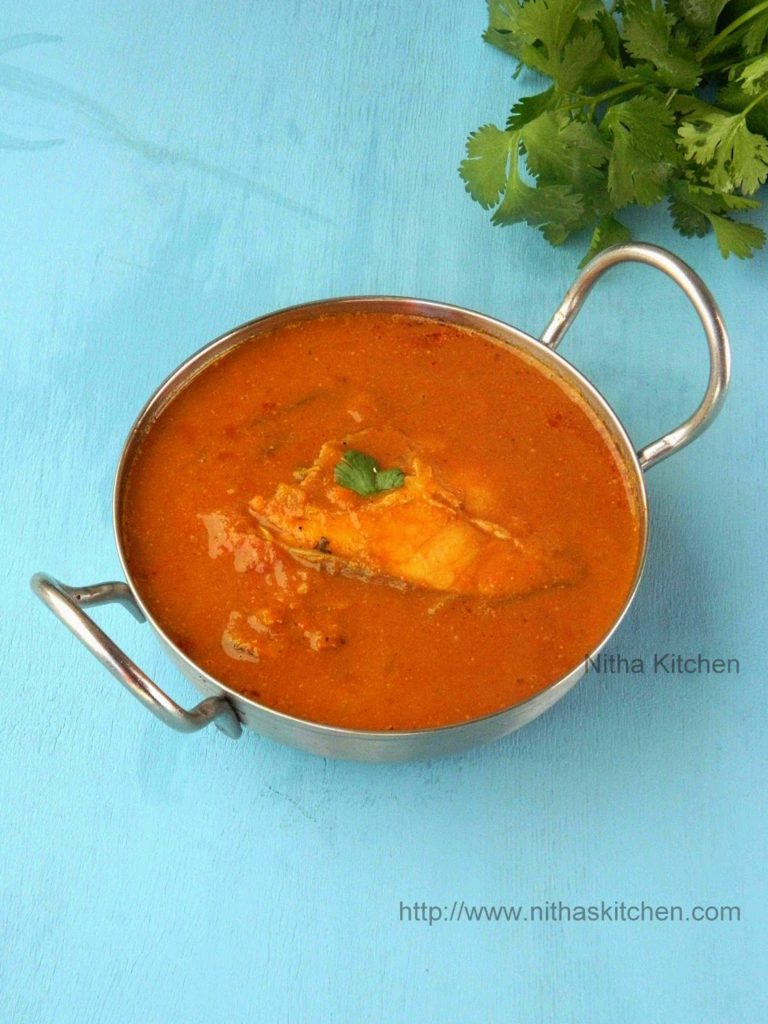 Method
In a pan saute the ingredients given "to saute n grind" with 1 and 1/2 tbsp of oil (Pic 1).
Once onion changes light brown n raw smell disappears, remove from heat n allow to cool before grinding.
Meanwhile clean the fish and marinate with salt and turmeric till use.
Grind the onion mixture to fine paste and keep it ready.
Heat oil in the same pan/kadai, splutter mustard seeds.
Add chopped onion, curry leaves, pinch of salt and when onion changes brown add chopped tomato.
Continue stirring till tomato mashes well (Pic 2).
Now add ground paste(Pic 2), coriander powder, red chili powder and tamarind juice.
Allow to boil vigorously in high flame.
When boiled well, reduce the flame and add coconut milk if using.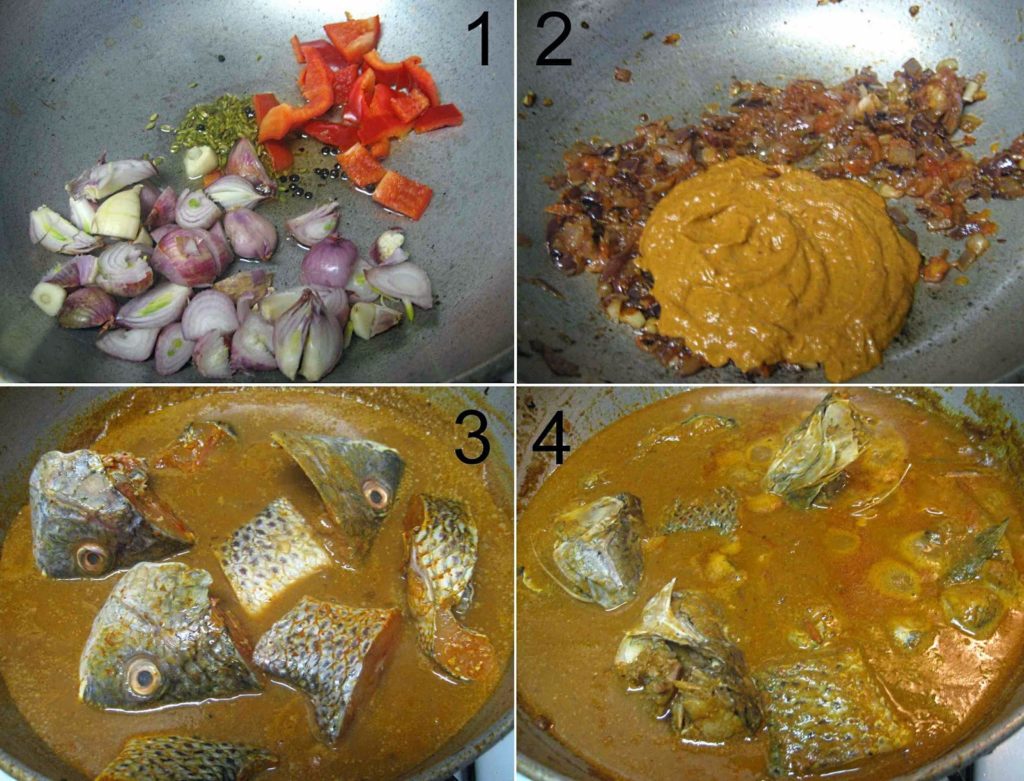 In the same heat cook till oil floats on top and gravy gets thickened.
Now add marinated fish gently(Pic 3) and cook for another 5-7 minutes.
Have to flip the fish gently once(Pic 4) to make sure both sides cooked well.
Finally garnish with coriander leaves.