Ingredients
Multi grain Flour – 3/4th Cup
All Purpose Flour (Maida) – 1 Cup
Rapid Rise Active dry Yeast – 1n1/4tsp
Salt – 1/2tsp Sugar – 1/2tsp
Water + Milk – 3/4th Cup
Olive Oil – 1 Tbsp
Homemade Pizza sauce / store bought – As Needed
Yogurt – 1/4 Cup
Red Chili Powder – 1tsp
Broccoli – Medium 1 Number
Sliced Onion, Capsicum, Tomato – For Topping
Chopped Olives – For Topping
Shredded Mozzerella Cheese or grated paneer – For Topping
Method
Warm the water + milk mixture add sugar, salt, yeast, oil stir well and keep aside for 10minutes.
Forms a foamy texture, mix well and now add this to the flour.
Let allow the dough to sit in a warm place for an hour Pic 2.
I made one thin n one thick pizza from the above quantity.
After an hour the dough doubles in size, press well to release air bubbles.
Now roll with rolling pin make even layer thick/thin as you wish.
Grease the pan with olive oil(optional) and place the dough.
Prick with fork over the dough Pic 2 (I used 8″ round cake pan).
Bake the pizza base in 350° F for 7-10mins (till light brown).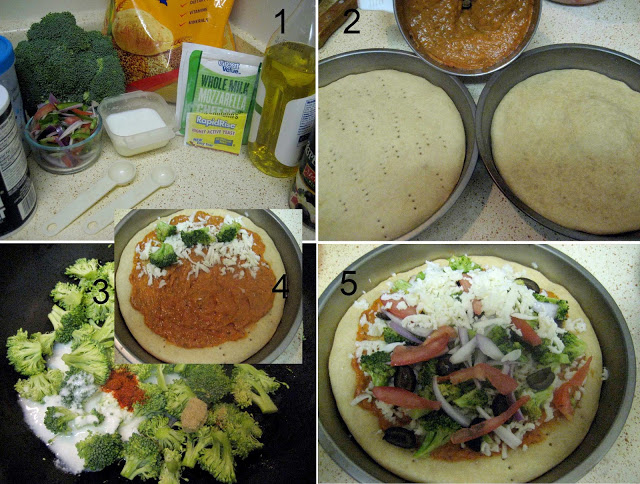 Allow to cool a bit before applying sauce over it.
Method for preparing Broccoli stir fry n other toppings
Stir brocoli florets, yogurt, chili powder and salt till broccoli becomes tender n dry Pic 3.
Apply pizza sauce over the pizza base Pic 4 and top with broccoli stuff.
Now add few toppings like onion, Capsicum, tomato and cheese Pic 5.
Again bake under 400°F for another 10-12mins or till cheese melts.
Note:
Beginners please check out my basic pizza dough recipe for very detailed post.