Egg bonda's are famous in the cinema theaters where we born and brought up. During my childhood days watching movies in theaters was the only media entertainment we (me n my cousins) had. Only Moms organize these sort of outing so before entering and leaving the theater they used to count us not to miss anyone, funny right , yup wherever we go we show our mass such a big family is ours. During interval we get one big hot egg bonda for each to bite. I remember that each bonda had one full egg in it, tastes heaven. The healthy competition begins there, those who keep at least a bit of bonda after the movie climax is the winner, such sweet memories and badly missing all those now 🙁 . Now coming to today's recipe this is not that deep fried bonda, same pattern but baked version.
Ingredients
Gram/Besan Flour – 3/4th Cup (or replace with All purpose Flour/Maida)
Corn Meal – 3/4th Cup (or replace with Sooji/Rava/Besan flour)
Baking Soda – 1/2 tsp
Yogurt – 1/2 Cup (If using butter milk no need to add water)
Salt and Water – As needed
Oil/Butter – 2-3 Tbsp
Eggs – 3 Numbers
Curry Leaves and Cilantro – Few
Onion – 1 Number
Capsicum/Bell pepper – 1/4 Cup (or green chilis)
Red Chili powder – 1tsp
Method
Boil the eggs and cut in to halves.
Add 1/2 cup of warm water to rava/corn meal and lets sit for 5 mins.
Mix yogurt, oil, soda, red chili powder, salt whisk well, slowly incorporate flour to this.
If needed add some water to it for dropping consistency as shown in picture.
Finally fold the chopped onion, capsicum, curry and coriander leaves.
Fill the muffin pan/baking foil cups with half of the batter then place the egg as shown in the picture.
Again drop in the batter to overcoat egg.
Bake in 400°F for 15 mins or toothpick inserted at the sides(apart from egg) comes out clean.
Delicious oil-less soft and spicy muffins are ready.
Serve hot with tea/coffee.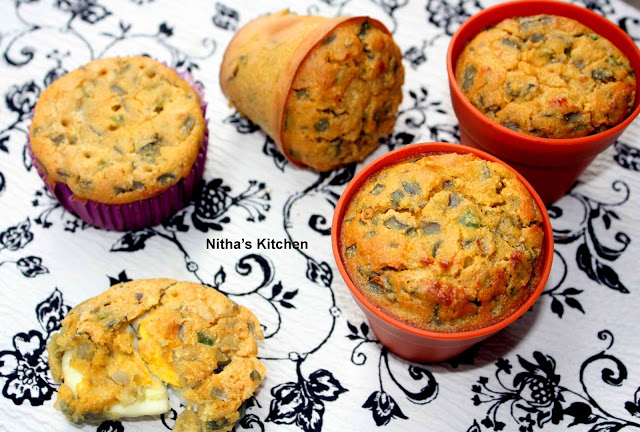 Notes:
Add spices according to your taste.
Bit crunchy outer covering but inner dough is really soft and delicious.
Can add veggies instead of egg.
I have used baking cups and silicone cups for baking today.