Usually I prepare spongy jamuns with store bought jamun mix, which simplifies the kitchen work during Festive/Party time. But after becoming a food blogger, this is the first challange I am participating for Divya's South VS North India challenge. I have commited to 2 challenges per month one is Baking partners and another one is this challenge. I am the part of South Indian team and for the SI group this month challenge given by NI team (Pallavi) is Milk Powder Gulab Jamun. She shared her recipe while Yasodha challenged NI team with Adhirasam. Thanks Pallavi, for sharing this gulab jamun recipe, I thought of following her way but adapted a bit. I had some leftovers like fresh homemade paneer with moisture and half and half milk so I used it for making the dough. My jamuns popped up well and turned out super spongy (my pictures reveal that). The jamuns were absolutely delicious Andy my kids thoroughly enjoyed it. Yields 35-40 medium size jamuns for the below quantity . Will move on to the detailed recipe…
Ingredients
Milk Powder – 1 Cup (I used Fat Free powder)
Homemade Paneer with moisture – 3 Tbsp (Optional)
APF /Maida – 3 Tbsp
Rava/Sooji – 1 and 1/2 Tbsp
Half and Half/Full Cream/Regular Milk – 3 – 4 Tbsp (As needed for kneading the dough)
Oil/Ghee – 1 Tbsp
Sugar – 1 and 1/4 Cup
Water – 1 and 1/2 Cup
Cardamom Powder/Rose Essence – 1 tsp/Few Drops

Old Pictures Updated with recent ones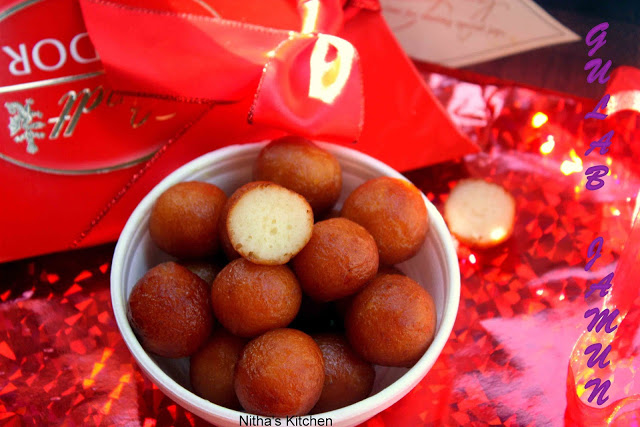 Method
In a sauce pan add sugar,water ansd rose syrup/cardamom powder.
When starts boiling reduce the flame and allow to thicken for few more mins like 5-7 mins.
The syrup is ready keep aside and let prepare the dough for jamun.
The milk powder what I got is not a fine powder, its like little coarse and notined tiny balls, so I powdered it in the blender. If yours is fine powder then skip this step.
Mix all the dry ingredients except milk and oil and whisk well so baking powder incorporates well.
Now add oil, paneer (optional) and 2 tbsp of milk, mix it, now it looks like crumbled mixture.
Slowly sprinkle a tsp of milk at regular intervals and make a soft moisture dough.
If needed add a tsp of oil and rest it for few mins like 5-10 mins (Sooji absorbs some moisture so allow to sit for few mins) or soak sooji in milk for 5 minutes and add it to to the milk power/flour mixture.
Start making crack-less balls by applying oil/ghee to your palms.
Heat oil in a pan, the oil quantity should be high to immerse the rolled jamuns well.
Once starts popping up stir using ladle and pour hot oil over the top of the jamuns (This step is to get even golden color)
Fry in low flame till jamun turns golden brown as shown in the picture.
Increase the temp while taking the jamuns out from hot oil.
Complete all the rolled balls and drain well with paper towel.
Once all completed, warm the sugar syrup for 2mins (should be warm and little high then lukewarm temperature) then add the fried jamuns.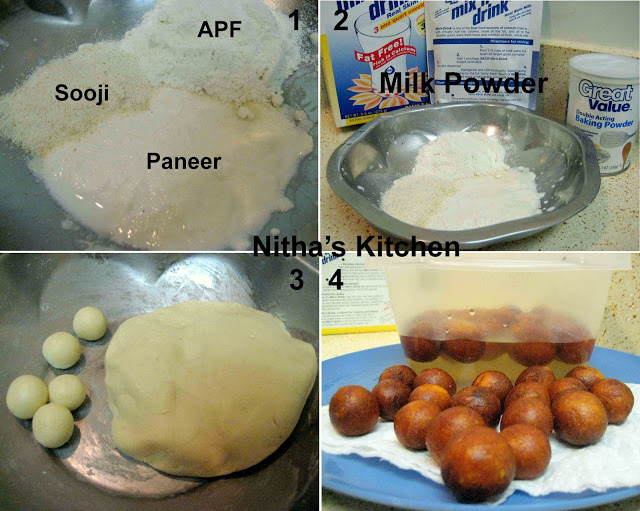 Rest approx 2 hours for the jamuns to absorb the syrup.
Notes
I have substituted veg oil on the whole.
Don't knead the dough for long time, doing so leads to rubbery jamuns.
Also make sure you don't have any coarse/dry stuffs in the dough.
If it takes long time for you to fry then cover the rolled /unrolled dough in an airtight container.
Keep the flame in low -medium temp, can see small oil bubbles while adding jamuns that is the right temp.
While frying don't crowd the jamuns, add minimal quantity in each batch.