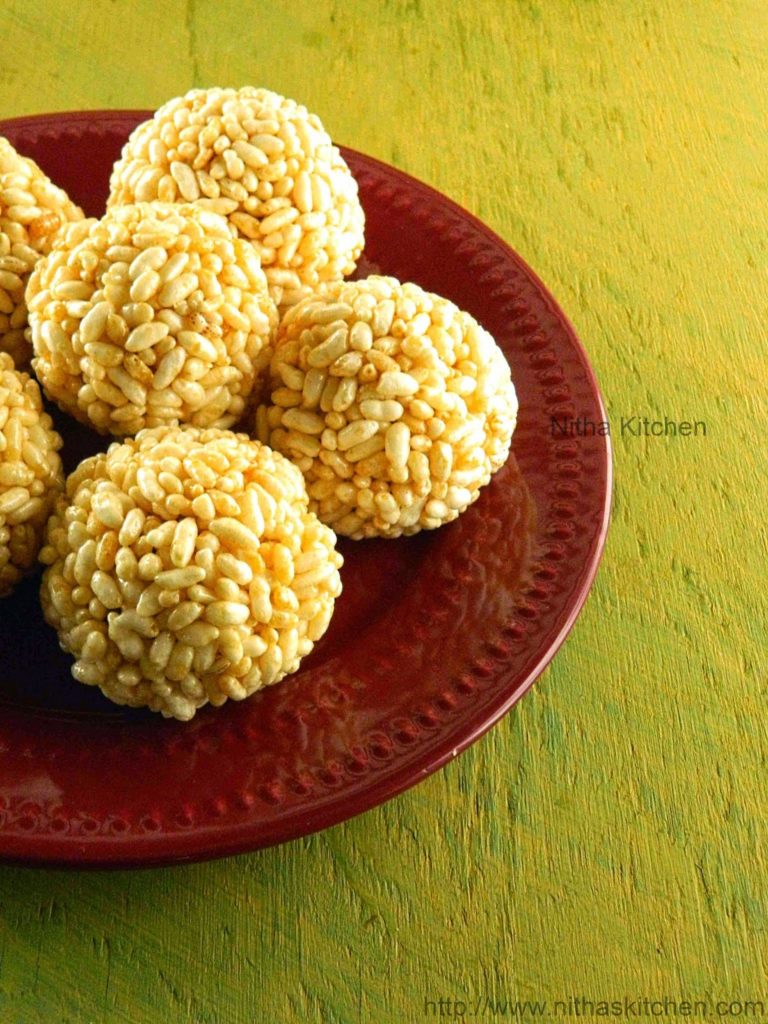 Karthigai/Thiruvannamalai Deepam is basically a Tamil festival and is virtually unknown in most other parts of the country. Karthigai is celebrated on the full moon day (pournami) of the Tamil month of Karthigai which is essentially a festival of lamps. During my childhood days me and my brother first light tray of lamps in the nearest temple and then start lighting home. The lighted lamp is considered an auspicious symbol, so adding more and more oil to the lamps and protecting the lights from wind happens till dinner J. This festival brings Joy n Peace and wish you all a very happy Karthigai Deepam…
Ingredients
Marmara/Mamra/Pori/Puffed Rice – 4 Cups
Dark Brown sugar – 1 and 1/2 Tbsp (Optional to get slight brown color)
Jaggery – 3/4 Cup ( prefer dark brown)
Water – Just to immerse the jaggery (1/2 – 3/4th Cup)
Ghee/Oil – To apply to hands while rolling the rice
Split Dhalia / Pottukadalai or Coconut Pieces – Few (Optional)
Cardamom Powder – 1-2 tsp
Method
Dry fry the puffed rice for 3 mins, if your rice is fresh and crisp skip this step.
In a sauce pan add jaggery, Whole cardamom or powder and water, bring to boil.
Stir for few mins, this step helps for quick dissolve of jaggery.
If like to strain impurities, filter right now and again bring it to boil.
When the syrup starts foaming add dhalia/coconut pieces and start checking the consistency by dropping a spoon of syrup in cold water.
Reduce the flame while checking the consistency.
The syrup should not dissolve in water and when rubbed gently it should form soft ball or string.
So if you attained this step, then put off the stove and add the fried puffed rice.
Mix well gently, so the syrup evenly coats over the pori.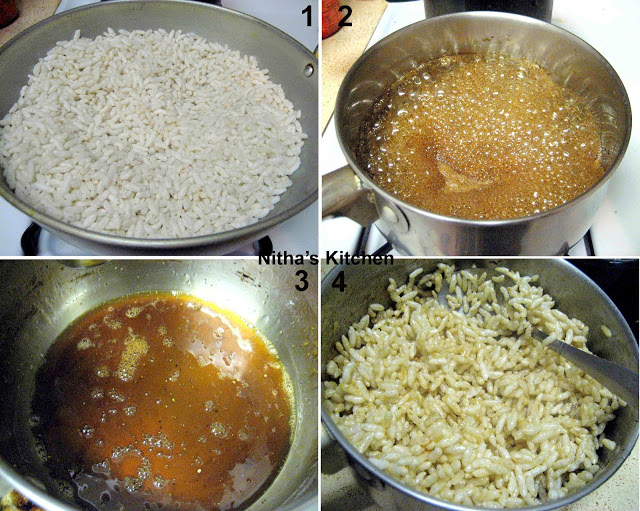 When hand bearable temperature is attained, grease your hands with oil/ghee and start making balls.
Take a handful of the jaggery pori stuff and hold it tightly with both of your palms.
Do this quickly for all otherwise the rice dry out soon.
If unable to make balls in right time, don't get panic, read the note section below n follow as suggested 🙂
Notes
I have given the exact quantity, can increase the jaggery and reserve some syrup.
If the syrup consistency is watery (before attaining the right consistency) then the rice absorbs the syrup and becomes soggy.
By mistake if you crossed the right consistency, then the syrup sticks to the sauce pan and dries out quickly.
Unfortunately if the Puffed Rice + Syrup mixture dries out then
i) Slightly warm the mixture (not much) and try to make balls.
ii) Even this trick works out well, Warm the reserved syrup and add to the final dried Puffed   rice + Jaggery mixture.
Updated Pictures