Today I am here with one of the traditional Tamilar festival Thengai Suduthal recipe (Thengaai Sudum Pandigai). Many of you may not aware of it, though it is particularly celebrated on banks of rivers. Today is Aadi 1, the first day of tamil month Aadi. People worship water in the form of wells, tanks, Dam and rivers today as well as on Aadi 18 (Aadi Perukku). Especially the newly wedded couples celebrate it by taking bath in rivers, wearing new clothes, Apply turmeric to Maangalyam/Thaali and wear new Yellow Thread on that day.
The same day people make this recipe, not only newly wedded; most of the people have the culture of making this coconut (coconut filled with sweet stuffing) during this festival. I always come with Grandma/Mom recipes, today for the very first time I am here with the recipe/culture my father practiced me :-). In evening after cooking the coconuts, we offer it to god (Vinayagar/Amman) and then share it with family and neighbors around. It was regular during my school days and after settled in Chennai i couldn't follow it. Luckily I got a chance to make in the recent stay at my native place.
I have uploaded a short video how to fill and cook the coconut with stuffing, It's outdoor cook, as the coconut shell breaks/cracks, the shells burn while cooking and also give some crack sound (don't get panic), anyways you hold it with a very long stick for safety purpose :-). I strongly suggest you to cook in outdoor however I found this you tube video making it in indoor gas. Also I shared few of my native pictures here.
There is a short article about this festival to know more click here.
Ingredients for Thengai Suduthal
Coconut – 2 Numbers
Raw Rice – 1/2 Cup
Jaggery/Vellam – 1/2 Cup n more
Pottukadalai/Roasted gram/Dhalia – 1/4 Cup
Sesame seeds – 2 Tbsp
Cardamom Powder mixed with Sugar – 2 Tbsp
Thanks Abi n Logu for helping me to record this recipe 🙂
How to do Thengai Suduthal
Remove the outer fiber from coconut, wash and keep ready (Stepwise Pic 1).
Soak rice for 1 hour at least.
Make one hole in the three eyed coconut and remove all the water, reserve it for later use (Stepwise Pic 2).
Put Jaggery, Rice, Pottukadalai, Sesame seeds, cardamom powder one by one and a tsp of coconut water at a time (Stepwise Pic 3).
Alternatively add all ingredients with more jaggery and make sure you add only half of the coconut water.
Fill the coconut completely, wash by closing the hole with ur thumb.
Let it sit in room temperature for 2 hours.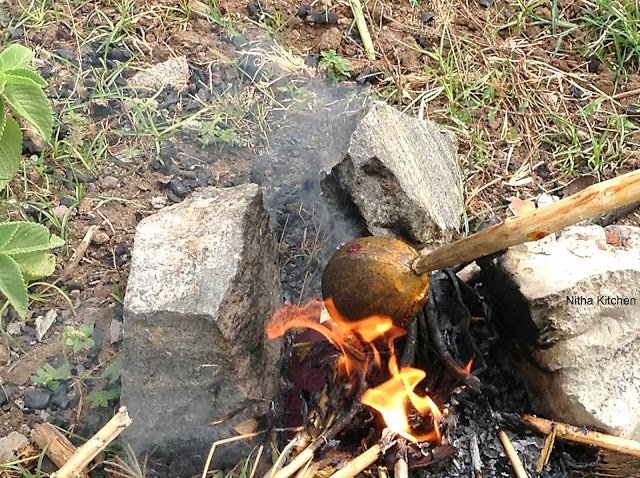 Insert a healthy green wooden stick (which holds high temperature) with sharp edges to fit in to the coconut.
Now bring it to fire and cook till the whole coconut turns black, otherwise the inner won't cook completely.
Turn all over for even cooking, check the video to gain more idea.
Cool it for another 1 hour, it also cooks with the inner temperature right now.
Wash the outer black parts under the running water gently by covering the coconut hole/eye.
Break and offer to god before tasting 🙂 (Stepwise Pic 4).
Note:
Check whether the coconut is in good condition by smelling the water you remove before start filling.
Some may add moong dhal as one of the ingredient, you can add if you like that taste.