Few years back I attempted Chicken Tikka Biryani once and for some reason I stopped making then I have resumed recently. If you make quite interesting kind of biryani like this for kids on Sundays, they really enjoy it. Also when you go for Tikka biriyani don't overcook the chicken, they should have some moisture in it. So make sure to take it out from oven or stove top a bit earlier then we do as usual. For those who wish to get juicy soft chicken in your biryani just go ahead with the same process instead of layering chicken tikka just add marinated chicken cooked in biryani gravy. In this Chicken Tikka Biryani I have used half as chicken tikkas and remaining in biryani gravy.


To Grind
Green Chili's – 2 Numbers
Cinnamon Stick – 1 inch Piece (Optional)
White Sesame Seeds – 1tsp (soak in warm water)
Cashew nuts or Almonds – 2 Tbsp (soak in warm water)
Poppy Seeds – 1/2tsp (soak in warm water)
Ginger – 2 inch piece
Garlic – 6-8 Cloves
First grind the cinnamon with little salt and when powdered well add soaked stuffs and other ingredients, add necessary water and make smooth paste.
You can either use chicken tikka or plain chicken for this biryani, however the marinating part remains the same. What i did was i made half of the marinated chicken to tikka and remaining i added in the chicken gravy that prepared for the biryani.
Ingredients to Marinate
Chicken – 500-600gms
Hung Curd/Thick – 1/4 Cup
Red chili powder – 1tsp
Coriander Powder – 1n1/2tsp
Garam Masala Powder – 1tsp
Turmeric Powder – 1/2tsp
Lemon Juice – 2tsp
Kosher Salt – 1tsp
Other Ingredients
Rice – 2n 1/2 Cups
Onion – 2 US Onions/Large, Refer pic 2 below (cut into thin slices)
Whole Garam Masala like bay leaf, green cardamoms, cloves, star anise – 4 Each
Whole Cumin seeds/Jeera – 1tsp
Reduced Fat Yogurt – 1n 1/4 Cup (If using thick or Greek yogurt then 1 cup is enough)
Cilantro or Coriander Leaves – 1/3 Cup finely chopped
Mint leaves – 1/4 Cup, chopped
Turmeric Powder – 1/2tsp
Red Chili Powder – 2tsp or More
*Biryani Masala Powder – 1n1/2 Tbsp
1n1/2 tsp rose or Kewra water
Ghee or Butter – 4-5 Tbsp
Salt to taste
* Usually this dum biryani version comes with mild spices ie without biryani masala powder but i usually add to get more taste and flavor.
How to Prepare Biryani Masala
Heat ghee or butter and add whole garam masalas one by one , include cumin too and let it crackle (Pic 1).
Add sliced onion, slit green chili's to it and saute till golden brown in color.
Now add the ground almond paste (Pic 4).
Then add all powders like red chili, biryani masala, turmeric powder, marinated half or full quantity of chicken pieces and salt (Pic 5).
Saute them in medium flame for 7-9 minutes.
When Chicken is almost cooked ie 3/4th done, add chopped mint, coriander leaves and curd.
Add kewra or rose water and cook for some time (Pic 6).
Make sure the gravy has enough water for the dum.
When gravy is under process you can start cooking the rice in separate pan (Pic 3).
How to Cook Rice for Dum Biryani
Soak the rice for 30 minutes at least.
Heat water in a very large pan say for 2n1/2 cups of rice you need to add 8-9 cups of water.
Put 1tsp of shahi jeera(optional), oil or ghee when water boils vigorous add soaked rice.
Cook till rice is 90% done (Pic 3 above), make sure it cooked well.
Drain water and spread the rice on a pizza pan like wide plate for sometime.
When keeping uncovered for long time the rice gets dry so in that case cover the top.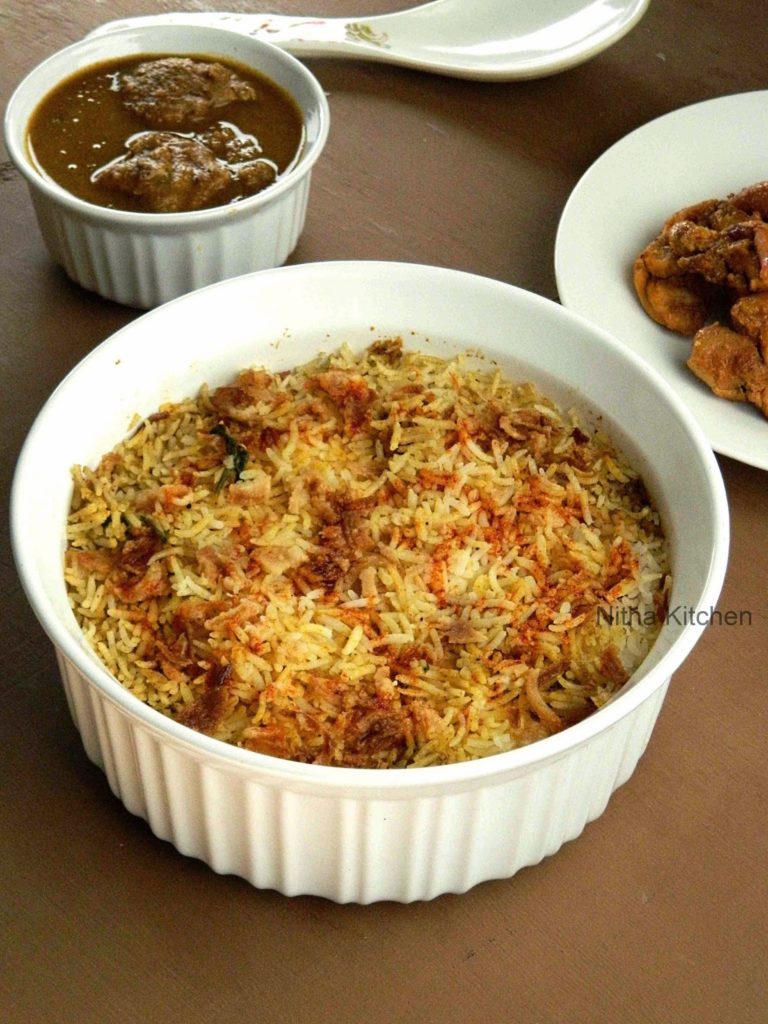 How to Layer for Dum Biryani
Few saffron strands dissolved in 3 Tbsps of milk
Orange or Yellow chili powder – 1/2tsp
Some Fried Onion to garnish
So far we have prepared the rice and gravy for the biryani.
Mix the saffron water and orange or yellow chili powder (here you can go for food colors too).
Grease the pan with little butter (here i used stoneware and glass bowls) and first layer it with biryani gravy we prepared.
Then spread the rice (Pic 7 below), chicken tikka pieces (Pic 8) we prepared already.
Once you top rice sprinkle saffron water and some lemon juice.
Repeat 2 – 3 layers like that.
And on the top most layer after adding saffron water + lemon juice add some fried onions (Pic 7 above).
Cover the bowl with a lid/aluminum foil (Pic 9) also you can seal the edges well with atta (chapathi) dough.
Cook in oven at 350° F for 20 minutes till the meat gets tender and flavors are intact (Pic 10).
You can dum in stove top over dosa pan in low flame for 15-20 minutes.
Gently mix from top to bottom and serve it with curry or raita.