Whenever I make cake or cookies my daughter sings "Happy To U", bit hard for her to say "Birthday" :-). Yup it's her turn and completing 3 yours today, as it falls on weekend we will be in temple to get the blessings. So I made this cake a day before (blog sake too) and posting here the same day :-). Princess Birthday Cake with Buttercream Frosting was one among the long awaited dream, fulfilled today. Some may feel tough to whip the egg whites alone so here is the simple and easy recipe anyone can bake. Many step wise cakes I posted earlier so today just clicked the cake assortment alone… Vanilla Cake (Do 2 times)
APF/Maida – 2 and 3/4th Cups
Corn Starch – 5 Tbsp (or replace with 5 Tbsp AP flour + 1 Egg)
Egg – 4 No. (Large)
Butter – 1 n 1/2 Cups
Pure Vanilla Extract – 2 tsp
Powdered Sugar – 1 n 1/4 Cup
Lemon Juice – 2tsp (Optional)
Baking Powder – 3/4th Tbsp
Salt – 1/2 tsp
Milk – 1 Cup
Butter Cream Frosting
Red Food Color or Pink Food Color (Gel type) – 2-3 drops as shown in picture below
Unsalted Butter – 4 and 1/2 Sticks
Powdered/Icing Sugar – 6 and 1/2 Cups
Vanilla Essence – 2 tsp
Milk – 1/2 Cup
Method
Keep the eggs and milk 30 minutes before start preparing the batter n butter at least before 15 mins.
Butter should not be too hard or too soft/melt while beating, if starts melting refrigerate again for a while and start beating.
Mix the dry ingredients flour, cornstarch, salt and baking powder, use hand whisk to incorporate well.
Cut the butter in to pieces and start blending, once all blended well, start adding sugar.
Cream for 2-3 mins or till fluffy.
Add one egg at a time and blend altogether.
After adding last egg add vanilla essence, lemon juice and cream well.
If the batter seems to be curdle, blend for more time.
Now add 1 cup of flour mix, blend well.
Then add 1/2 Cup of milk n then 1 cup flour mixture.
Finally 1/2 cup milk n remaining flour mixture (Start n end with flour).
Blend the final batter for 3-5 mins and transfer it to butter n flour greased glass bowls.
1 dome shaped glass bowl of 1 n 1/2 quart size (7 " wide) n another flat bottomed round glass bowl of 8″ wide (see note).
Drop 3/4th of batter in dome shaped glass bowl and remaining in another glass bowl, start baking at preheated oven for 350° F.
Take the same measurement again for cake batter as mentioned in ingredients and follow the above steps. Now going to use round cake pan of 8″ size and divide the batter evenly n start baking with the already baking cakes.
Usually the glass bowls take long time(45-50 mins) when compared to metal pans, so before the glass bowl gets baked, the metal pan cakes will get ready(18-20mins).
Use cooling rack and leave the cakes in pan for 10 mins and separate it.
Again cool the cakes in rack for 1 hour in room temp.
Frosting Preparation
Meanwhile prepare the frosting. If the frosting quantity u feel its huge then divide it in to two and beat the cream.
Butter at room temp, cut n blend, when turns smooth add vanilla essence and sugar in batches with a tbsp of milk alternately.
When all blend together, you get a shiny smooth frosting, if needed add more milk for spreading consistency.
Cake Assembling

Other Ingredients for decoration
Cake Board – 1
Barbie Doll – 1 (The doll is 11 n 1/2″ height and 2 inches wide)
Multi colored star sprinkles – As Needed
Pink color cone for barbie doll – 1 No.
I used butter spreader to apply cream over the cake and no cake turntable used, cake sits on cake board n applied cream by turning manually over stove top.
Leave 3 inches in the top portion to get doll view.
Remaining 8 n 1/2 inches is covered by baked cakes and creams.
I watched this video for making the princess doll cake.
Trim the uneven cakes and remove the crumbs using smooth brush over baked cake.
Cut the large dome cake in to halve and I used star cookie cutter (2 1/2″) to cut the cakes in center and to insert doll later.
Place the first 8″ cake (bottom side up), apply little frosting, repeat it for all 8″ cakes, then keep the bottom part of dome cake (bottom side down) and at last the remaining one.
Picture 1 – Trimmed cakes to assemble.
2 – Made hole in center n applied very less cream.
3 – Almost stacked.
4 – Crumb coating done, not necessary to do perfect icing for crumb coating.
Apply little frosting all over (crumb coat), freeze it for 30 minutes or till it doesn't stick when touched.
Make another coating and insert the well wrapped doll.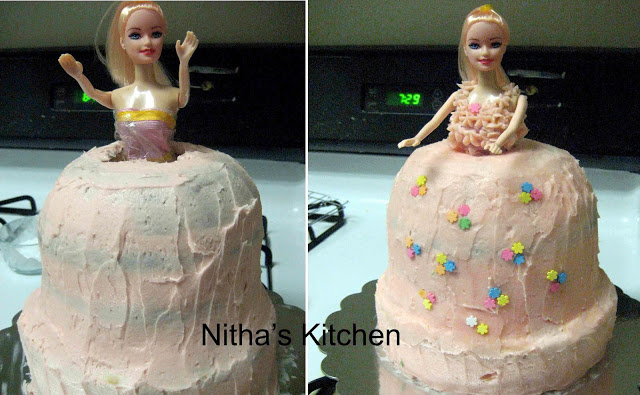 If you wish make some swirls over the princess dress.
Use star tip tool to dress up for the top 3 inches, front and back.
Made cone and decoration as explained in the video.
Then what all Real n Reel teddies are waiting to taste the cake 🙂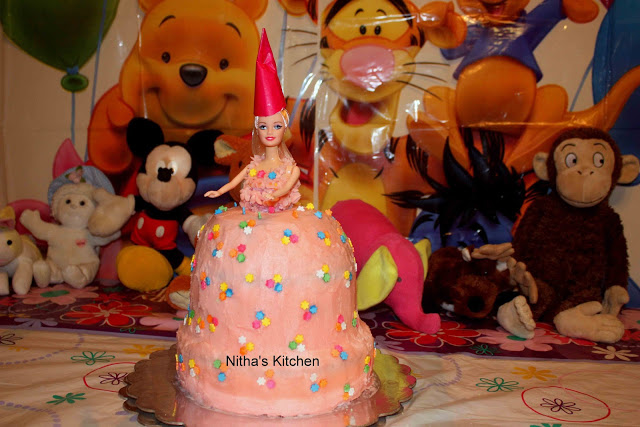 Well I came up with clever idea of making the princess doll with all homemade ingredients and super duper frosting…
Notes
1) Glass bowls should be oven or conventional oven proof safe. Dome glass bowl took long time around (55 mins) to cook at center so the surroundings of cake were bit dark brown when compared to other cakes as in the picture, otherwise the inner cake was so soft n spongy.
2) Can apply whipped cream to the cake or have the plain cake as it is if doing so increase 1/2 cup sugar in the cake batter.