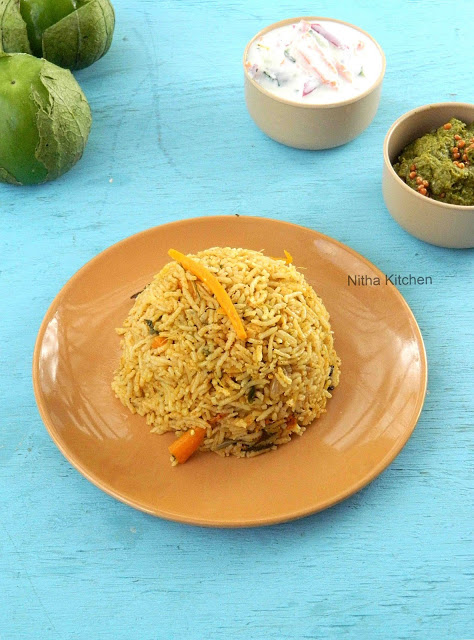 Green tomatoes are in season, few days back I have tried this green tomato biryani using it. The one I used exactly here in the recipe is Tomatillo/Mexican green tomato which looks attractive with husk and they are tangy on taste. Some website says they belong to gooseberry family, anyways regular green tomato also works for this biriyani recipe and do proceed with instructions below to make.
Serves – 4-5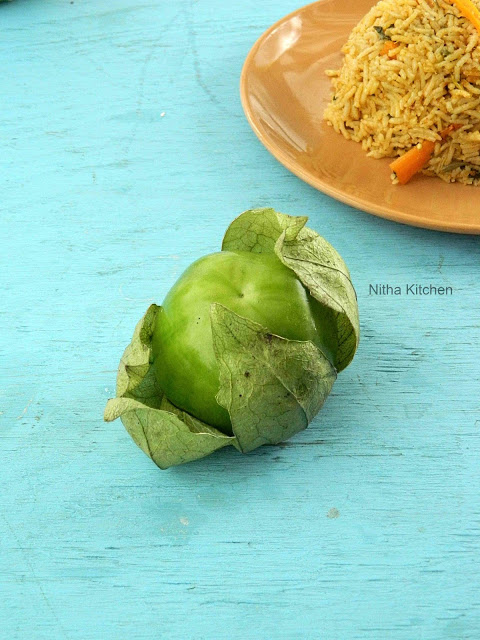 Ingredients
Basmati Rice – 2.25 Cups
Tomato – 2 Green medium size
Well Ripen Regular Tomatoes – 2 small size (replace with green tomato)
Shallot – 10 Numbers
Garam Masala Powder – 3/4 Tbsp
Red Chili powder – 3/4 Tbsp
Turmeric powder – 1/2tsp
Whole Garam Masala – Cloves, Cardamom – 4 each
Small Piece of Coconut (little finger size)
Cinnamon – 1 (2-3″ long piece)
Bay leaves – 2 Numbers
Mint leaves – 1/4 Cup
Coriander leaves – 1/4 cup
Thick coconut milk – 1/2 cup
Mixed Veggies – Carrot/Potato and Peas – 1 Cup (Optional)
Method
Here I have used shallot/pearl/small onion but if you couldn't find then go for 1 jumbo size regular onion.
Make the ingredients ready (Pic 1).
Grind ginger garlic with 2 shallots or small portion of regular onion, few coriander n mint leaves and a piece of coconut (Pic 2).
In a kadai add butter/ghee add the whole garam masalas like bay leaves, cloves, cinnamon and  star anise (Pic 3)
Add the chopped shallot/onion saute till it turns light brown (Pic 4).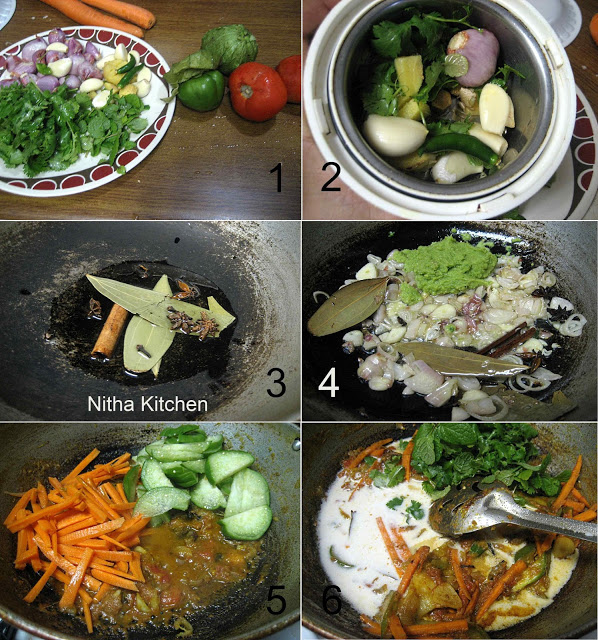 Now add ground Ginger Garlic Mixed Paste (Pic 4), red chili powder, turmeric powder and saute for 2-4 minutes.
Add the well ripened and chopped red/regular tomatoes and saute till it mashes well (Pic 5).
Once done, add the lengthy sliced carrot, roundly sliced tomato, garam masala powder (Pic 5).
Saute till the raw smell goes away from the masala powders and no need to wait till the greem tomato mashes.
Finally add the coconut milk, chopped coriander and mint leaves, adjust salt and chili powder (Pic 6), mix with rice.
Add necessary water ( i added 3.25cups water) and cook in pressure cooker for 3 hisses or in electric cooker using white rice mode.
Serve with onion raita or chutney (recipe coming soon).