I have loads of Indian Whole grain Millets in my pantry packed by my Mom and Mil during my last visit. I would admit Homemade Whole Grain Millets Idli Dosa batter is not a recipe for blog sake instead a great healthy recipe to try. Several times I made idli and dosa with this Whole Grain Millets or Multigrain Millets Maavu. You may wonder
that, if instant flours are available at groceries then why this whole grain grinding process at home , a very time consuming process indeed. Right when compared to mixing instant flours with regular/dosa batter I would recommend this version of soaking all grains with rice, grind and allow to ferment before use. Every week our idli dosa batter has any mix of millets and i practiced my kids taking tiffin this healthy way from their childhood. Once in a blue moon when I make south indian basic idli dosa batter for any friends gathering they ask why idlis are pure white in color -) Really this multi grain version gives a very tasty and healthy idli/dosas. Me and kids love the soft, fluffy idli but my H likes only dosa from this batter 🙂
Coming with video tutorial soon.
Whole Grain Millets Idli Dosa Batter Ingredients
Brown Rice – 1 Cups (Replace with Idli Rice)
Idli Rice – 1/2 Cup
Whole Ragi/Kelvaragu/Finger Millet – 1/2 Cup
Whole Kambu/Bajri/Barja/Pearl Millet – 1/2 Cup
Whole Jowar/Cholam/Sorghum – 1/4 Cup (Replace with any grain/flour you have)
Wheat Flour – 1/4 Cup * (Optional, Replace with Whole grain Wheat or use any other grain or just skip)
Whole Urad Dhal – 1/2 Cup ( You can increase 2-4 Tbsps as per quality of dhal)
Fenugreek – 1n1/2tsp
Salt and Water – As Required

* I don't have whole wheat grain, so i used flour, if you are short with any of whole grain either you can replace with flour or replace with any available whole grain as per ratio…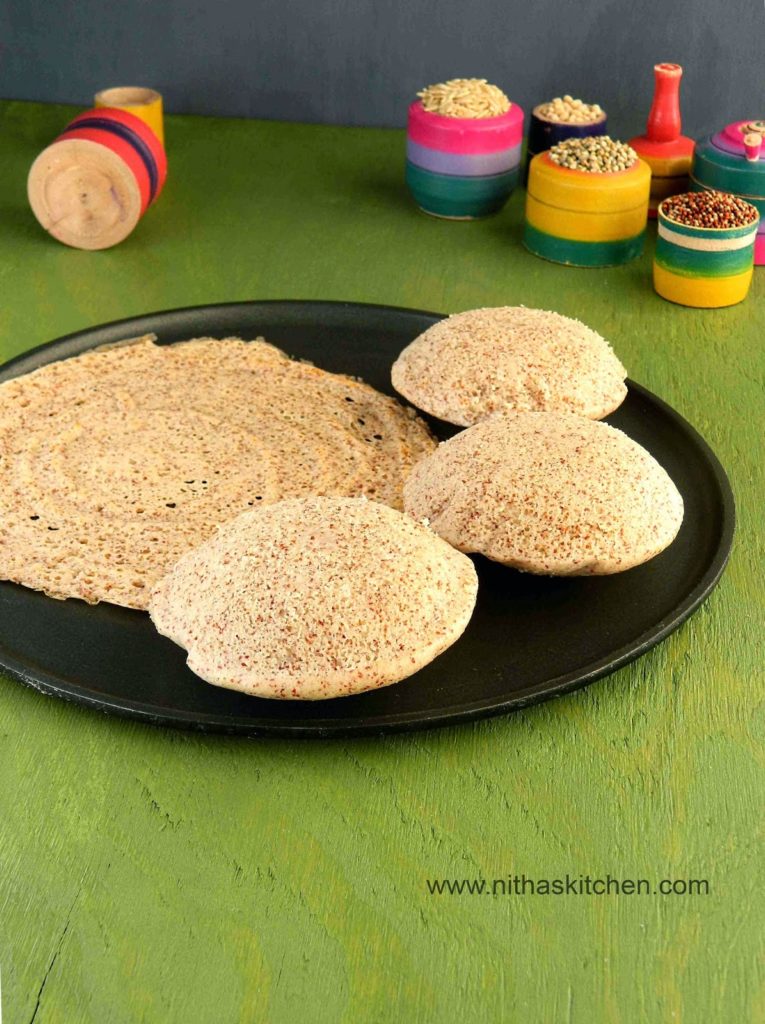 How to make Whole Grain Millet Idli Dosa Batter
Soak all whole grains and rice for at least 5 hours or overnight (Pic 1).
Soak Urad dhal and fenugreek for 3 hours before grinding.
Grind them separately in mixie/grinder as per ur convenient.
Mix all together with wheat flour (Pic 2), salt and allow to ferment, may take 5-hours to ferment well.
Mix the batter from bottom to top and prepare Idli/Dosa/Paniyaram as you prefer (Pic 3).
Best to go with tamarind/tomato based chutneys, Sambar and Non veg gravies 🙂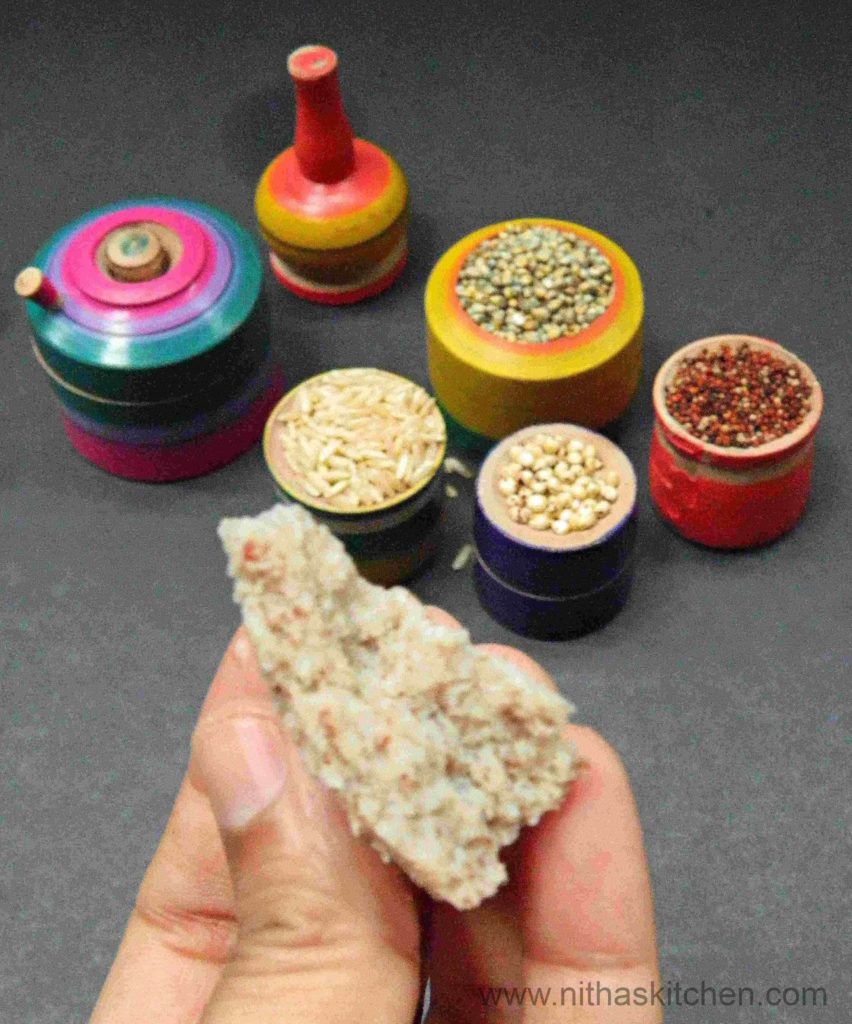 Variations
If you dont have wet grinder then do grind it in mixie/food processor.
You can mix the instant millet flours after the regular idli and urad dal batter get ground.
You can make paniyaram /appe with this batter too, I have Sorghum/Cholam/Jowar Kuzhi Paniyaram recipe, you can check it.
Whenever I make, the weather has not accompanied to click better pictures. But I don't want to postpone the recipe, so successfully posted it after 3 months of frequent makes and clicks 🙂