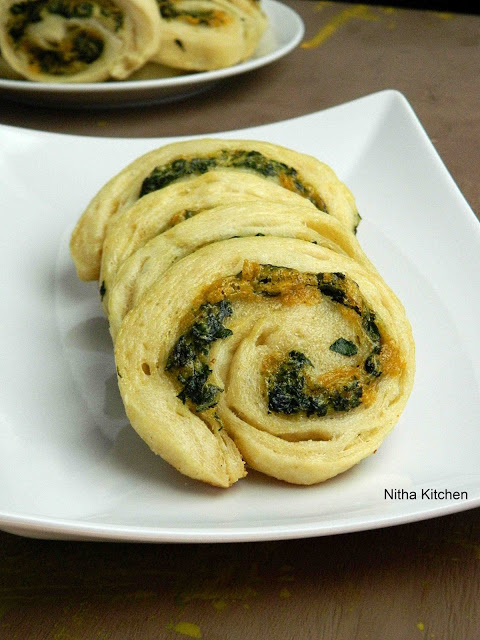 Egg free pizza pinwheels with an easy way of homemade croissant dough and spinach cheese filling which makes wonder in taste. I never fail to make these pizza pinwheels for any parties in my home and it was greately appreciated by everyone who tasted it. I feel it is an easy appetizer, that you can prepare in advance and it just takes 15 minutes to get ready in the oven. So the post is going to be in detail with the dough and fillign recipes and have given storing tips to make it in advance….These croissant dough is kind of puff pastry with reduced butter and yeast mix, I saw her easy way of spreading softened butter over the dough so i am following the same for few years. I have made these pinwheels several times so the pictures shared here are mix of several tries :-).
Yields 20- 22 as shown here
Ingredients For the Crescent Rolls
All Purpose Flour or Bread Flour - 3 Cups
Unsalted Butter softened - 8 tablespoons or 1 stick (you may reduce 1 to 2 tbsp)
Lukewarm water - 1/4 Cup
Lukewarm milk - 3/4 cup
Active Dry Yeast - 2 and 1/4 teaspoons/one packet
Regular/Granulated Sugar - 2 tsp 
Salt - 1.5 tsp
Ingredients for the filling
I don't like the tomato sour flavor in the pinwheels so always i prefer these filling. you can check the same filling with puff pastry in my another recipe HERE.
Fresh or Frozen Chopped Spinach - 1 and 1/2 Cups or 1 pkg. (about 10 ounces) , thawed and well drained
Cream Cheese - 5-6 Tbsp
White Ranch or Milk - 1 Tbsp
Bread Crumbs - 2 Tbsp
Grated Parmesan Cheese - 2 Tbsp (I used powder)
Garlic powder - 1/2 tsp
Pepper Powder - 1 tsp
Onion Powder - 1/2 tsp
Seasoning Salt or Seasoning Mix - 1-2 tsp
Sharp Cheddar Shredded Cheese - 1 Cup or More
For the above I have taken thrice the ingredients listed made for my son's
birthday party
.
Egg Free Pizza Pinwheels Preparation
Shred the cheese and freeze till use.
Mix cream cheese and all the remaining ingredients, finally chopped spinach and the mixture looks like shown in above picture.
Keep aside till use.
Outer Pastry Dough Preparation
Make sure to keep butter at room temperature for an hour or so to get softened.
Mix lukewarm water, half of milk, sugar and yeast in a coffee mug, let them in warm place for 5 minutes until it foams (Pic 1).
Add Flour and salt in a mixing bowl add the yeast mixture and keep kneading by sprinkling the rest of warm milk.
You can do the same in mixie / food processor as well (Pic 2 & 3).
It depends on the flour texture you may need more water. so if needed sprinkle more water and make the dough soft and smooth (Pic 4).
Refrigerate the dough to chill for 30 minutes.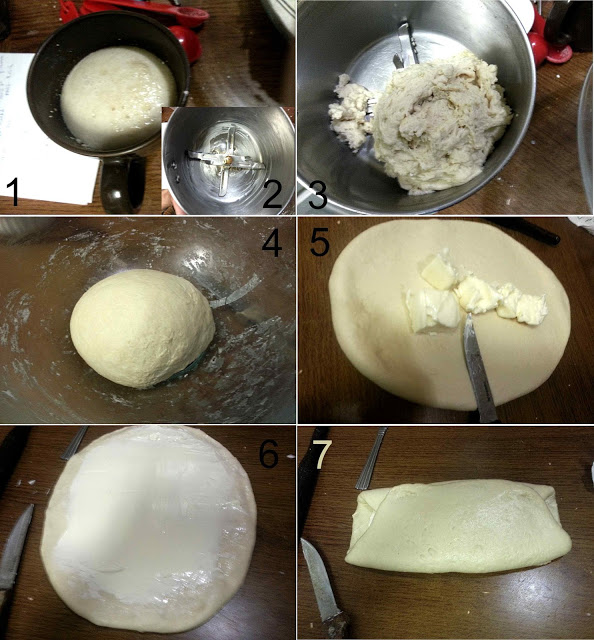 Dust flour over the counter top and roll the chilled dough thick as shown in picture and not thin (Pic 5).
Apply soft butter over it using butter knife (Pic 6).
Like puff pastry fold/envelope or book fold, keep the center portion as it is and make left and right dough lay over it (Pic 7).
Freeze it for 10 minutes, take it out change the position (Pic 8) and roll vertically to make a book fold.
Again freeze it and make the third fold. So total three folds and not more than that.
If it is done with three folds and freezing then roll the dough lengthwise long and short width as shown in picture below (Pic 9).
Filling and Pinwheel Preparation
When they are sitting in the refrigerator do prepare the filling.
Apply the already prepared filling using butter knife and sprinkle the shredded cheese over it (Pic 10).
Now roll/wrap tightly the dough starting from vertical left to right and seems part down.
Freeze this rolled dough for 15 to 30 minutes until it is stiff to handle.
Once the dough is stiff, take the serrated knife and slice it to 1/2inch to 3/4 inch thickness (Pic 11).
Now in a pizza pan or tray place the sliced portions and freeze it for a while before baking (Pic 11).
Place the pinwheels in parchment placed tray with gap between pinwheels to expand.
Bake in preheated oven at 400 F for 14-17 minutes.
Please don't forget to freeze before bake otherwise you can see lot of cheese melting at the early time of baking itself.
The bottom layer will be slightly brown and the topmost crust slightly turns brown is the right indication to take it off from the oven.
Serve with any dressing as you like or sprinkle some seasoned salt and serve.
Storing Tips
Prepare them 3-5 days ahead and place it in freezer till use.
Freeze the sliced pinwheels for 30 minutes in a pan.
Then place them on a ziploc or freezer safe bag writing the date, oven temperature and minutes of baking on it, below picture.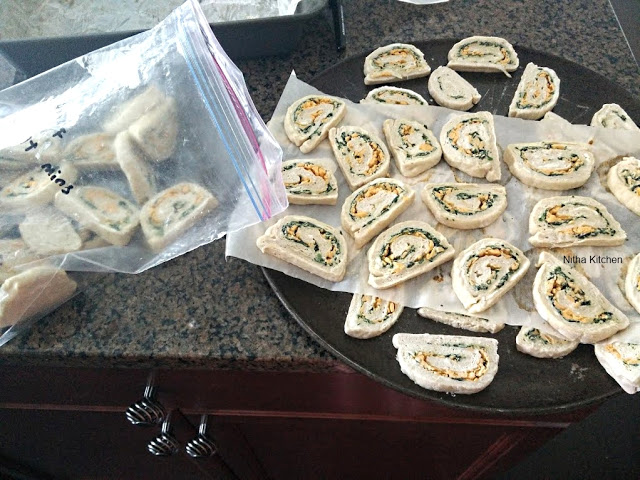 At the time of baking just in preheated oven at 400 F place the pinwheels leaving reasonable gap for them to expand bake for 14-17 minutes.
The bottom layer will be slightly brown and the topmost crust slightly turns brown is the right indication to take it off from the oven.
Once done serve with any dressing as you like.
Just posted the recipe if i missed anything i will update soon…