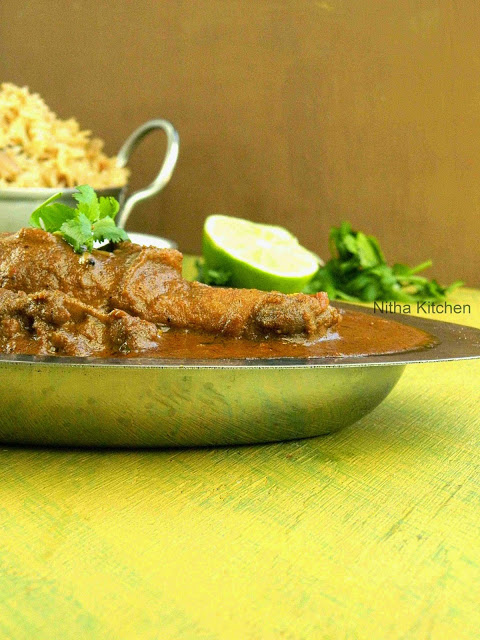 Today's recipe is really a spicy chicken curry / kodi kura from Andhra cuisine. As I stated in few other recipes me and kids are really not a spice eaters. My H likes to have such curry once in a while, since he loves chicken to the core I made it for him one fine Sunday. You can reduce the spice level and this is a somewhat thick version of curry. Also you can dilute with coconut paste and water as desired. I referred this recipe from Foods 2Q but I couldn't find the link now.


Ingredients
Chicken – 1 Lb or 450 grams
Well Ripen Tomatoes – 2 Medium Size
Onion – 1 Number (Large, US Onion)
Ginger – 1-1n1/2 Tbsp
Garlic – 6 Cloves
Coriander Powder – 2 Tbsp
Chicken Curry Powder – 2tsp (Optional)
Coconut Paste – 1/4 Cup (Optional)
Red Chili Powder (Optional)
Curry Leaves and Coriander Leaves – Few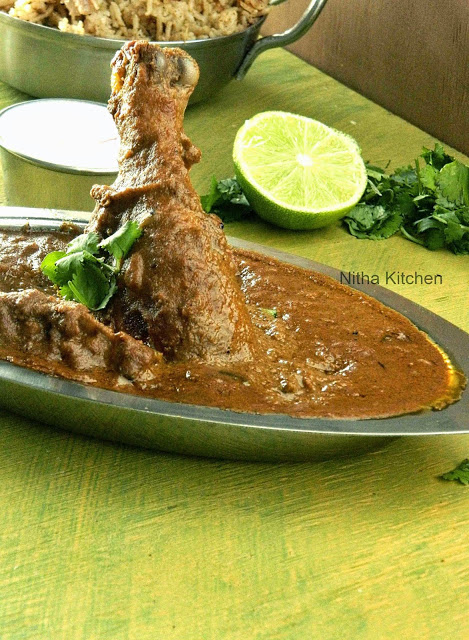 To Marinate
Yogurt/Curd – 3 Tbsp
Turmeric Powder – 1/2tsp
Lemon Juice – Few Drops
Guntur Red Chili Powder – 1 Tbsp
To dry roast (Spice Mix)
Dry Red Chili – 4-5 Numbers
Cinnamon Stick – 1 Inch
Cloves – 6 Numbers
Pepper – 1/2tsp
Cumin – 1/2tsp
Fennel/Sombu – 2tsp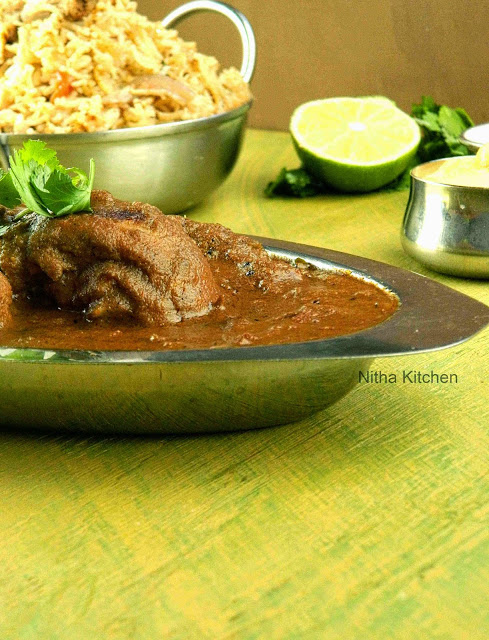 Method
Clean the chicken and remove excess water.
Marinate chicken along with yogurt, turmeric, red chili powder and lemon juice for 1 hour or overnight in refrigerator.
Dry roast the ingredients given under "to dry roast" and once cooled powder it fine.
You can either grate the ginger and garlic or make coarse paste out of it.
Heat generous oil in kadai/pan add the thinly sliced onion and saute till it turns golden brown.
Now add ginger garlic paste, curry leaves and saute till nice aroma attains.
Once done add chopped tomatoes, salt and you can cover it with lid for the tomatoes to mash and cook well.

Once done add dry roasted powder, marinated chicken cook for 8 minutes approx in  medium flame.
When chicken starts leaving water, mix them well from bottom to top and cook for few more minutes like 3-4 minutes.
If needed sprinkle some water whenever necessary, cover the lid and cook till chicken cooks well (Pic 1).
Now add coriander powder, optional coconut paste, more red chili powder if needed and mix all together and cook in low flame.
On and off give a stir from bottom to top.
At one stage oil floats on top (Pic 2) now add finely chopped coriander leaves and remove from flame.
You can have with curry with plain rice, briyani or Idli, Dosa kind of varieties.