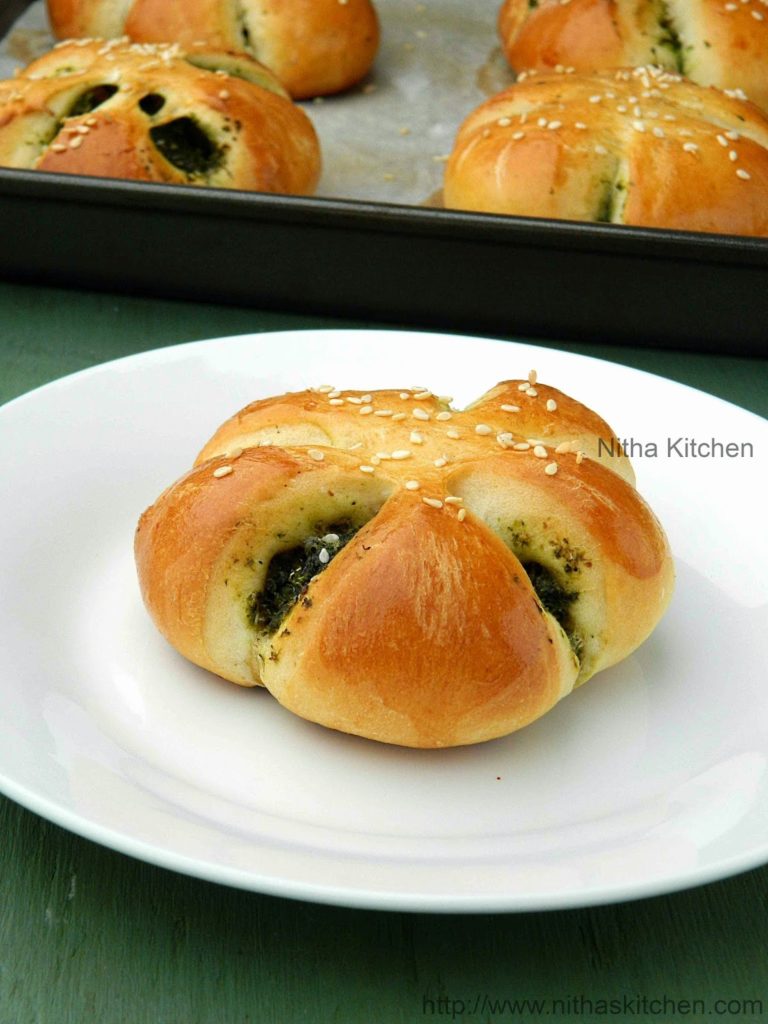 Eggless Spinach Pesto Stuffed Bun: Few days back when Aparna (We Knead To Bake) asked us to choose savory breads with any shape of our own choice for this month bread baking challenge, I googled and was quiet inspired with this flower shaped breads. Recently I made a try with filling of my choice and came up with Eggless Spinach Pesto Flower Buns Recipe.  My elder one liked it very much and for next 2 days she packed it to her school. These inner soft and outer crispy breads can be served as after school/office hour snack or for breakfast. Try this healthy greens stuffed homemade bread for your kids if your mind is thinking about some savory goodies 🙂
Ingredients for Bread
AP Flour / Bread flour – 2and1/4 Cup
Sugar – 1tsp
Salt – 3/4tsp
Butter – 3 Tbsp (room temperature)
Active Dry Yeast – 1 and 1/2tsp
Warm Milk + Water – 3/4 Cup + 1/2 Cup (I use 2% or whole milk)
Few Sesame Seeds – To Sprinkle on top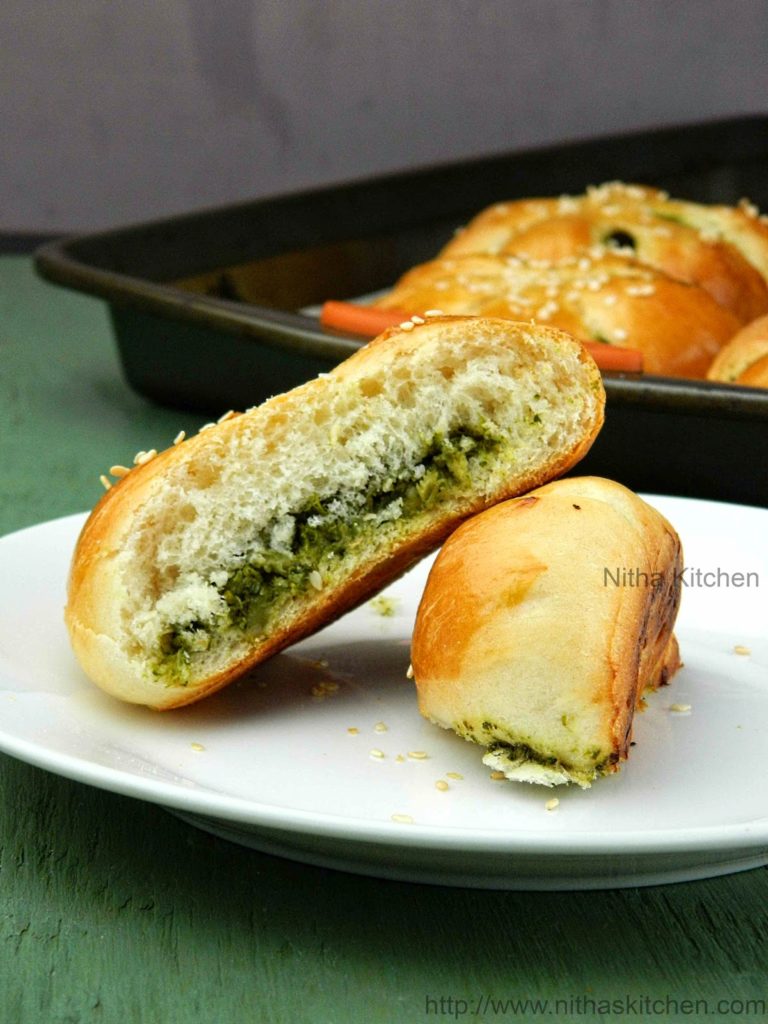 Pesto and Veg Filling for Stuffed Bun
Almonds or Peanut or Cashew Nuts – 1/4 Cup
Spinach or Coriander Leaves – 1/2 Bunch
Shredded Broccoli – 3/4 Cup
Lemon Juice – 1/2 Tbsp
Salt – As Needed
Red Chili Flakes/Paprika – 1tsp
Pepper – 2tsp
Parmesan Cheese Powder – 1/3 Cup (You can replace with bread crumbs as well)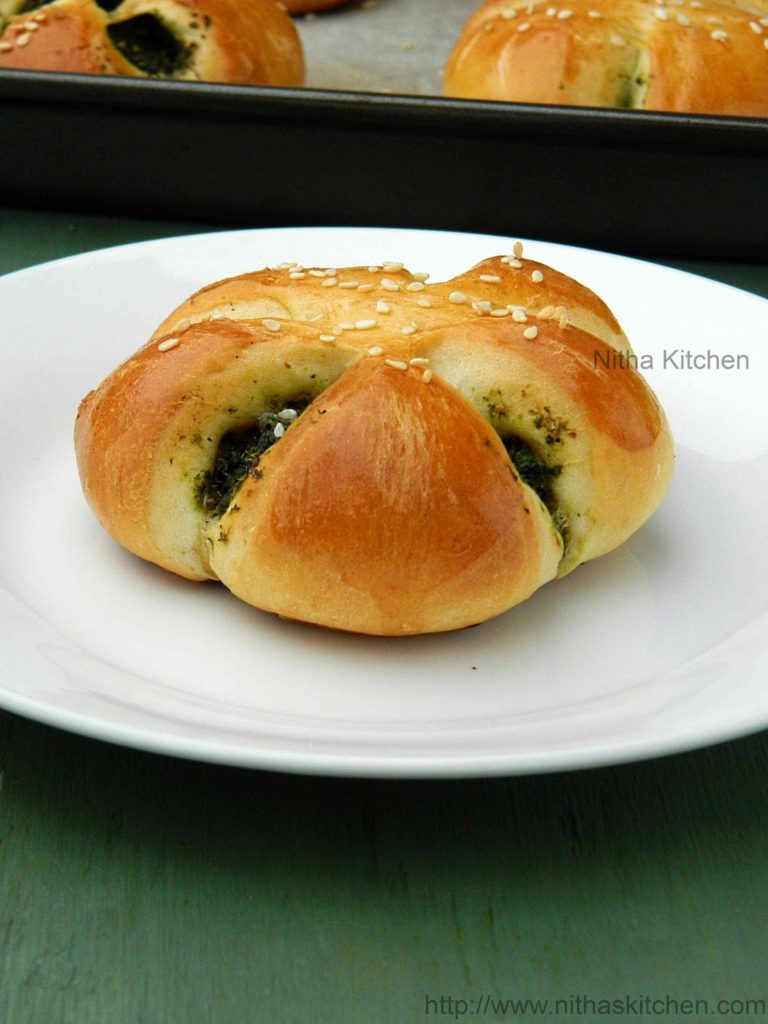 If using almonds soak the almonds in warm water/milk for 15 minutes at least.
Sauté the shredded broccoli with paprika till all moisture evaporates, keep aside.
Clean and pick the spinach/coriander leaves with young stem if you wish.
Add water drained spinach, soaked almonds, Pepper, salt and lemon juice in the food processor, blend all together.
Finally add sautéed broccoli and Parmesan cheese to the spinach paste and adjust salt (Pic 1).
Eggless Spinach Pesto Stuffed Bun Preparation
Mix all the dry ingredients and slowly add warm milk.
Knead the dough very well, the dough should be soft and bit sticky at this stage add the butter and keep kneading using hands or machine.
Allow to proof for 1 hour in oil greased bowl at warm temperature.
Once the doubled in size punch and divide in to 10 equal parts (Pic 2).
Also during the time of proofing make sure to prepare the filling and keep aside to cool completely.
Divide the filling also in to 10 equal parts (Pic 2).
Flat a circle and keep the filling at center (Pic 3).
Cover the filling properly with outer bread dough and again gently roll in to approx 3″ circle (Pic 4).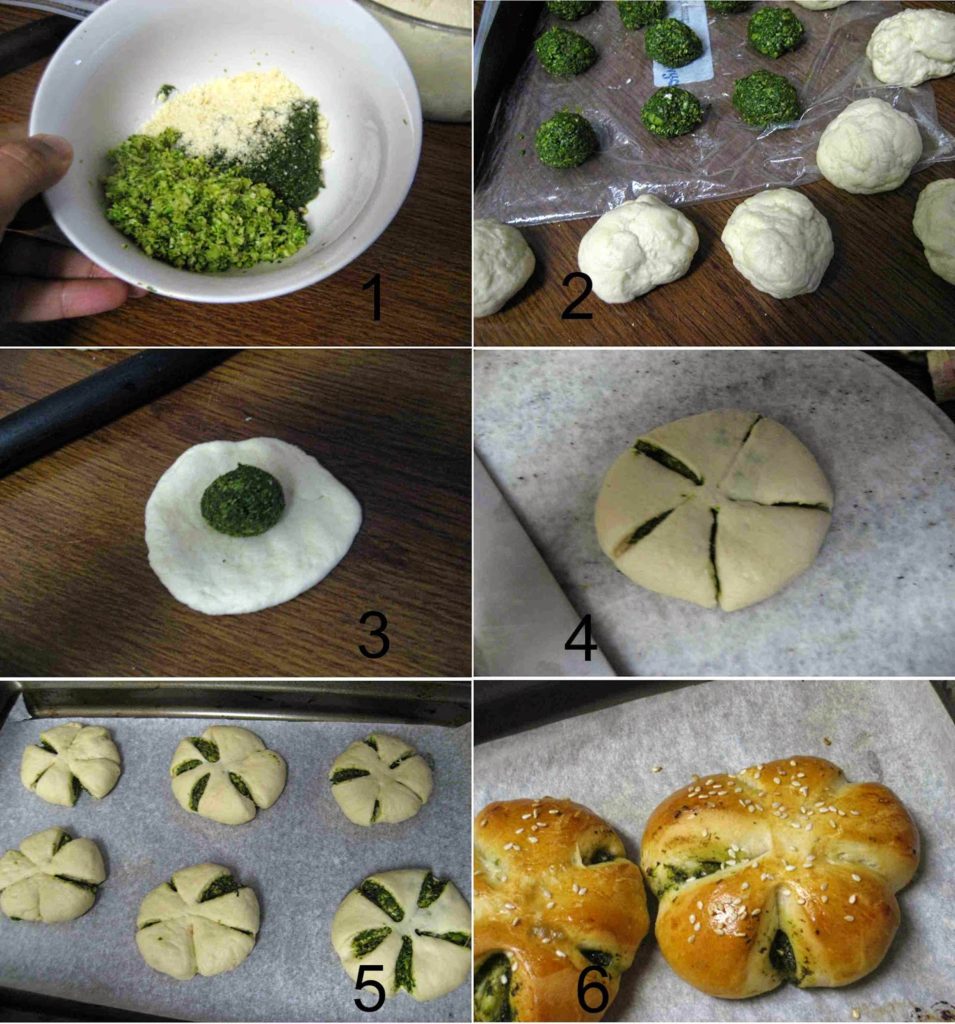 Keep the center intact and cut the circle 5 sides leaving equal space in between as shown in picture 4.
I cut few in depth and few not like it, to my experience cutting the dough in depth gives beautiful outcome at the same time you can see the stuffing very well.
Gently transfer the shaped bread in to parchment lined baking tray.
Repeat the same for the remaining balls and allow to rise/second proof for another 30 minutes.
Preheat the oven at 375 °F, sprinkle some sesame seeds all over buns and bake for 15-18 minutes or till golden brown.
Apply butter when it is out from oven to get shiny brown color.
Serve when it is warm!!!
Notes:
If the filling oozes water and not holding shapes add some more cheese powder or bread crumbs.
You can make plain round buns as well, for step wise round bun recipe check here.