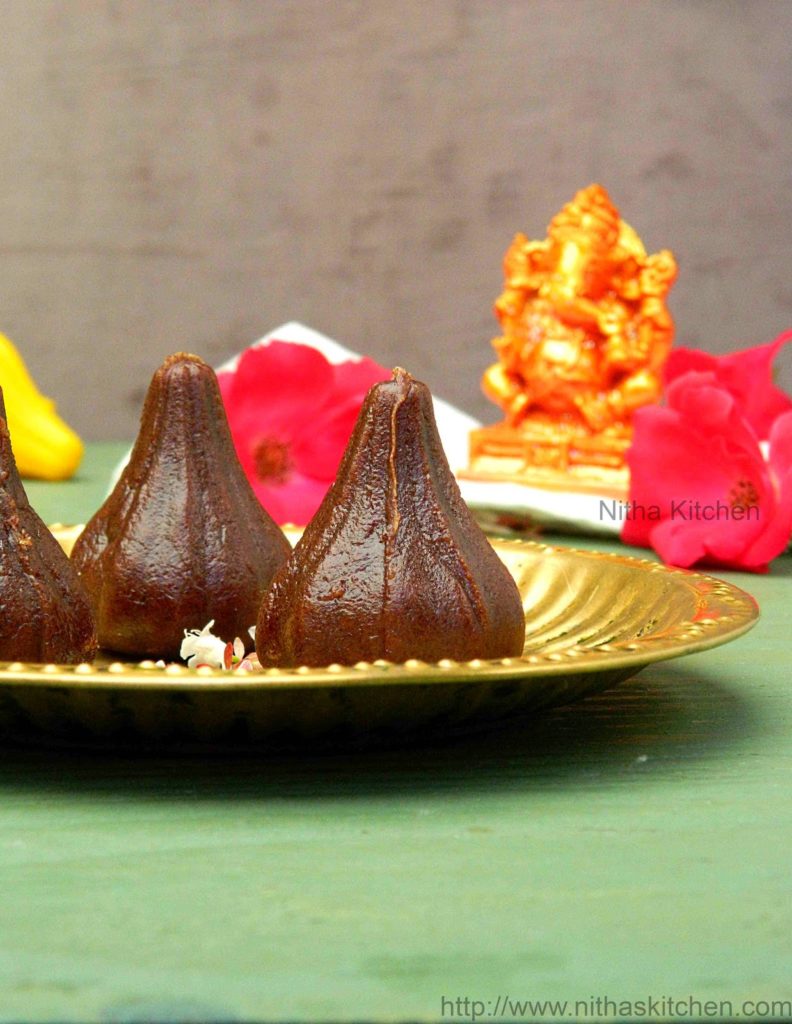 Ragi Millet Modak : I planned to post several recipes for Vinayagar/Ganesh Chaturthi, though I prepared and clicked few but due to time constraints I couldn't publish all on time…Today's recipe is one healthy Ragi millet modaks (without filling/stuffing) prepared with just few ingredients also this Ragi Vella modhagam needs very less time to make. Quite easy, quick and healthy recipe to try during Lord Ganesha's birthday!!!
Recipe Source :- Own


Yields – 8-9 Modaks as shown in pictures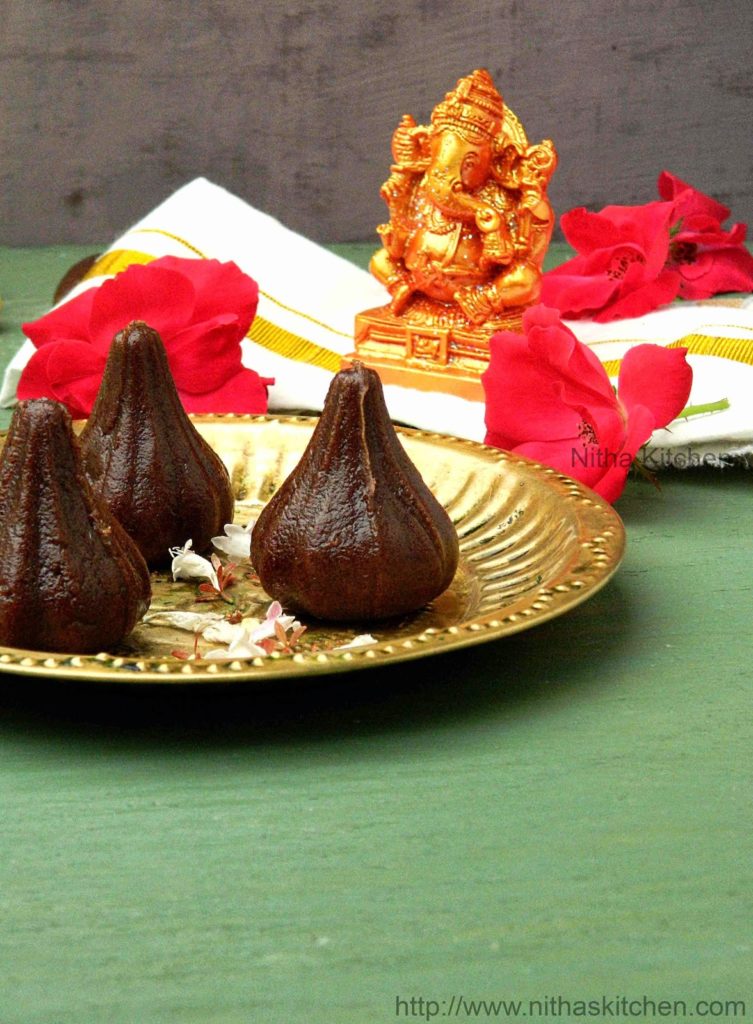 Millet Modak Ingredients
Ragi Flour – 1/2 Cup ( can take half quantity rice flour and half ragi flour as well)
Jaggery – 3/4th Cup
Pottukadalai (roasted gram) or Almond Flour – 1/4 Cup
Peanut Flour – 1/4 Cup (Dry roast the Peanut, remove skin and powder it).
Shredded Coconut – 3 Tbsp
Water – 1/2 Cup or just to immerse jaggery
Cardamom Powder – 2tsp
Modak Preparation
In a wide mixing bowl take Ragi flour and, keep aside.
Add jaggery in a sauce pan with 1/2cup water(Pic 1) and boil in medium flame, if you want you can strain the impurities and again start boiling it.
Once jaggery gets thick (you no need to check string consistency) or when starts foaming well and if you add a drop of syrup in water it should not dissolve that is the right consistency to put off the flame (Pic 2).
Now add cardamom powder, coconut to jaggery syrup, reserve 1-2 tbsp of syrup and immediately add to ragi flour (Pic 3).
Use spatula and mix all well, if needed add the reserved jaggery.
Now add rest of flours and everything comes together like shown in picture 4 start making the shapes.
Make sure the dough is hand bearable; if so take 8-9 lemon size balls from it.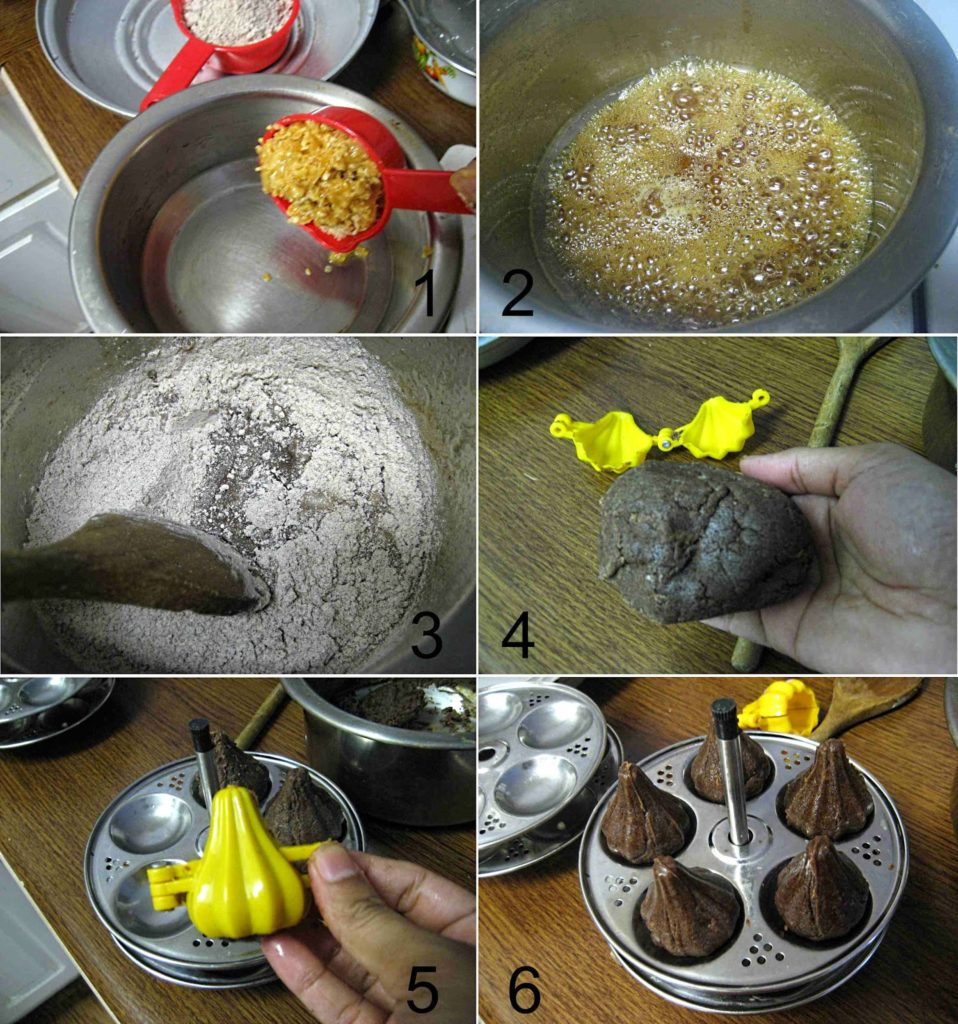 Place each ball in between oil greased modak mould and hold tightly to remove excess(Pic 5).
Now gently transfer the shaped one to idli/steamer plates (Pic 6).
Repeat the above process till done with prepared balls.
Steam the modak for 3-5 minutes or till done.