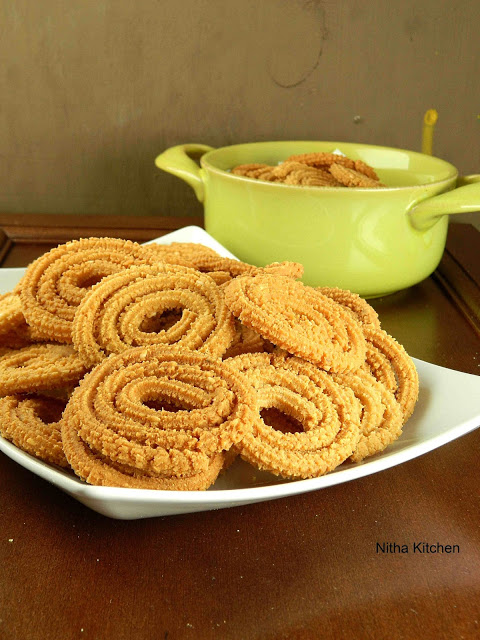 We the whole family is addictive to peanuts so on and off i make this easy and quick peanut chakli verkadalai murukku which takes not more than 20 minutes to prepare using instant rice flour and they are super crispy and addictive as seen in pictures. Perfect to have with garam chai or coffee…If you have store bought fried peanuts then the work is so ease 🙂 just powder it and mix with other ingredients.

Ingredients for Peanut Chakli Verkadalai Murukku
Instant Rice Flour – 2 Cups
Whole Peanuts – 1/2 Cup (just blanch in hot water like we blanch for almonds and grind to smooth paste with necessary water) or otherwise you can use peanut powder too in that case grind a small batch of rice flour and peanuts to fine powder.
Gram Flour  – 1/4 Cup
Dalia dal/Pottukadalai Powder – 1/4 Cup
Cooking Oil – 2 Tbsp
Butter – 3 Tbsp (Softened)
Sesame or Cumin seeds or Ajwain – 1tsp
Red chili powder – 2tsp
Asafoetida powder or – 1/4tsp
Salt – As needed
Water – As Needed to make stiff dough
How to make Peanut Chakli Verkadalai Murukku
Be ready with peanut paste, for step wise blanching do check almond blanch here.
Mix all the ingredients (except oil and water) together with ground peanut paste.
Gradually if needed sprinkle water and make non crack able stiff dough.
Add the chakli dough in the murukku/chakli press with necessary design/mold.
Heat oil in a wok/wide pan and meanwhile make some chaklis in a plate.
For that just make spiral with the dough clockwise starting from smaller round and ending with bigger one.
Make the rounds too close so that they won't separate.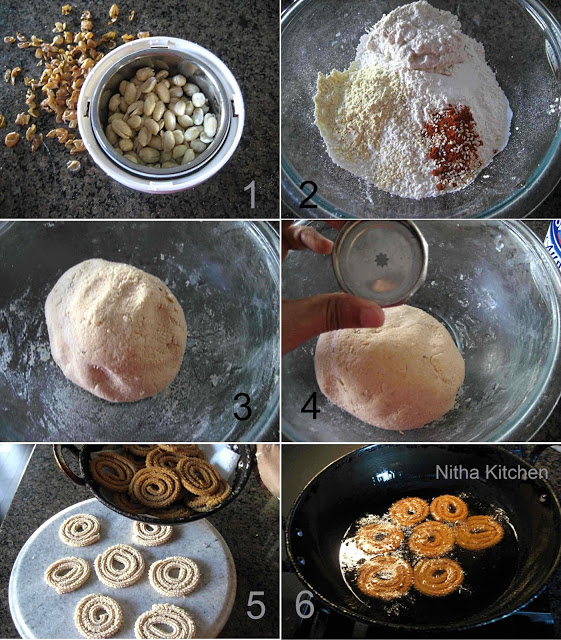 Once done connect the edge with previous round.
Keep 5-6 ready and while they cook you can make few for next batch.
Transfer the chaklis from the plate using flat spatula one by one to the hot oil.
Flip and cook both sides till they turn crisp and brown.
The first batch may be light in color and later batches looks good.
Drain with paper towel and have them with hot tea or coffee.
Allow them to cool completely and store in air tight container for later use.