Thattu Vadai Ingredients
Rice Flour – 2 Cups
Chana Dal – 2-3 Tbsp
Red Chili – 4 Numbers (Replace with 1tsp or more of Red Chili Powder)
Butter – 3 Tbsp Curry Leaves – 1 Sprig or powder – 1tsp
Small size Peanuts – 2-3 Tbsp
Salt and Water – As Required
Thattu Vadai Preparation 
Soak Chana dhal for at least 30 minutes.
Grind red chilli ,curry leaves,salt with 1tbsp rice flour to evenly fine mixture (Pic 1).
Mix this with remaining rice flour,butter,soaked chana dhal (Pic 1).
Sprinkle less water and knead to form a soft and crackles dough (Pic 2).
Finally add small sized peanuts and mix it gently (Pic 2)
Make small balls and cover with plastic wrap.
Apply oil over the Ziploc /aluminum foil/thick plastic bag/parchment paper, take 4 or 5 balls at a time and spread evenly as shown in the picture (Pic 3).
Heat oil in a pan, add one by one and fry till golden brown.
Dry the excess oil using paper towel  and store in air tight container (Pic 4).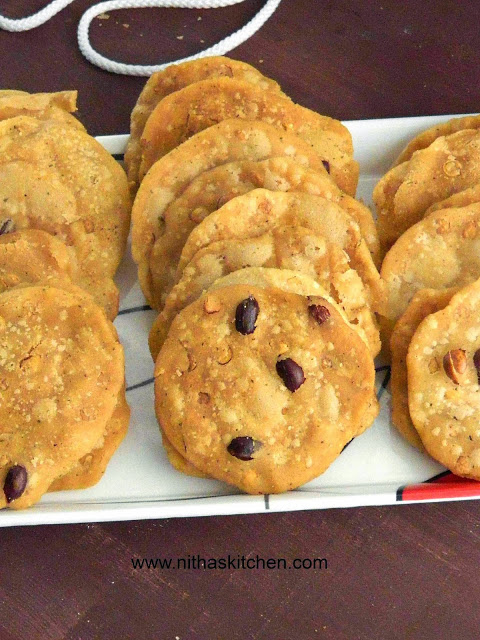 Note:
You can prick with fork to prevent puffing here and there but i love the puff texture, so i didn't do so :-).