Egg Shells Powder: I always keep engaged with Gardening / Cooking and Blogging. Yes Gardening is a real stress buster for me and it keeps me engaged for 2-3 hours minimum for a day. Sadly we come out
and do gardening work only 5 months in a year and obviously winter is a boredom ?. So in winter I plan zonal cleaning and before spring I finish it off . Coming to today's post I was trashing my egg shells all these years and for the past two years I save it and 3-4 months once or before spring I powder it for my garden. Whenever i see the leaves turning pale or yellow I do add a tbsp of egg shells powder to the roots (depends on the plant you can increase) before the rain or watering.
Also don't crush and add egg shells as it is, it harms worms in the soil. Within 3-5 days i see changes in the leaf colors and I alternate weeks with this DIY Egg Shells Powder for Gardening , Epsom salt and fish oil. So healthy produce comes from caring the plants, yes I strongly agree on it.
Egg Shells Powder My Way
Wash the egg shells (i use brown and white) in hot water immediately after cooking.
Drain the excess water from the shells and place it on a plate.
Two days later transform it to a big open container / cardboard box.
Store them still open because it may have moisture so dry them completely.
Also store the container in a clean / dust free place.
I just keep adding the drained egg shells in the same container.
3 – 4 months once I powder the collected eggs, do powder however you like.
I never dry the egg shells in the oven or in direct sun light but place under sunlight if necessary.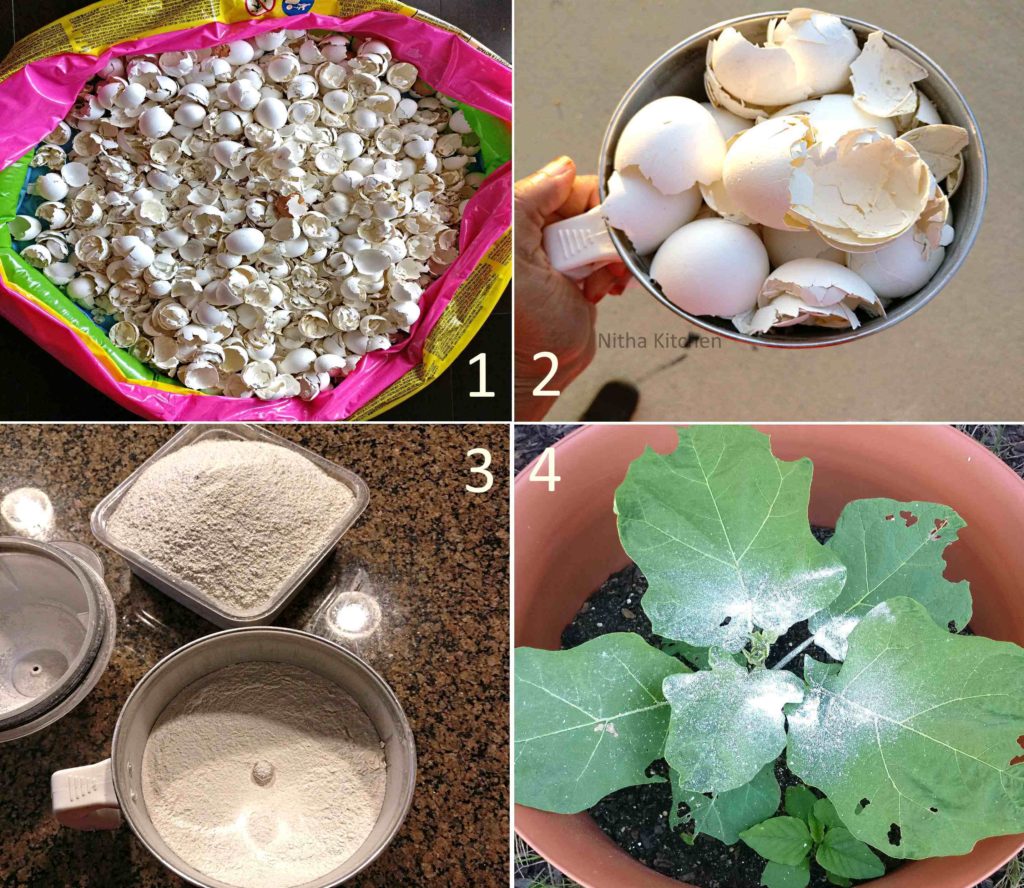 Just a room temperature warmness works for this.
May be one or two days before powdering do dry them in sun light.
Powder it in batches in your food processor.
Yup you get foam while powdering so open the lid slowly.
Store the powder in a air tight container and apply as needed to your plants.
I get good results for all kinds of veggies and spinach varieties.
Also you can mix this powder in water and add it to the plants.
It looks little coarse in texture.
I do add to Rose bushes, Spinach Varieties and Vegetable Raised Garden Beds.