An Indian flavored cake was in my to do list for a long time, as we mix cardamom, coconut milk and nuts in most of our desserts, why not to implement the same in a cake? this raised in my mind. Recently my daughter asked for a cake, as I am tired with other works I don't want to stress much by making the cake in huge quantity. So I tried it with very usual ingredients from the kitchen pantry. I steamed the cake using idli pan and happened to be vegan as well. This Vegan Elachi Flavored Steamed Nuts Cake Recipe doesn't take more than 12 minutes for it to cook. The outcome was really perfect, delicious and spongy right?  this cake is a big hit at home :-). When you like to crave some dessert you can immediately try this instant recipe and enjoy it in less than 25 mins of time, including the batter preparation…Dear viewers Merry Christmas to you all…Stay tuned will come up with more interesting recipes in future 🙂
Ingredients
Maida/APF – 1/2 Cup
Semolina/Rava/Sooji – 1/2 Cup
Cardamom Powder – 1/2 Tbsp (See Note 3)
Pistachios/Cashew/Almond/Tutti Frutti/Raisins – 1/4 Cup
White Sugar – 1/4 – 1/2 Cup (I added 1/4th cup)
Baking Soda – 1/4tsp plus a pinch
Baking Powder – 3/4tsp
Coconut Milk – 1/2 Cup (I used Homemade Coconut Milk See Note 1)
Ghee – 1/2 tbsp to toast the nuts
Method
Soak 5 almonds in hot boiling water for 15 mins and peel the skin.
Meanwhile start preparing the batter.
Heat 1 Tbsp of oil and fry the finely chopped Almonds, Pista , Cashew/ Raisins n finally before removing from heat add Tutti Frutti (See Note 2).
Powder the Semolina slightly (coarse texture not to very fine powder).
Add Flour, Semolina, Baking Powder, soda, salt and mix well.
Add coconut milk, sugar and cardamom powder (See Note 3) when sugar dissolves well add the dry ingredients (flour mix) in batches.
Sooji drink some moisture so add 1-2 Tbsp more Coconut Milk and finally add the fried nuts.
Heat the Idli Pan/Fry Pan with water, grease the steel cups with oil n pour the batter evenly.
Garnish with some powdered nuts (I used Pistachios powder).
Now place the cups over an Idli plate n cook in high flame for 12 minutes or toothpick inserted at more than one place in the steel cup comes out clean.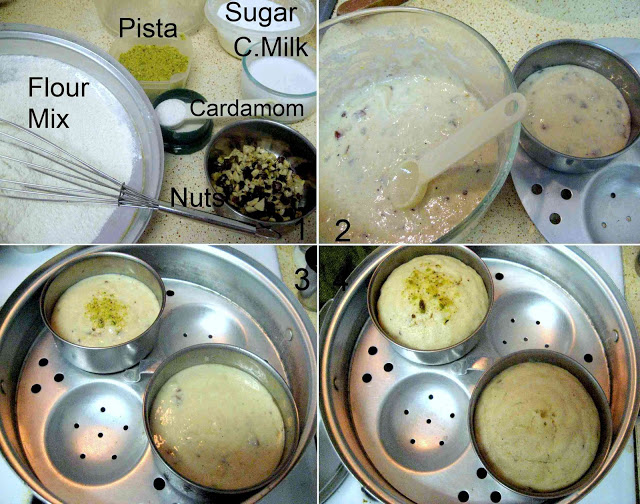 Just leave it in room temperature for 5 mins and remove it.
Very moist nuts cake is ready in short time.
Notes
I have extracted coconut milk from shredded coconut so it contains some water n not to thick as store bought one, if using store bought can milk then replace 2-3 Tbsp of milk with plain hot water.
Instead of oil you can fry the nuts with ghee, as this is a vegan recipe I went with oil.
If you don't have Cardamom powder, just dry fry 4-5 cardamoms in low flame for 5 mins and powder it along with sooji.
Even you can cover the top of the cake with foil to prevent steamed water not to fall over the cake.