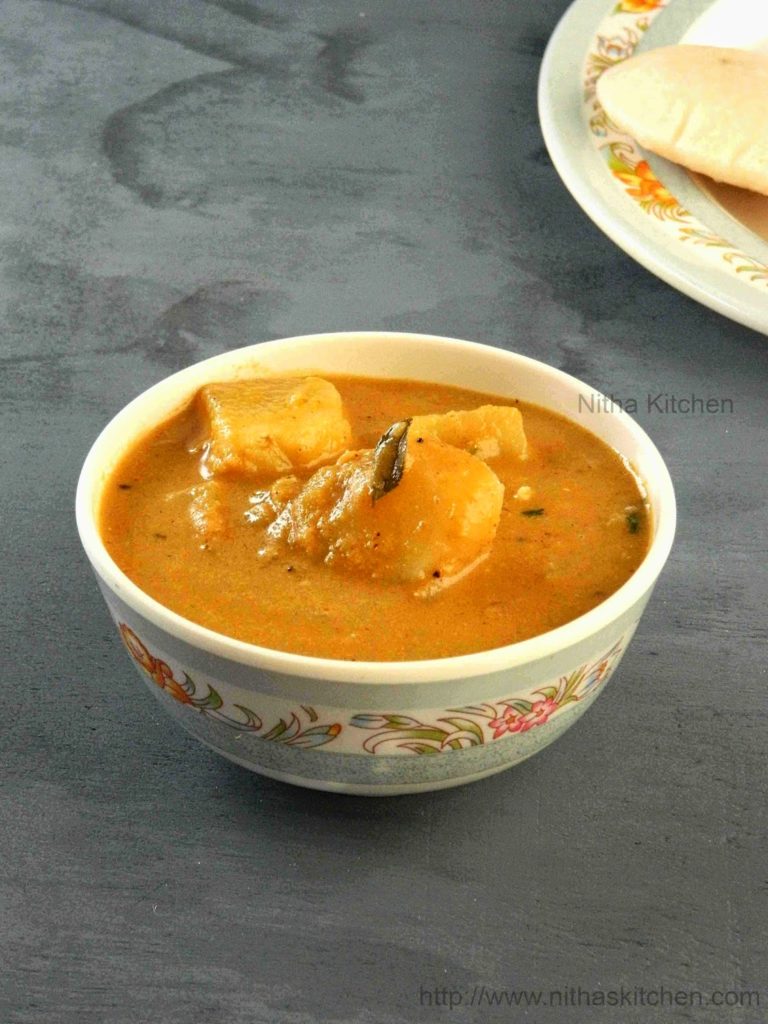 During festival or family get together, the morning breakfast goes like this…Either upma or light tiffin (probably idli) with this Potato Kurma Urulaikilangu Sambar (we call it as sambar) is a routine during special events in our kongunadu surroundings. Weekly once this sambar is a must in most of the houses, such an authentic version :-). I still remember my grandmas making using stone mill/aatankal (If interested you can check the video of that ancient stone here). Everyone is longing for such authentic version right? Nowadays only if power goes I can see my mom/amma use the stone mill 🙁 . Let's
move on to the Potato Kurma Urulaikilangu Sambar recipe…

Ingredients for Potato Kurma Urulaikilangu Sambar
Potato – 2 Numbers (Large Size)
Green Chili – 1 Number
Tomato – 1 Medium
Onion – 1 Small
Mustard Seeds – 1/4tsp
Curry Leaves – Few
Oil, Salt n Water – As Needed
To Saute n Grind
Shallots or Onion – 10 Numbers or 1 Large
Whole Red Chili – 2 Numbers
Garlic – 6-7 Numbers
Cloves – 3 Numbers
Cinnamon – 1 – 2 " Size
Fennel Seeds (Sombu) – 1tsp
Kaskas/Poppy Seeds – 1/2tsp
Coriander Powder – 2 Tbsp
Shredded Coconut – 1/4 Cup
Pottukadalai/Dalia – 1 Tbsp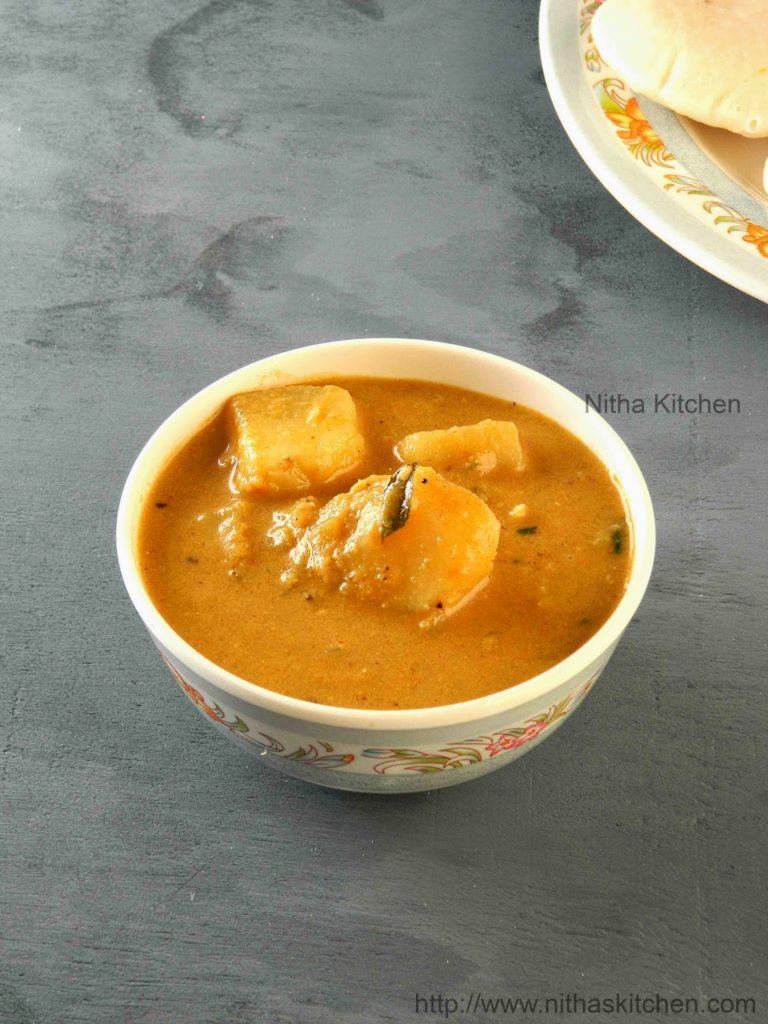 Potato Kurma Urulaikilangu Sambar Preparation
Cook the potatoes by cutting in to halve and allow 2 hisses in pressure cooker with necessary water.
Heat 2 tbsp of oil in a wide pan, add shallots, red chills, cloves, cinnamon, garlic, poppy and fennel seeds one by one.
In medium flame saute till onion changes golden brown.
Finally add coriander powder, pottukadalai and coconut, remove from heat.
Allow the mixture to cool completely and grind with enough water to fine paste.

Heat 1 tbsp of oil, temper mustard seeds.
Add chopped onion and when onion becomes translucent add chopped tomato, cut green chili and curry leaves.
Add salt and saute till tomato mashes well.
Now add the ground paste, enough water, cooked and slightly mashed potatoes and salt.
Mix all together and boil well (5-8 mins approx.) or till gravy thickens.
Also you can adjust spice by adding red chili powder.
Finally its optional to garnish with coriander leaves.
Variation
You can add the whole tomato while sautéing the onion and other stuffs to grind, my grandma does so.