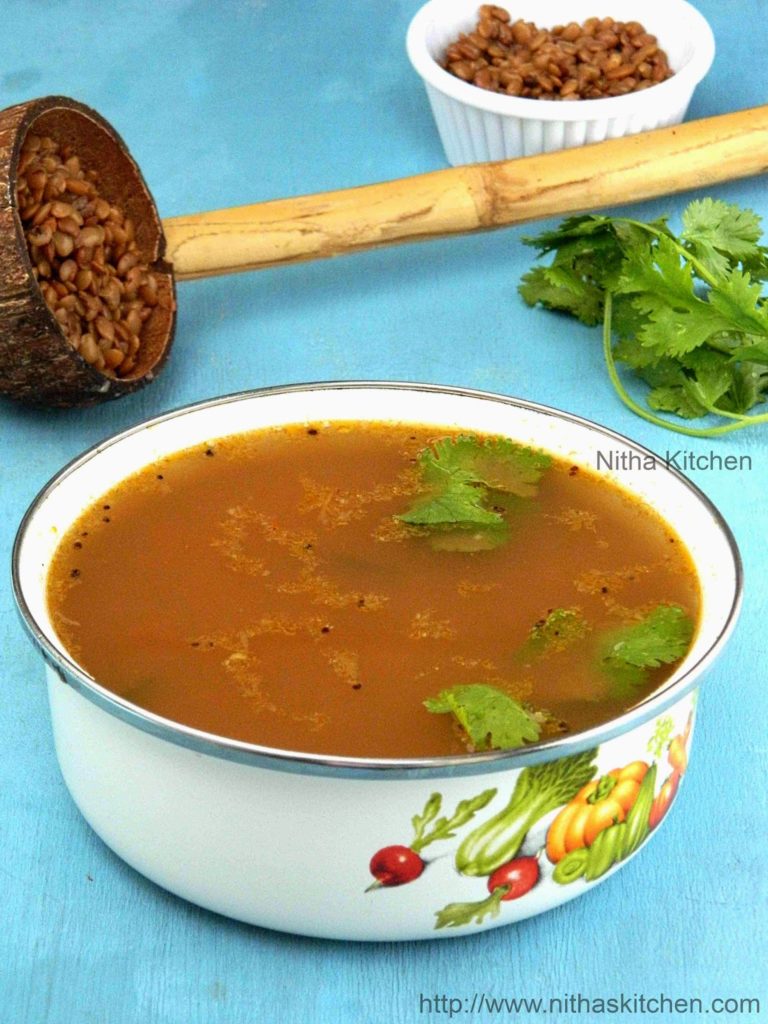 Ingredients
Horse Gram/Lentil/kollu – 3 Tbsp
Tomato – 1 (Small)
Tamarind Juice – 1/4 Cup
Cumin – 1 and 1/2 tsp
Pepper – 1tsp
Green Chili – 1 Number
Garlic – 4 Numbers
Hing/Asafoetida -1/4tsp
Mustard seeds – 1/4tsp
Oil – 1tsp
Salt and Water – As needed
Curry and Coriander Leaves – As Required
Method
Soak kollu for at least 7-8 hours or overnight (so it cooks easily) allow 3-4 whistles in pressure cooker with  enough water and half quantity of cumin, pepper and 1 garlic.
Mash the tomato with tamarind juice (Pic 1).
Filter the kollu water/stock from the pressure cooker and keep aside (Pic 1).
Grind halve of the cooked lentil with remaining cumin, pepper to fine paste,  if needed add kollu stock while grinding (Pic 1).
Mix tomato/tamarind juice and ground paste and keep aside (Pic 2).
Make slits over the green chili (keep the edges intact).
Heat oil sizzle mustard seeds, minced remaining garlic, hing, green chili, curry leaves then add the tamarind juice mixture when it starts boiling (Pic 3) adjust salt and remove from heat.
Finally garnish rasam with coriander leaves.
Note:
Kollu/horse gram may have stones, so remove them before cookig it.