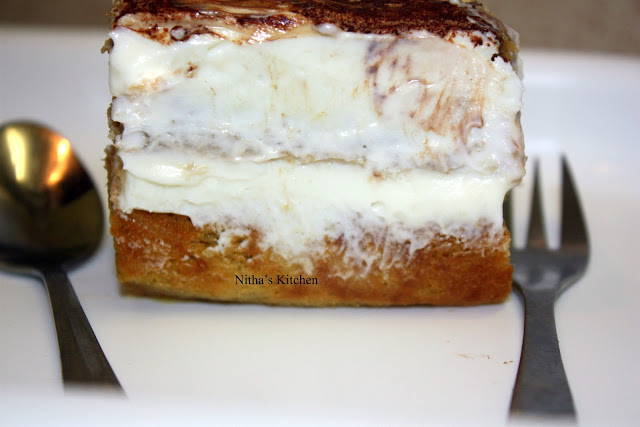 Tiramisu is an Italian dessert. Traditional Tiramisu is layered with Lady fingers/White Sponge cake dipped in coffee mixture, with mascorpone/cream cheese filling and finally dusted with cocoa powder. This includes several steps but very easy to make and such a heavenly dessert. I prepared this as veggie and kids friendly. Lady fingers/Savoiardi available in whole foods market/korean markets/amazon with different flavours. But here i layered homemade
Vanilla
and
Mango Chocolate
Cakes, whenever i prepare Tiramisu, i never miss to layer with these two cakes which is unique from classic Tiramisu but worth trying it.
Ingredients
Lady Fingers (Or) Sponge Cake – 1 Package or Cake made from 1n1/2 cups of flour
Instant Coffee Powder- 2tsp
Water – 1/4 Cup
Cocoa Powder – 1 Tbsp
Tiramisu
Warm the water and add the coffee powder.

First layer the cake, either mango or vanilla, sprinkle the coffee mixture over it.

If using ladyfinger just dip it in cofee mixture on both sides and layer it (Don't soak for a long time).
Spread the cheese frosting over it. If needed use tea filter and dust cocoa powder over it.(I dusted only on the top layer.

Again layer the cake/lady finger as did before, then fill with cheese frosting.

Finally dust with cocoa powder. Seal it and refrigate for 3hrs.
 Insert toothpick and check whether cheese frosting is set or not. Enjoy by having it chill.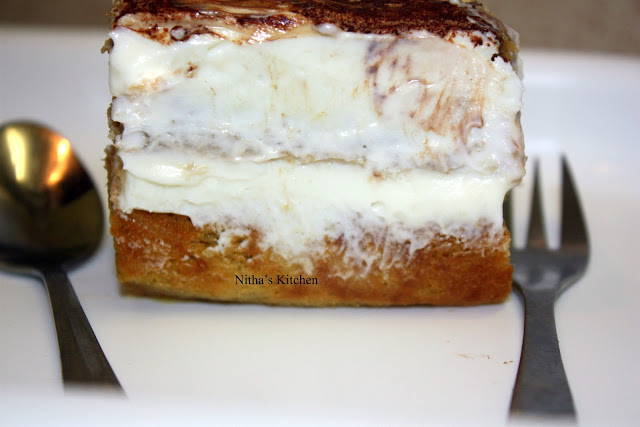 Note:
Top with grated chocolate which is optional. Increase cofee powder as per your taste.